Writer Joseph J. Airdo // Photography by Marion Cartland
It is believed that wreaths were first introduced as Christmas decorations sometime in the 16th century, around the same time that people in northern and eastern Europe began bringing evergreen trees into their homes during the holidays.
Living in an era of meager rations, people made a conscious effort to use every last drop of everything in their lives. Not wanting to waste the branches that they had trimmed off the trees in order to make them appear more uniform and fit into their living rooms, they began weaving them into circles — a shape that has no end — to symbolize everlasting life.
Today, wreaths have become a standard practice in decorating our homes and are often the very first thing that our family and friends see when approaching our door, welcoming them into our seasonal celebrations during which memories are made that we cherish for generations.
However, for some, wreaths carry even more meaning as they bring comfort to those whose already painful losses are exponentially amplified this time of the year.
Thanks to the efforts of Wreaths Across America, a nonprofit organization that honors and remembers veterans by laying wreaths on the graves of our country's fallen heroes, these simple-yet-significant circular adornments make a world of difference at a time when being with the ones we love most is all that any of us long to do.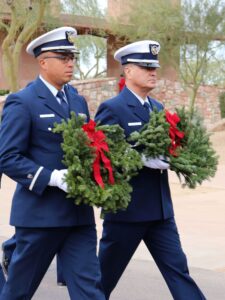 Gratitude, Support & Emulation
Nearing the end of the holiday season 30 years ago, Worcester Wreath Company in Harrington, Maine found itself with a surplus of wreaths. Pondering what to do with the extra wreaths, owner Morrill Worcester thought back to an experience that he had as a 12-year-old Bangor Daily News paper boy when, having won a trip to Washington D.C., Arlington National Cemetery made an indelible impression on him.
With the help of Sen. Olympia Snowe, Worcester arranged for his company's overabundance of wreaths to be placed at Arlington in one of the older sections of the cemetery that had been receiving fewer visitors with each passing year. Hearing of his plans, a number of other individuals and organizations stepped up to help.
The donation became an annual tradition for Worcester and the others involved, including members from the local American Legion and Veterans of Foreign Wars posts who gathered with other volunteers to decorate each wreath with traditional red, hand-tied bows.
In 2005, a photo of the stones at Arlington National Cemetery, adorned with wreaths and covered in snow, went viral on the internet. Suddenly, people from all across the country expressed their gratitude to Worcester, offered to lend their support and requested to emulate the project at their local cemeteries.
The following year, the Civil Air Patrol and other civic organizations held simultaneous wreath-laying ceremonies at more than 150 locations around the United States and, in 2007, the nonprofit Wreaths Across America was formed to continue and expand the effort as well as support other groups around the country who wanted to do the same.
One year later, more than 60,000 volunteers placed more than 100,000 wreaths on veterans' graves at more than 300 locations across the country — including Arizona.
"Today, we are at close to 3,000 locations across the United States, abroad and at sea that hold some type of ceremony [every December]," says Tarra Matyas, Wreaths Across America's project manager and location coordinator for the National Memorial Cemetery of Arizona in Phoenix.
"The ceremony is always at the same date and time across all locations to coordinate with the one at Arlington National Cemetery. We have our ceremony at 10 a.m. in Arizona to allow for the time difference so that we are all doing everything at roughly the same time."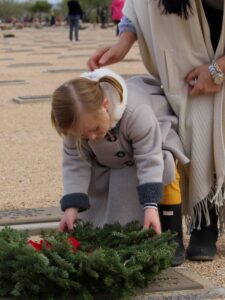 Remember, Honor & Teach
About 75 people attended the National Memorial Cemetery of Arizona's first ceremony, during which 300 wreaths were laid. The number of attendees rose to 2,000 in 2019 — the last year a public ceremony was held, due to restrictions associated with the COVID-19 pandemic — and 8,000 wreaths were laid during last year's private event.
The National Memorial Cemetery of Arizona is one of the many locations across the country that accepts site-specific requests, ensuring that a wreath is placed on the grave of a veteran whose family member resides in a different state or is, for one reason or another, unable to attend the ceremony.
"We do about 300 to 350 site-specific requests each year," says Matyas, noting that veterans' causes have always been near and dear to her heart. "The Paradise Valley chapter of the Daughters of the American Revolution handles those for us, making sure that they are always done with love, care and respect."
Although every wreath laid is significant, the site-specific ones are those that have the most profound impact on Matyas.
"My phone starts ringing [in early October]," she explains. "I talk to these humans and I hear their stories. There are so many organizations out there that are doing things for our veterans who are still alive. And I want them to continue to do those things because they matter hugely.
"But let me take care of the families. Let me take care of these people who are missing someone at their table this Christmas. Let us do this thing for them, to let them know that we have not forgotten and that we will always remember."
Remembering our fallen U.S. veterans is one-third of Wreaths Across America's mission, with the other two-thirds being honoring those who serve and teaching children the value of freedom.
"The 'teach' part of our mission is so important," Matyas says. "We have a choir of kids that comes in from an elementary school to sing as part of our ceremony. We also have Boy Scouts, Girl Scouts and Youth for Troops who come to help out. And it is so impactful."
Matyas will never forget the first year that her granddaughter got to lay a wreath on one of the graves.
"She was 5 years old," Matyas says. "She pointed and said to me, 'Come on, Grandma! Let's go there!' I tracked this child all over the cemetery. She had something in mind and we walked everywhere until she found 'the one' that was going to be hers for the day. She laid the wreath then took my hand and said, 'OK, now let's just be quiet for a moment.' Through the eyes of a child is sometimes the most honest way to see the world."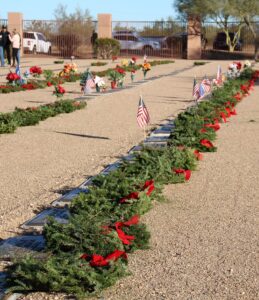 Humbling, Solemn & Joyful
Having had to lay wreaths without a public ceremony in 2020 and 2021, Matyas is thrilled to again be able to hold the full Wreaths Across America program this year.
Depending on how early in December you are reading this, the wreath sponsorship deadline may have already passed. However, the project manager and location coordinator encourages those who have never attended a Wreaths Across America ceremony to do so Saturday, Dec. 17 at the National Memorial Cemetery of Arizona.
Matyas suggests arriving early — no later than 9 a.m. — and wearing comfortable shoes, as parking can be problematic and a bit of a walk is a near certainty. Seating is extremely limited and should be reserved for those who absolutely need it, therefore attendees are welcome to bring their own folding chairs.
"The ceremony itself will last between 30 and 40 minutes," says Matyas, noting that wreaths are staged in different areas throughout the cemetery prior to the start of the event. "When we close the ceremony, there is — for a very short amount of time — this sort of Black Friday vibe, where everyone runs to the nearest pile and starts grabbing wreaths."
Rather than doing that, Matyas asks attendees to be mindful of those who may not be as mobile, save the nearest wreaths for them and walk to one of the piles that are located a bit farther out.
"Everybody who attends the ceremony is guaranteed an opportunity to lay at least one wreath," she adds. "Generally speaking, though, you always get more."
All wreaths have typically been laid by 12:30 p.m., but attendees may wish to bring a light snack and an ounce of patience, as traffic bottle-necks are always anticipated.
Although last year's figure of 8,000 wreaths may sound like a lot, it is important to remember that there are roughly 10 times that number of veterans interred at the National Memorial Cemetery of Arizona. Matyas is therefore hoping that simply attending this year's ceremony will inspire you to sponsor wreaths next year.
"Please join us," she says. "Once you do, you will come back every year. I have never seen anybody who did not come back or want to come back and do more. When you are standing in that very special place, surrounded by people who are all there to do this one thing, you cannot help but be drawn to it.
"It is the strangest combination of humbling, solemn and joyful all at once. You are standing on sacred ground. You look one way and see family members who are grieving [the absence of] and placing a wreath for their loved one. You look the other way and see active duty [members of our armed forces] in uniform who are there to honor veterans in general.
"You see Veterans of Foreign Wars [members] and church groups — all of these people in the community from every walk of life, every age, who have gathered together. And for one brief moment at 11 o'clock on a Saturday morning, you see all of these rows of wreaths and it is just beautiful. I do not know a human on this planet who does not take something away from that. It is just a phenomenal thing to experience."
Experience
Wreaths Across America // Saturday, Dec. 17 // 10 a.m. // National Memorial Cemetery of Arizona // 23029 N. Cave Creek Road, Phoenix // Free // wreathsacrossamerica.org