Writer Joseph J. Airdo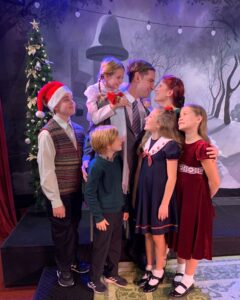 Festive fables that are traditionally told in some way, shape or form each and every holiday season are quite possibly the stories that have the most memorable impacts on our lives.
Whether it is watching a reindeer named Rudolph save the day with his red nose, reading about how a green Grinch steals Christmas from a bunch of Whos in Whoville, listening to the account of a frosty snowman who comes to life and has to hurry on his way before he melts away or even seeing Tim Allen suit up as Santa because of a clause, these Yuletide tales leave a lasting imprint on our minds and in our hearts.
Perhaps it is just the joyful themes they relay and represent or maybe it is due to the fact that we first experience these stories with the ones we love most — our parents when we are kids and our children when we are adults — but, either way, we return to them year after year to find a comforting feeling that makes everything merry and bright.
This month, some of the greatest Christmas chronicles of all time will take the stage courtesy of the tremendously talented performing arts organizations we are so privileged to have here in the Valley. From a cautionary tale about a boy who wants a Red Ryder BB gun for Christmas to a narrative that reminds us that every time a bell rings, an angel gets its wings, these are the stories that prove that this truly is the most wonderful time of the year.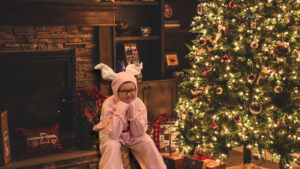 'A Christmas Story'
One year shy of its 40th anniversary, "A Christmas Story" is at the forefront of everyone's minds this holiday season thanks to a newly released HBO Max sequel in which star Peter Billingsley reprises his role of Ralphie who, now an adult, returns to the house on Cleveland street to give his kids a magical Christmas just like the one that he had as a child.
However, 13 years ago, the 1983 film saw a similar resurgence with the premiere of "A Christmas Story: The Musical" — a show that began as a regional production before opening on Broadway, going on tour and eventually making its way to television screens in 2017.
"'A Christmas Story' has always been one of my two favorite Christmas movies since I was a kid," says Dan Ashlock, Jr., noting that his other favorite Christmas movie is "A Muppets Christmas Carol." "Those are the two that I have to watch every year."
Having produced the traditional narrative version of "A Christmas Story" for several years, Scottsdale Desert Stages Theatre this year brings the musical adaptation to its stage, with Ashlock as director. Through Dec. 18, audiences can experience everything from Ralphie's pink bunny rabbit pajamas to the movie's iconic leg lamp live on stage.
"It is pretty much the same story as the original," Ashlock says. "All of the same characters are involved and most of the lines in the musical are taken directly from the movie. It just adds music to help [advance and enhance] the story."
Scottsdale Desert Stages Theatre executive director Ellen Versen adds that the music and lyrics for "A Christmas Story: The Musical" were written by Benj Pasek and Justin Paul — the same songwriting duo behind "Dear Evan Hansen," "The Greatest Showman" and many of the songs featured in "La La Land."
Ashlock hopes to use the production's songs and story to impart upon audiences all of the good feelings that are inherently tied to the holiday season — especially that magical moment when everything finally goes precisely as planned and you get that perfect Christmas gift of which you have been dreaming all year long.
"It is especially nostalgic for adults to be able to look back and see what they enjoyed about the holidays of their childhood," explains the director, noting that everyone can relate to the perfectly imperfect Parker family that is at the center of "A Christmas Story." "It is just such a heartwarming holiday story."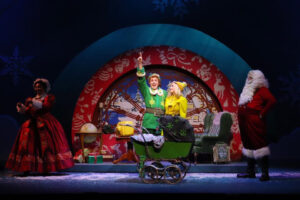 'Elf'
High school theater teacher Megan Gardner's favorite Christmas movie of all time is "Elf" — a 2003 comedy in which Will Ferrell plays a man who, raised as an oversized elf, travels from the North Pole to New York City to meet his biological father who does not know that he exists and is in desperate need of the holiday spirit.
"I could watch it a thousand times every Christmas season," Gardner says.
She was therefore delighted when Ashlock offered her the opportunity to direct the musical version of the story for Starlight Community Theater, for which he serves as artistic director. Set for Dec. 2–18, "Elf: The Musical" marks Gardner's fourth production for the theater this year, following in the footsteps of "My Son Pinocchio, Jr." "Disney's The Little Mermaid" and "Heathers: The Musical — Teen Edition."
"Anyone who knows the movie will definitely recognize a majority of the story," Gardner says. "It is the movie put on stage — the seven levels of the Candy Cane Forest, Buddy the elf and all that good stuff — but with some really fun original music and dancing thrown in there as well."
Gardner adds that the show, like most produced by Starlight Community Theater, is a multi-generational affair.
"We have all ages," she explains. "I think that our youngest is 6 years old and our oldest is in their upper 50s or mid-60s. We have got brothers, parents, children — you name it. My favorite part of Starlight Community Theater is that it is a family theater through and through."
In addition to the movie, "Elf: The Musical" also draws inspiration from "Elf: Buddy's Musical Christmas" — a 2014 animated special in which Jim Parsons voices the title character.
"That is actually a big part of our set design," Gardner says. "The Starlight stage is very unique. We are small, but we are mighty — and we can do a lot of really cool things. We are playing a lot with the 3D element and trying to find ways to make the whole theater feel like a snow globe. Our goal is for the audience to feel like they are sitting in a Christmas snow globe in New York City.
"I want them to feel at home and in the Christmas spirit. I want this to be something that they can bring their whole family to, because 'Elf' is for everybody. Even if you do not like musicals but you like the movie, we have got it. It is right here — just with a little extra zazzle on top. This show is so fun and magical. And it is a really great way to set the Christmas spirit this December."
After all, as Buddy says, "The best way to spread Christmas cheer is singing loud for all to hear."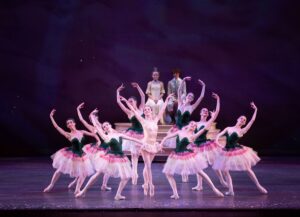 'The Nutcracker'
As it is for many, "The Nutcracker" has been a holiday tradition for Tiffany Chatfield for as long as she can remember.
"My older sister and I loved dancing in our local dance studio's [production of] 'The Nutcracker,' Chatfield says. "And even though I have performed some rendition of 'The Nutcracker' every year since the age of 5, the magic I felt as a baby ballerina still surrounds me each holiday season."
Chatfield is honored to now be able to continue that tradition as a dancer in Ballet Arizona's production of the classic story about a young girl who battles mischievous mice and charms the Sugar Plum Fairy — all while Phoenix Symphony performs Pyotr Ilyich Tchaikovsky's iconic score that perfectly encapsulates the feeling of Christmas.
"Ballet Arizona's production really brings the magic to life like nothing you have seen before," Chatfield adds. "From the gigantic Rat King, to the twisty and twirly costumes of the Marzipan girls, the costumes are phenomenal. My favorite part of our production of 'The Nutcracker' is definitely the battle scene because of how immersive the set is."
The battle scene is also a highlight for Ballet Arizona dancer Ethan Price, who credits "The Nutcracker" with solidifying his love for the magic of the stage.
"The first act of Ballet Arizona's 'The Nutcracker' has so many incredible sets and transformations," Price explains. "The house growing into the battle scene is great, and capping off the act with the sparkling backdrop of snow scene is incredible to see. There is really nothing quite like it."
On stage at Symphony Hall Dec. 9–24, the story of "The Nutcracker" is brought to life by Ballet Arizona's artistic director, Ib Andersen — a choreographer that dancer Isabella Seo says provides that extra special element that makes the production stand out in a sea of wooden soldiers.
"I think it is cool that we get to dance many of his ballets that have his personality and thinking added into them," explains Seo, noting that she, too, has cherished memories of dancing in "The Nutcracker" with her siblings. "It is a festive ballet with beautiful props, music and dancing that touches the audience in a way, leaving a warm holiday memory."
Chatfield agrees.
"The ballet itself has themes of Christmas intertwined, so it is no wonder why so many have embraced ['The Nutcracker'] as a [holiday] staple," she adds. "But it is the heartwarming story of kindness that really makes it a perfect fit for the festive atmosphere of December."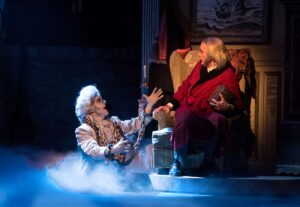 'A Christmas Carol'
You may be surprised to learn that quite possibly the most well-known holiday tale of all time, "A Christmas Carol," was actually self-published in 1843 by author Charles Dickens who, at the time, was unable to find anyone willing to release his book. However, it was an instant success.
Priced at 5 shillings — about $30 — the first edition was released Dec. 19 of that year and was sold out by Christmas Day. Two more editions were printed before the end of the year and the first stage adaptation appeared in London less than two months later, which was quickly followed by seven others.
Over the years, the story of a miserly misanthrope who is taken on a magical journey has been reimagined and retold in a variety of ways — via 1988's "Scrooged!," 1992's "A Muppet Christmas Carol" and most recently Apple TV+'s "Spirited," a musical starring Will Ferrell and Ryan Reynolds.
Locally, the story comes to life through Dec. 29 at Arizona Broadway Theatre. Marketing and communications director, Michele Meyer, says that the theater's version of the production is the one that first premiered in 1994 at Madison Square Garden in New York, with music by Disney and Broadway legend Alan Menken, and a decade later was adapted for television with Kelsey Grammer in the role of Ebenezer Scrooge.
"Arizona Broadway Theatre is a dinner theater that only seats about 400 people or so," Meyer adds. "So it is more spacious and, during each performance, you can enjoy a two-course meal and conversation with your family or friends."
Local Arizona Broadway Theatre favorites who have returned to the stage in new roles for this year's production include Jamie Michael Parnell as Ebenezer Scrooge.
Keeping with the tale's message of generosity, audiences are encouraged to bring donations for the theater's toy and clothing drive, which this year benefits Sunshine Residential Homes — an organization that provides clean, safe and structured homes for children who are victims of abuse, abandonment and neglect.
"We deck out the lobby and in front of the theater with trees," Meyer adds. "We just want to give audiences a few hours to socialize and see a great show. The holidays are all about that warm feeling you get while gathering together."
'It's a Wonderful Life'
Quoting Dolly Parton's character in 1989's "Steel Magnolias," Cheryl Schaar says that laughter through tears is her favorite emotion. Perhaps that is why her favorite holiday tale is Frank Capra's 1946 Oscar-nominated film "It's a Wonderful Life" — in which James Stewart plays a desperately frustrated businessman who, on Christmas Eve, is visited by an angel that shows him what life would have been like if he had never existed.
"I just love the inspirational quality of 'It's a Wonderful Life,' because I think that we often forget the impact that we have on other people and what life would be like for them if we were not there," Schaar says. "We do not realize just how important we are to other people."
For the past eight or nine years, Schaar has had the opportunity to share the movie's meaningful message in a far more intimate setting — Don Bluth Front Row Theatre, which boasts a seating capacity of just 45.
"We keep it very comfortable," says Schaar, who is directing the theater's production of "It's a Wonderful Life" through Dec. 30. "Our actors are not even miked. We are such an intimate space and the acoustics are such that you can hear everything. You feel like you are in the living room at a cocktail party, just listening to what is going on."
This year, for the first time ever, the show will be performed in the round.
"We try to literally bring the movie to life," says Schaar, noting that a little artistic license is taken to accommodate the theater's budget — which is obviously considerably smaller than that of the Hollywood production. "Every year, we use a backdrop that [the theater's founder Don Bluth] painted of Bedford Falls. You really feel like you are in Bedford Falls when you see this giant 18-by-10-foot backdrop. If you allow yourself, you will leave the theater wiping a few tears away and being so glad that you came."
Schaar adds that "It's a Wonderful Life" is the theater's Christmas gift to the community, one that she hopes may even lead to audiences leaving the theater a slightly different person than when they entered.
"Years ago, Don had a meeting with Lillian Gish — a movie star from the 20s," Schaar explains. "She said to him, 'When you sit in the dark, whether you are at a concert, a movie, a play or any other kind of production of the arts, your molecules are being rearranged and you leave that space slightly different.' We hope that you leave our theater feeling inspired, motivated and happier.
"Every holiday story, at its heart, has the message of how it is better to give than to receive and how you must always appreciate what you have in life. To me, 'It's a Wonderful Life' says it best. It shows just how important we all are to our communities and to our families.
"It also encourages us to cherish the people in our lives as well. Because what would your life be like if they were not in it? Everybody who has ever lost somebody knows the answer to that. So while we have got them with us, we have to make the most of it. And do not forget to tell them that you love them every day."
Experience
'A Christmas Story: The Musical' // Through Dec. 18 // Scottsdale Desert Stages Theatre // 7014 E. Camelback Road, Suite 0586, Scottsdale // $30 // 480-483-1664 // desertstages.org
'Elf: The Musical' // Dec. 2–18 // Starlight Community Theater // 1611 W. Whispering Wind Drive, Suite 9, Phoenix // $25 // starlightcommunitytheater.com
'The Nutcracker' // Dec. 9–24 // Symphony Hall // 75 N. Second St., Phoenix // $40+ // 602-381-1096 // balletaz.org
'A Christmas Carol: The Musical' // Through Dec. 29 // Arizona Broadway Theatre // 7701 W. Paradise Lane, Peoria // $85+ // 623-776-8400 // azbroadway.org
'It's a Wonderful Life' // Through Dec. 30 // Don Bluth Front Row Theater //
8989 E. Via Linda, Suite 118, Scottsdale // $30; youth, student, senior, military and group discounts available // 480-314-0841 // donbluthfrontrowtheatre.com