Writer Rebecca L. Rhoades // Photography Courtesy of Ravenscroft Pianos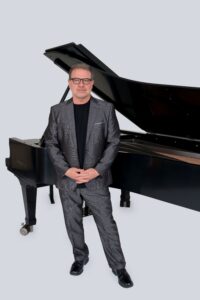 When renowned pianist and composer Bob Ravenscroft wanted a piano that would keep up with his distinctive free jazz style, he turned to his friend Michael Spreeman for advice. At the time, in the late 1980s, Spreeman was the head piano technician at Arizona State University.
"Bob had a 9-foot piano at his home, but he wanted it to do some things that it wouldn't do," Spreeman recalls. "So one day at lunch, I told him, 'You have to make a decision. You need to buy a new piano or — what if we can find you an old concert grand, and I'll redesign it and rebuild it from the ground up for you?'"
Spreeman acquired a decommissioned 1926 Steinway concert grand and refurbished it to Ravenscroft's specifications — and the musician loved it.
Fast forward to 2004, and Ravenscroft suggested that Spreeman set up shop in Scottsdale and begin building his own pianos. Ravenscroft even offered to provide the start-up money to fund the venture. Today, the custom instruments, known as Ravenscroft pianos, are considered among the top performance pianos in the world.
Each luxurious instrument is handcrafted by Spreeman and his son, Andrew, in their state-of-the-art headquarters in North Scottsdale, located a half-mile from the Ravenscroft music venue. While the two businesses share the same name, the boutique manufacturing firm is owned by Spreeman and operates independently.
"I put Bob's name on it because he was the inspiration. Plus, Ravenscroft is such a musical name," Spreeman says, citing the 17th-century psalmist Thomas Ravenscroft.
The company offers two models of pianos: the 7-foot 3-inch Model 220 and the 9-foot Model 275. The product name is the instrument's length in centimeters — a typical industry identification system. Base prices start at $230,000 and $280,000, respectively, and each piano takes upward of 1,000 hours to build. By comparison, the typical factory time for a performance piano is 250 hours.
According to Spreeman, there are three things that make a Ravenscroft piano stand out: design, quality and execution.
"We obsess over the design and materials, but execution is primary," he says. "That's where we excel. If you don't assemble all of the elements currently, you're just going to have a really pretty piece of garbage.
"When you see our pianos, sure they look like normal pianos — they have 80 keys and all of that. But once you understand what goes into them as far as the design, materials and construction, you begin to realize what sets them apart from the other candidates on the market."
Soundboards are made from 1,000-year-old Sitka spruce from British Colombia and wood from Italy's famed Val de Fiemme, or "violin forest." The spruce from this specific region is coveted for its resonant qualities; it is rumored that Antonio Stradivari used it to make his famed violins.
Bridge pins and hitch pins are titanium instead of the standard steel or plated copper. Keys are ebony-capped rosewood. And the rim and lid are finished in a high-end glossy black varnish. An ultra-precise action regulation creates unsurpassed performance. The action determines the weighted feeling of the keys.
"My goal with the piano action is to make it as invisible as possible to the artists because the action is the interface between an artist's mind, spirit, brain, body going into these keys, this machine, to make music," Spreeman explains.
"To us as consumers, sound is the biggest thing, but we're not playing the piano when we sit in the audience. That's why I say sound is number one, and our sound is totally unique and different. But the other thing that separates us even more from other manufacturers is the precision of the action."
This meticulous attention to detail results in an instrument that not only looks beautiful but that has a big, crystal-clear sound with a full bass, lush tenor and full-bodied treble.
Since its founding almost 20 years ago, Ravenscroft has produced 12 pianos. Three are at the Ravenscroft music venue — a 220 in both the Jazzbird lounge and recording studio and a 275 in the main concert hall. Both Gammage Auditorium at ASU and Tempe Center for the Arts also have 275s. Other pianos can be found in performance halls, recording studios and private residences across the country.
On a wall in the manufacturing room is a photograph of crystal-encrusted sound holes on a silver frame. It's a section a custom piano the company built for a studio in Austria that is owned by a member of the Swarovski family. The Model 220 Swarovski Edition is the only one in the world with the silver and black finish. The holes are rimmed with machined stainless steel rings that are coated in thousands of tiny Swarovski crystals.
"When you buy one of our pianos, you're not getting a factory mass-produced item," Spreeman says. "What we're trying to do is give artists something unique that they've never experienced before and allow them to do things they've never been able to do in their expression of music."