Writer Shannon Severson // Photography by Dave Montesano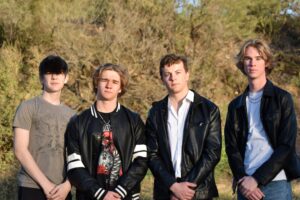 Four Boulder Creek High School teens late last year accomplished a major feat in the music scene, prevailing over more than 300 competitors to win Alice Cooper's 20th Annual Proof is in the Pudding Music and Dance Competition.
Known together as The Damn Kids, 18-year-old guitarist Phil Mazzio, 15-year-old drummer Brock Hauser, 17-year-old guitarist and vocalist Jack Montesano and 17-year-old bassist and vocalist Luke Horton returned from the band's runner-up finish in 2021 to win it all — a $1,000 cash prize and a featured spot on Cooper's 2023 Christmas album.
The victory was made sweeter by the comeback. The prior year was personally devastating, but it lit a fire in the musicians to work harder and stay focused on their next chance.
"When I heard our name this [time], the initial feeling was great relief," Mazzio recalls. "There wasn't a doubt in my mind that we were deserving of first place and to be announced as the winners was just an assurance that all of our hard work had paid off."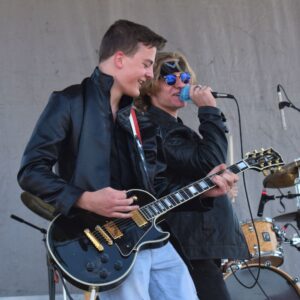 Idols and Inspiration
The Damn Kids' bluesy style and energetic stage performances have won the band — which performs regularly throughout the Valley — fans from the competition and beyond.
"We have a cult following of people ranging from our age to people our grandparents' age," Mazzio says. "There is support from every angle when it comes to being in The Damn Kids."
Among the band's musical heroes and inspiration are Jimmy Page, BB King, Stevie Ray Vaughan, Jim Morrison, Eddie Vedder, David Gilmour, Keith Richards and, for Hauser — whose father is a professional musician — his own dad.
For the competition, the band performed cover songs, Christmas songs and its own original music. Mazzio and Montesano usually join forces to write the lyrics while Mazzio writes most of the music. They say that the best songs flow quickly from a common idea or story. Everyone in the band contributes to the music from their own talent and instruments. A single guitar riff often turns into an entire song.
Performing original work in the competition put the band in the spotlight for some very influential figures in the music industry.
"One of the best parts about Proof was being able to give such highly respected musicians a chance to listen to our music," Mazzio says. "We gave almost everyone there a copy of our [soon-to-be-released] EP and I could tell they were genuinely excited to listen to it.
"Alice Cooper and Rob Zombie are incredibly kind people. They almost don't seem like celebrities at times — but in a good way, as they were extremely kind and easy to talk to. I'll never forget how, right before our set, Alice appeared and said, 'You ready?!' We took a picture backstage and I instantly felt at home. It was truly an honorable night to be a part of."
Horton agrees and was inspired by Cooper's encouragement to stay true to the spirit of rock 'n' roll.
"All of the biggest rock stars are just normal guys," he explains. "We forget that when they're on stage. Alice told me and Jack, 'Don't ever let anyone put a suit on you;' and that speaks for itself."
The competition was fierce, but it helped that Cooper was already a big fan of the band from its prior entry.
"Alice Cooper telling us that we were his favorite blues band was my favorite," Hauser recalls.
The band members acknowledge how many doors have been opened for them to not only continue to learn and record, but also network in the industry.
"I was given the opportunity to meet so many influential people," Montesano says. "I was mostly taken away by how passionate Alice Cooper is towards benefitting youth."
With centers in both Phoenix and Mesa, Alice Cooper's Solid Rock is a nonprofit, faith-based organization that seeks to help teens find purpose in a safe and engaging environment that meets their spiritual, economic, physical and social needs with after-school programs in music, dance, video and sound production, self-expression and creativity.
Cooper's competition spotlights local talent and is a precursor to his annual fundraiser for the centers — his Christmas Pudding Concert that featured The Damn Kids on stage with Zombie, the Gin Blossoms and comedian Jim Breuer.
"This helped them get a little taste of what could be," says Hauser's dad, Brian, who works as a manager for the band and has used his own music background and connections to book gigs, record an upcoming EP, post their music to Spotify and help them maintain the publicity momentum they've already earned.
"They have a hometown gig at Rosati's [in Anthem] once a month. The owners are so great to them. The band played there two nights after they won and everyone was wearing their t-shirts. The merchandise has been a big seller."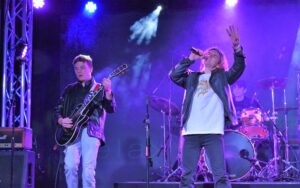 A Future So Bright
With a growing following, the band members have also developed their own personal relationships with each other and among their families. Hauser, the youngest of the guys, says that music is his escape and it has been a thrill to do what he loves with good friends. Mazzio and Horton note that their friendship has made their accomplishments even more meaningful.
"Being in The Damn Kids is the best job a teenager could ever ask for," Montesano says. "I get to work with three of my closest friends in order to achieve a mutual goal."
One of those goals, naturally, is to keep the band rolling, growing their fan base and continue making music.
"Someone has to be the next rockstar, after all," Mazzio points out.
There's also the balance they must strike as high school students. Three of the band members will be graduating this spring.
When they're not practicing music, Mazzio is the captain of the wrestling team and enjoys competition shooting in shotgun, pistol and rifle. He also enjoys collecting vinyl records. Montesano is either playing music or listening to it, often while mountain biking all over the state. Horton is also an outdoor enthusiast and enjoys hiking. For Hauser, if he's not hitting the skins, he's hitting the gym.
With this huge accomplishment under their belts and the future looming, every member of The Damn Kids hopes that careers in music will be in the cards.
Hauser sees himself following in his father's footsteps.
"I would like to be a full-time musician," he says. "With luck and hard work, I'd like to be able to support a family making music."
Horton sees himself either flying high as a musician or perhaps becoming a pilot — something he has dreamed of since he was a child. Mazzio and Montesano absolutely see their future in playing music for the rest of their lives, at center stage or as studio or touring artists.
"I see myself having a career in music," Mazzio says. "I know that if I don't give it a shot, I will regret it for the rest of my life."