Writer Rebecca L. Rhoades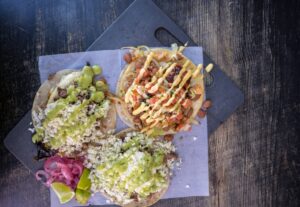 Chef Maria Mazon laughs when asked about the public's reaction to Tucson's designation as a UNESCO City of Gastronomy.
"A lot of people were like, 'Really?'" she recalls. "But we have a lot to offer, and there's a story behind who we are."
In 2015, the small city in southern Arizona garnered worldwide attention when it became the first city in the U.S. to receive the culinary accolade, besting such foodie favorites as New York City, New Orleans and San Francisco. One reason for its recognition is its rich agricultural heritage, which dates back some 4,000 years.
"Tucson has a really long history of many different cultures bringing their characteristic crops here," says Jesús García, an education specialist at the Arizona-Sonoran Desert Museum and vice president of the board of Friends of Tucson's Birthplace, a nonprofit organization that oversees Mission Garden, a 4-acre architectural museum that was founded in 2012.
The garden represents the historic foundation of the UNESCO recognition. The crops grown and harvested here tell the story of Tucson's gastronomic roots.
For thousands of years, the Hohokam, ancestors of the Tohono O'odham people, cultivated the land along the Santa Cruz River, growing corn, beans and squash and harvesting desert plants. Archaeological records show that maize was grown here as early as 2590 B.C. — almost 5,000 years ago.
As the centuries progressed, additional influences arrived, merging with and adding to the Native cultures. Spanish missionaries brought with them fruit trees, wheat, grapes and olives. Mexicans introduced chiles and chapalote corn. And in the 1800s, Chinese settlers arrived, bringing produce such as strawberries, artichokes and melons.
"There's just this rich culinary history that dates back through many cultures, and we have embraced that as a destination," says Megan Evans, former director of communications for Visit Tucson.
Organizations such as Mission Garden and Native Seeds/SEARCH, a nonprofit committed to the conservation of heirloom seeds, are raising awareness of traditional foods that were here long before there were any restaurants, and many of the region's local chefs are dedicated to utilizing indigenous ingredients in their menus.
"That's why we look and taste unlike anywhere else in the United States," Evans notes.
With so many mouthwatering food options, the hardest decision you'll have to make when visiting Tucson is choosing where to eat.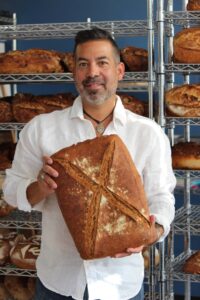 A Sense of Place
The first stop on any Tucsonan foodie tour should be Barrio Bread. The bakery, located in a 1960s-era shopping mall in central Tucson, is helmed by James Beard Award-winner Don Guerra.
For the past decade, Guerra has been at the forefront of a burgeoning movement to reintroduce some of the ancient and heritage grains that once predominated Arizona's agricultural economy. His crusty, chewy sourdough-based breads are beloved by visitors and locals alike, who line up each morning to purchase their favorite loaves fresh from the oven.
In 2021, Guerra collaborated with Carlotta Flores, owner of El Charro Café, to open Barrio Charro, a fast-casual breakfast and lunch spot that emphasizes Guerra's use of heritage grains in sandwiches, toasts and baked goods. In mid-2022, the pair opened The Monica, a chic downtown bistro and bar that serves pizzas, pastas and other comfort foods made from farm-fresh locally sourced ingredients.
Flores herself is a Tucson culinary icon. Her eatery, which was established more than a century ago by her aunt, Monica Flin, is the nation's oldest continuously operated family-owned Mexican restaurant. And it's just one stop along the "Best 23 Miles of Mexican Food" in the U.S.
"The Best 23 Miles is a foodie adventure," Evans explains. "It sheds a light on some of the mom-and-pop establishments that have been passed down from family member to family member throughout the decades."
Included are places like Taqueria Pico de Gallo, a Tucson staple for 33 years that's known for its horchata, Baja-style fish tacos and homemade corn tortillas.
In 2018, Sonoran hot dog eatery El Güero Canelo received a James Beard Foundation American Classics Award for its bacon-wrapped franks that are topped with beans, jalapeño sauce, mayonnaise, mustard, onions, tomatoes and peppers. The foundation said the Tucson specialty "evinces the flow of culinary and cultural influences from the U.S. to Mexico and back."
Taco Apson is the place to go for carne asada, lengua (beef tongue) and barbacoa; while Rollies Mexican Patio serves up rolled tacos and award-winning birria tacos. Hungry diners frequent Mi Nidito, which opened in 1952. Its "President's Plate," named after former President Bill Clinton, who visited in 1999, features a bean tostada, birria taco, chile relleno, chicken enchilada and beef tamale. And Oasis Fruit Cones has been the go-to spot for raspados, a shaved-ice treat. Have it "con leche" with evaporated milk and a scoop of ice cream, or add some chamoy for a touch of spicy-sweet goodness.
"These tiny shops are dedicated to their craft, and they're putting out incredible foods," Evans says. "It's the traditions and recipes, passed down from grandmothers and great-grandmothers, that are coming through these kitchens, and when you taste it, you're like, 'I didn't know what Mexican food was.' It's part of the cultural experience in Tucson."
Mazon's BOCA Tacos Y Tequila is also part of the Best 23 Miles of Mexican Food. The former "Top Chef" contestant and James Beard Award-nominated chef puts a gourmet spin on traditional tacos. Flavors include steak-stuffed Anaheim chile, bacon-wrapped hot dog, chipotle barbecue pork rib, and honey-mustard marinated tofu. The chef also is known for her fresh salsas that are, as a sign proclaims, "hotter than your wife."
"When you see the sunset and you see every color there is, that's the food we have to offer in Tucson," Amazon notes. "I'm proud to be a Tucsonan, and I'm proud to be part of this movement."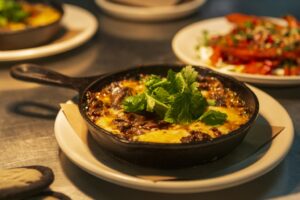 Edible Innovation
Although the UNESCO designation doesn't reward Tucson's restaurants, it has had a marked effect on them — and on the city.
"It shed a light on some of the cool businesses and innovative things that were doing and continue to do," Evans says. "I think it also elevated the culinary scene to a whole other level of creativity. It helped usher in a new era of innovation and ingenuity."
Many Tucson chefs are incorporating indigenous ingredients in new and interesting ways and continuing to build restaurant empires.
Late last year, Southwestern-style bistro Tito & Pep was named one of The New York Times' "50 places in America we're most excited about right now." According to the article, chef John Martinez is "re-examining the ingredients of his childhood with cooking that is understated and remarkable." Martinez was nominated for a James Beard Award in 2022.
Joining the ever-growing list of James Beard nominees is chef Wendy Garcia of Tumerico, a Latin-inspired vegan and vegetarian restaurant, who made the shortlist for the award in 2023. Her menu changes daily and showcases a variety of local ingredients, such as nopalitos, fresh chiles and tepary beans.
Scott Girod, owner of Anello, worked under legendary Phoenix pizzaiolo Chris Bianco before starting his own restaurant. The cozy 30-seat pizzeria offers four pizzas that are receiving praise for their perfect sourdough crusts and creative toppings, including chiltepins and parsley salsa verde.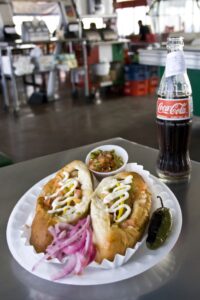 Local Pride
Jackie Alpers is the author of "Taste of Tucson: Sonoran Recipes Inspired by the Rich Culture of Southern Arizona." This award-winning cookbook showcases recipes by 16 of Tucson's top chefs — including Mazon, Guerra and Flores, as well as Daniel Contreras of El Güero Canelo and James Beard Award-winner Janos Wilder of Downtown Kitchen + Cocktails. There also are original dishes by Alpers herself.
"The chefs here are inspired by each other," she says. "Instead of seeing each other as competition, they're friends all working for a common cause. And that's to elevate the food of Tucson — not by making it fancy but by appreciating the variety of unique ingredients and unique ways of cooking that are available here."
Alpers points to the array of edible plants that grow in the Sonoran Desert, from the well-known prickly pear pads and fruit to the wolfberries, a relative of Asia's Goji berry, and even mesquite beans, the long pods that grow on mesquite trees. When dried, the pods can be processed into a flour that has a sweet molasses-like flavor. The palo verde tree also produces edible pods and flowers.
"It's neat to know that there's this abundance of things growing here that you can eat if you need to or want to," she says.
Her cookbook includes recipes for local favorites, such as menudo, pozole, elotes, huevos rancheros, chiltepin salsa and chile Colorado. But when it comes to choosing one must-try dish that embodies the spirit and creativity of Tucson's culinary culture, Alpers recommends carne seca, a sun-dried shredded beef that's often consumed like beef jerky.
"Tucson has the perfect conditions for making carne seca," she explains. "Because it's dried outside in the sun, the environment needs to be hot and very dry. It can't be humid. Then the way it's prepared with fairly unique to this region. It's shredded, reconstituted and pan-fried, usually with green chiles, onions and tomatoes, and then served in tacos, burritos or other fare that would normally be filled with barbacoa or chicken. A lot of classically Sonoran restaurants serve carne seca."
El Charro Café is renowned for its carne seca. Tucson Weekly called the dish "Arizona's sunshine." The local institution dries its beef, about 300 pounds at a time, in a massive cage that dangles above the roof of its downtown location. The cage is almost as big of an attraction as the food itself.
"For a long time, people thought we're in this small town and nobody paid attention to what we're doing," Alpers says. "But people are paying attention, and we're realizing that our mix of cultures and cuisines is what makes us special. And I think it's really inspiring."