Writer Rebecca L. Rhoades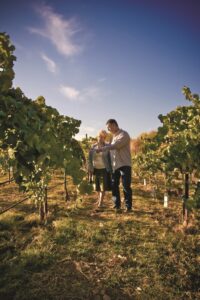 Malvasia bianca, picpoul blanc, counoise, carménère, mourvèdre, tempranillo: No, these aren't the names or exotic European cities. Instead, they're just a few of the many grape varietals grown in Arizona. And they join their A-lister cousins chardonnay, cabernet sauvignon, merlot and pinot grigio in creating award-winning wines
While the Sonoran Desert might not conjure images of elegant chateaus surrounded by verdant vineyards, the Grand Canyon State has supported grape growing and wine producing for thousands of years. Spanish missionaries introduced viticulture to the Southwest in the 1600s, and Father Eusebio Francisco Kino, who founded the San José de Tumacácori mission and introduced wheat to the region, had a small vineyard in present-day Sonora, Mexico.
The first commercial winery in the state was established in Mesa in the 1880s; another popped up near Sedona a few years later. By the end of the 19th century, Arizona's wine industry was flourishing.
Prohibition put a stop to the business, and it would take several decades for it to begin to come back. But come back it has — with gusto! Today, there are more than 120 wineries and tasting rooms across the state — located on more than 1,300 acres of vineyards — and most welcome guests for tastings, tours and even overnight stays. So join a group trip, hail the bus or hop in your car and head out for a vino-centric adventure through Arizona's wine country.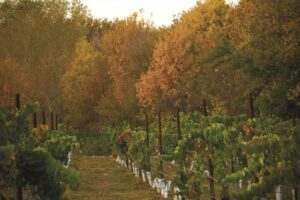 Know Your Region
Arizona offers three main American Viticultural Areas, or AVAs, located north and south of Phoenix: Sonoita-Elgin (the oldest), Willcox (the largest), and the Verde Valley (the newest). Additional vineyards and wineries exist in other parts of the state, in places like Kingman, Williams and Chino Valley. The Arizona Wine Growers Association refers to these outliers as Mavericks & Pioneers.
According to the AWGA, an AVA is "a designated wine grape-growing region in the U.S., providing an official appellation for the mutual benefit of wineries and consumers." Some of the more well-known AVAs in the country include Napa Valley, Paso Robles and Sonoma.
Because Arizona's regions sit at elevations between 3,500 and 5,000 feet above sea level, they tend to have climates and terroirs that are similar to regions in Italy, Spain and southern France: cooler temperatures, dry high-desert air, and rich loamy soil. It's why so many grapes traditionally grown in the Mediterranean thrive here.
In order for a wine to be labeled with an AVA, at least 85% of the grapes used in the wine must have been grown in the AVA, and the wine must be fully finished within the state where the AVA is located. This also lends distinctive characteristics to wines from particular areas.
Established in 1984, the Sonoita-Elgin AVA covers about 320 square miles in southeastern Arizona, about an hour's drive from Tucson. It was the first region in the state to be designated an AVA, and it has been recognized as one of the top 10 wine trails in the country by USA Today.
More than 15 wineries dot a 10-mile radius along Route 82 wedged between the Santa Rita, Whetstone and Huachuca mountains. Eonophiles can sip their way through the temperate hilly locale, sampling vintages from wineries such as Callaghan Vineyards, Rune Wines and Flying Leap Vineyards.
Dos Cabezas Wineworks is known for its rose blend, Pink, a refreshing mix of garnacha, syrah, graciano and more. Available in a bottle or carbonated in a can, it's the perfect sipper on a hot summer day. The most recent addition, opened in February 2023 by Scottsdale restaurateur Pavle Milic, is Los Milics, a 20-acre vineyard, tasting room and winery. Overnight stays are available at Twisted Union Wine Co. and at NextDoor @ Dos Cabezas.
The Willcox AVA, which lies east of Tucson, produces about 75% of the state's grapes. Covering about 833 square miles in northern Cochise and southern Graham counties, it includes the town of Willcox as well as Pearce, Sunsites and Sunizona.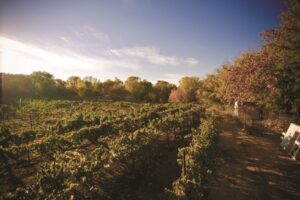 Area vineyards supply fruit to local favorites, including Caduceus, Merkin Vineyards, Arizona Stronghold and Page Spring Cellars, all of which are based in the Verde Valley. Some stars of the region include viognier, tempranillo and mourvèdre, and its malbec, merlot, sauvignon blanc and cabernet sauvignon varietals are award-winning.
Stop by Birds & Barrels Vineyards to watch the hand-harvesting and pressing of the grapes, or play with the resident pups at Four Tails Vineyards. Carlson Creek Vineyard, Zarpara Vineyard, Laramita Cellars and LDV Winery are just a quick drive away.
For an overnight option, check out Rhumb Line Vineyard, which offers chic, comfortable Quonset huts set amid a blooming lavender field.
Verde Valley AVA is the newest viticultural area, designated in November 2021. Located in the center of the state on 219 square miles in northeastern Yavapai County, the AVA encompasses the popular getaway destinations of Sedona, Jerome, Camp Verde, Cottonwood, Clarkdale, Cornville, Page Springs and Rimrock.
The high-desert region boasts about 20 vineyards and two dozen of Arizona's most scenic tasting rooms, many of which rest on the banks of picturesque Oak Creek. Here, travelers can sample white wines made with vermentino, seyval blank and malvasia bianca, and reds featuring syrah, sangiovese, tannat and barbera.
One unique way to experience northern Arizona's wine country is to book a trip on the Verde Canyon Railroad. The Grape Train Escape takes passengers through the scenic mountains and red rocks of the Verde Valley while they sip on a selection of local wines. Additional trips focus on European varietals. Or, simply head into town, park and spend the afternoon walking between tasting rooms. If you don't want to drive, the Wine Wagon will transport you from Scottsdale to the Verde Valley for a daylong hop-on hop-off drinking excursion.
No matter which region you choose to explore, you're guaranteed to see some of the most beautiful scenery in the country and sample some delicious wine. Cheers!
azwinegrowersassociation.com
sonoitavineyards.com
willcoxwinecountry.org
vvwinetrail.com