Writer Shannon Severson // Photography by Loralei Lazurek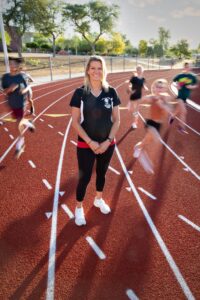 Left, right, left, right — the feet of the Boulder Creek Middle School Track and Field team stay diligently on the path, arms pumping and minds focused.
The team members represent all the Boulder Creek High School feeder schools and are coached by Diana DeReese, a triathlete, marathon runner, Gavilan Peak teacher, wife and mom (not necessarily in that order). Family and faith are a huge part of what keeps her going and she says that her two brothers, sister and mom, who passed away in 2021, have been instrumental in all she does.
She ran cross-country, indoor and outdoor track during her undergraduate studies at Ohio Wesleyan University and eventually found that her love of teaching and coaching went hand-in-hand. She's continued her training throughout her life, competing in many road race challenges and four marathons, including the 100th running of the Boston Marathon, which her late mother attended to cheer her on.
When DeReese was introduced to the sport of triathlon — which consists of a 2.4-mile swim, a 112-mile bike ride and a 26.2-mile run — she immediately loved it. Since then, she has completed multiple half Ironman competitions and two full Ironman races in Panama, Florida and here in Phoenix.
DeReese, with the help of a dedicated team of coaches and volunteers, has created and nurtured a competitive and fun program that won runner-up at the Deer Valley Unified School District Track and Field Middle School Meet in March of this year.
The no-cut seventh- and eighth-grade team's junior varsity and varsity divisions compete in nine running events and four field events — including long jump, high jump, shot put and discus. The athletes learn 13 track and field events before choosing their favorites. Fifth- and sixth-graders also train for and learn all events and have a mock meet at the end of each season. A celebratory team potluck also brings everyone together at the conclusion of the season.
For DeReese, running is more than a sport, it's a tool for overall well-being and connection — one she is excited to share with her young athletes.
"I started running in sixth grade in Kirtland, Ohio after my dad had unexpectedly passed away," DeReese recalls. "Running became an outlet that I quickly learned I had a passion for, but never realized how greatly it would impact my life.
"My middle school and high school coaches made a significant impact on me, teaching me not only about the sports of cross-country and track, but balancing studies, sports, family and life activities."
DeReese and her coaches Erika McDonald, Marwa Morsi, James Devere, and Jeff DeReese are not only building a foundation of runners for the Boulder High School Track Team coached by Tom Clarke and Zach Walling, but also a lifelong sport that gives athletes future opportunities in college and a sense of accomplishment, teamwork and healthy habits that will stay with them for life.
Practices held at the high school enhance familiarity and make for a much smoother transition for athletes entering their freshman year. Many middle school athletes have had great success at the high school level.
"Anthem is unique in that we have a single community with several feeder schools and one high school," Clarke says.
He points out that, with the many challenges facing today's students, sports provide the chance for youth to develop numerous success skills. When allowed to develop their running acumen at a younger age, they develop a passion for the sport early and can contribute to the high school team with a depth of experience.
"Coaching these athletes is very rewarding," Clarke says. "It has been really special to work with Diana to build a connection between our middle and high school athletes. It has already been a positive influence in our community and schools, but we look forward to continuing to grow these programs for our kids."