Writer Rebecca L. Rhoades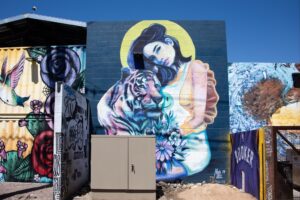 For many visitors to Phoenix, a meal at Barrio Café is a must-do. James Beard Award-nominated chef Silvana Salcido Esparza's award-winning Mexican cuisine tops best-of lists across the country. But that's not the only thing that draws raves. Once guests pull up to the unassuming eatery at 16th Street and Thomas Avenue, they're immediately awed by the kaleidoscopic array of murals that cover the block.
There are luchadores and lowriders, native flora and fauna, and one of the city's most iconic pieces of street art — the "Bienvenidos a Phoenix" mural that served as a backdrop for President Joe Biden's and Vice President Kamala Harris's campaign visit to the Valley. The images stretch around the building and along the back alley. At any time of day, you'll find diners and locals wandering around the property, admiring the artworks and discussing the images' sometimes thought-provoking messages.
This collection of murals is known as the Calle Dies Y Sies (Calle 16) Project. While downtown Phoenix in recent years has become a veritable outdoor gallery, with talented artists taking over walls and buildings and transforming them with eye-catching designs, the concept of showcasing street art to beautify the city — and make a statement — really took hold here.
The Calle 16 Project was established in 2002 by Esparza as a way to celebrate Mexican American culture and art and build community pride in a predominantly Latino neighborhood. It was a response to Senate Bill 1070, Arizona's controversial immigration law that allowed police officers to question the immigration status of people they suspected were in the country illegally.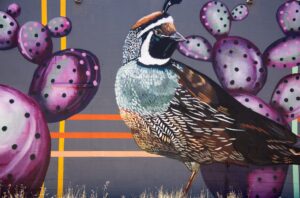 Esparza turned to some of the Valley's best-known graffiti artists, including Lalo Cato, Hugo Medina and the late Pablo Luna to create larger-than-life paintings that would showcase the talent and diversity of Arizona and Phoenix — and build a bridge between the city's populations.
Today, Calle 16 remains an important destination for the Valley's street art and continues to attract top artists, including Tato Caraveo, Thomas "Breeze" Marcus, Angel Diaz, Cato and more, who update old works and even cover up images with new, timely pieces.
Further downtown, along the now-booming stretch of Roosevelt Street between 16th Street and Seventh Avenue — an area commonly known as the Roosevelt Row Arts District — just about every corner unveils a new work of art. Visitors can spend hours exploring the many side streets, alleys and courtyards that flank Roosevelt Street. Some businesses, such as Carly's Bistro, act as oversized cavasses, while a nine-story-tall portrait of Black author and activist James Baldwin by Antionette Cauley towers over the neighborhood.
A must-see stop for street art aficionados is the 1 1/2 Street Mural Project. This vibrant alley is tucked behind food court and event space The Churchill. It's known as Mural Alley because every square inch of wall space is swathed in glorious paintings that celebrate music, reference Sonoran wildlife and spotlight social issues.
A who's-who of the city's muralists are showcased here. Fans will instantly recognize Cota's signature calacas with their bold colors and saucer-like eyes. Caraveo's surrealist elongated characters with delicate, pinched facial features frolic whimsically on candy-colored backgrounds. And Douglas Miles contemporary Apache figures deconstruct stereotypes and address inequalities that affect Native communities.
One of the most powerful pieces found in Mural Alley is by Lucinda "La Morena" Yrene. "No More Stolen Sisters" has garnered national attention for the Chicana/Indigenous artist. Depicting a Native American woman with a red hand painted over her face, it calls attention to the epidemic of murdered and missing Indigenous women.
La Morena also made news in late 2022 when she was selected by the NFL to design the official Super Bowl LVII ticket as well as a massive mural for the sporting event that can be found at the corner of First and Washington streets in downtown Phoenix. The dazzling 9,500-square-foot display of turquoise, orange and pink celebrates the people, lands and culture of Yrene's ancestors.
Another popular arts district is Grand Avenue, which long has been known for its many galleries and artist studios. Here, streets are lined with works by locally renowned muralists including El Mac, Jeremie "Bacpac" Franko, Luster Kaboom, Sentrock, Laura Best, Lucretia Torva, Tyler Krank and Maggie Keane.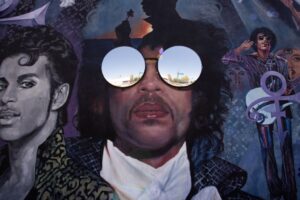 Keane is best known for her murals that pay homage to musical legends. Her tribute to Prince, which spans the side of a building at the corner of Roosevelt Street and 15th Avenue is a purple-tinged collage of four portraits, a silhouette, the musician's unmistakable symbol and doves. Two 36-inch mirrors serve as the High Priest of Pop's sunglasses.
Another of Keane's musical tributes honors David Bowie. Painted on a brick wall behind a parking lot on Seventh Street in the Coronado district, the 80-foot-long mural comprises eight different images of the singer once known as Ziggy Stardust.
Of course, these are just a few of the many places around metro Phoenix — and the entire Valley — where beautiful works of art add color and interest. Vibrant paintings of landscapes, animals, cartoon characters, geometric patterns and abstract swirls decorate buildings, walls, garages and even dumpsters across the region, from Glendale to Scottsdale, El Mirage to Mesa.
What Esparza started more than 20 years ago has grown into an integral thread in the fabric that is Phoenix culture. So step outside, and enjoy the beauty found in the city's open-air galleries. And don't forget your camera!