Ahead of Super Bowl LVII, Taste of the NFL chefs Mark Buche and Lasheeda Perry share two recipes that are great for game day!
Mark Bucher's Tailgate Chili Burger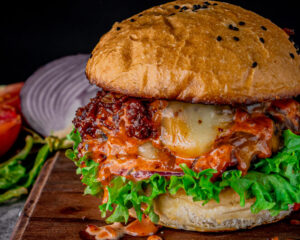 Ingredients
Chili:
2 large onions, diced
4 large cloves garlic, minced
2 tablespoons olive oil
1 teaspoon cinnamon
1 tablespoon chili powder
2 teaspoons ground cumin
1/2 teaspoon ground allspice
1 pinch ground cloves
1 pinch red pepper flakes
2 teaspoons cocoa powder
1/4 cup water
2 pounds lean ground beef
1-1/2 teaspoon salt
1/2 teaspoon ground pepper
40 ounces tomato sauce
2 tablespoons rice vinegar
Burgers:
1 pound ground beef short rib
1 pound ground beef chuck
Kosher salt, to taste
Pepper, to taste
4 potato buns, buttered and grilled
Sauce:
1/3 cup fresh chives, finely chopped
4 heaping tablespoons Heinz 57 Sauce
1 heaping tablespoon Dijon mustard
1/4 cup bread-and-butter pickles, chopped
1 heaping tablespoon capers
1 small bunch flat-leaf parsley, finely chopped
Kosher salt, to taste
Toppings:
Cheddar cheese, shredded
Sour cream
Corn chips
Directions
In a large pot over medium heat, add olive oil then onions and garlic. Sauté until onions are translucent. Add spices, salt, pepper and cocoa powder and stir to combine. Cook for 5 minutes, allowing the spices to toast up and release their aroma. Pour water into the pan and use a wooden spoon to loosen cooked spices from the bottom of the pan.
Add meat to the pan and stir to combine. Sauté until the meat is browned through, then add tomato sauce and rice vinegar. Stir to combine, reduce the heat to low, cover and simmer 1.5 hours, stirring every 5–10 minutes.
Combine ground beef and ground sirloin and form into four 8-ounce burger patties. Make an indentation in the middle of each patty with your thumb to give it room to expand without falling apart. Sprinkle salt and pepper on top then place into a hot cast-iron skillet. After the patty crisps on the outside, remove from heat.
Add all sauce ingredients into a bowl and mix until combined. Place each cooked burger patty onto the bottom bun. Top with chili, shredded cheddar cheese, sour cream, corn chips and the top bun.
Lasheeda Perry's Caramel Apple Oatmeal Cream Pies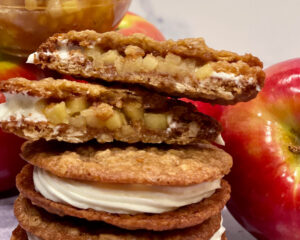 Ingredients
Oatmeal Cookies:
90 grams rolled oats
161 grams all-purpose flour
3/4 teaspoon ground cinnamon
1/4 teaspoon + 1/8 teaspoon baking soda
1/4 teaspoon + 1/8 teaspoon salt
162 grams unsalted butter, softened
221 grams light brown sugar
75 grams granulated sugar
43 grams whole eggs
19 grams molasses
1 teaspoon vanilla extract
Apple Filling:
280 grams apples, peeled and diced
32 grams light brown sugar
36 grams butter, unsalted
1/4 teaspoon ground cinnamon
1/4 teaspoon ground nutmeg
1/8 teaspoon ground ginger
3/4 teaspoon cornstarch
Whipped White Chocolate Ganache:
63 grams heavy cream
28 grams 35% white chocolate
12 grams corn syrup
1/2 sheet gelatin
172 grams heavy cream, cold
3 grams vanilla extract
Directions
Preheat oven to 350 degrees. Place rolled oats into a food processor and pulse until smaller pieces appear.
In the bowl of a stand mixer, cream butter, sugars and molasses until light and fluffy. Stop and scrape bowl. Combine eggs and vanilla extract and add to the creamed butter mixture. Stop and scrape the bowl.
Meanwhile, combine pulsed rolled oats, all-purpose flour, baking soda, salt and cinnamon. Add dry ingredients to the wet and mix just until incorporated. Stop and scrape the bowl. Chill dough for 10–15 minutes.
Line a sheet pan with parchment paper. Using an ice cream scoop or a tablespoon, place mounds of dough onto the prepared sheet pan. Make sure to space them apart because the cookies will spread in the oven. Bake for approximately 8 minutes. Allow to cool completely on the sheet pan.
Combine diced apples, brown sugar, cinnamon, nutmeg and cornstarch. Melt the butter in a medium saucepan, then add apple mixture. Cook for approximately 5 minutes, stirring occasionally. Apples should soften but still have a slight crunch. Remove from heat and allow to cool uncovered at room temperature.
Bring heavy cream, corn syrup and vanilla extract to a boil. Meanwhile, bloom gelatin in ice-cold water for 5 minutes. Dissolve gelatin in the hot cream mixture then strain over chocolate. While whisking, slowly add cold heavy cream until emulsified. Pour into a container and cover with plastic wrap; refrigerate overnight. Whip to medium peaks and place into a pastry bag fitted with a star tip. Keep refrigerated until ready to use.
Place a scoop of the apple pie filling in the center of a cookie and surround it with ganache before sealing a second cookie on top.