Writer Rebecca L. Rhoades // Photography Courtesy of Taste of the NFL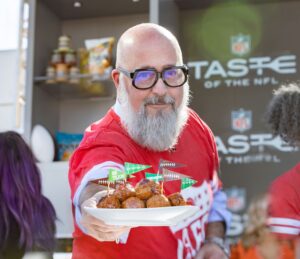 On Sunday, Feb. 12, Arizonans will be glued to their TV sets — or cheering on their favorite team at State Farm Stadium in Glendale — as the Super Bowl returns to the Grand Canyon State.
The big game is one of the most-watched annual sporting events in the world. And whether they're celebrating at home or partying it up in the stadium's parking lot, for most fans, a football game — especially the biggest football game of the year — just isn't the same without enjoying epic amounts of finger foods, dips, burgers and wings.
And while there will be no shortage of places to party, eat and drink in the weeks leading up to — and the day of — the Super Bowl, few events will pack as much star power — or do as much good for the community — as the Taste of the NFL.
This annual NFL-sanctioned event, which is in its 32nd year, brings together celebrity chefs, NFL players and local culinary stars for an evening of cooking demonstrations, friendly food competitions, photo and autograph opportunities, and, of course, plenty of delicious dishes to sample. All proceeds benefit GENYOUth's End Student Hunger fund, which provides schools with the resources and equipment to help feed food-insecure children.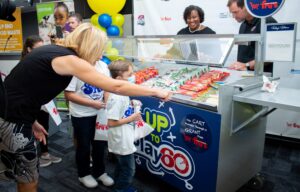 Ending Hunger One School at a Time
According to Feeding America, one in eight kids are at risk for hunger, with Black and Latino children the most likely to face hunger. In 2021, 22% of Black children and 18.5% of Latino children were food insecure, says a report by the USDA. In Arizona, 84% of students qualify for free or reduced-price school meals.
Creating healthier school communities is the mission of GENYOUth, a national nonprofit that is based in New York City.
"We were formed just over 12 years ago through a partnership between farmers and football players," says Ann Marie Krautheim, CEO of GENYOUth and a registered dietician. "They're unlikely suspects, but dairy farmers have long been supporters of nutrition education and research, and they've been very active in schools across the country through the National Dairy Council. And then the NFL has a strong commitment to physical activity and helping kids be healthy."
The two organizations initially joined forces to create Fuel Up to Play 60, a program designed to build healthier school communities — "fuel up" meaning nutrition and "60" being physical activity. It was launched in more than 73,000 schools across the country.
However, in order to create change, resources are needed. That's where GENYOUth comes in. Its goal is to bring together public and private sector organizations to help fund access to healthy foods and increase opportunities for students to be physically active, particularly in schools in high-need communities. This year marks GENYOUth's third year as the beneficiary of Taste of the NFL.
Throughout the months leading up to the big game, GENYOUth developed its Mission 57: End Student Hunger initiative — named in honor of the Super Bowl LVII — in schools across the Greater Phoenix region.
"We made a commitment to bring 'Grab and Go' breakfast to at least 57 schools in Arizona," Krautheim explains.
According to GENYOUth, only 55% of students in the state who qualify for free or reduced-price school meals participate in school breakfasts.
"The reason there's a gap is because there's a stigma associated with going to the cafeteria for breakfast, or the bus schedules aren't conducive for kids to have time to get from the bus to the cafeteria to eat their food," Krautheim continues. "So this 'Grab and Go' equipment, which includes a rolling cart [filled with fruit, cereals, milk cartons and other nutritious meal items], gets that breakfast out of the cafeteria and into a place where kids can grab and go right from the bus."
Schools in Glendale, Gilbert, Casa Grande and Tucson were among the lucky recipients of these rolling breakfast carts, which were funded by local businesses — including Fry's Food Stores, Isagenix, BHHS Legacy Foundation, as well as Frito Lay, Quaker and PepsiCo.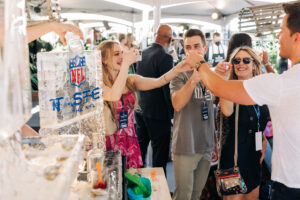 A Football and Foodie Festival
The charitable drive culminates on Saturday, Feb. 11, with the Taste of the NFL. It is the largest purpose-driven event held in conjunction with the Super Bowl. This year's theme is "Life on a Grander Scale."
Five celebrity chefs serve as hosts of the event: Andrew Zimmern, Carla Hall, Tim Love, Mark Bucher and Lasheeda Perry.
"All of them are very high energy, and they have a strong commitment to ending hunger," Krautheim notes.
Accompanying the famous foodies are 25 Arizona chefs who also will showcase their skills and flavors — including Beau MacMillan of Cala, Christopher Gross of Christopher's at Wrigley Mansion, Mark Tarbell of Tarbell's, Rene Andrade of Bacanora, and Maria Mazon of BOCA Tacos y Tequila, among others.
"A lot of really well-known chefs in the community have stepped up to be a part of this event," Krautheim adds.
Washington, D.C.-based Bucher is the owner of Medium Rare, a steakhouse in Bethesda, Maryland. He's also a world burger champion. But his passion lies not just in feeding those who visit his restaurant but in ending childhood hunger.
During the COVID-19 pandemic, Bucher started Feed the Fridge — an effort to put refrigerators around the community and fill them with restaurant meals so that children and families could get a dignified, nutritious meal. One of the big underwriters of the effort is the NFL Players Association, which is how Bucher got connected with Taste of the NFL.
"We felt that together we can accomplish more, especially when we align each year for Super Bowl to raise awareness," Bucher says. "We both have a very similar approach."
This will be Bucher's second appearance at Taste of the NFL, which will be the most interactive event of the past few years. 2021's event was virtual due to the pandemic, while last year's festivities were scaled back, as well.
"This year, we'll be at stations around the area making food; giving hints, instructions and pro tips; and partnering with NFL players to make their favorite meals," he explains. "Taste of the NFL has really become a foodie event and a foodie destination in and around the Super Bowl."
Bucher will be making one of his award-winning burgers, which is topped with a quail egg and a mushroom, onion and bacon jam.
For Perry, 2023 marks her third year as a marquee chef at the event. The Philadelphia-raised pastry chef, known as the Queen of Flavor, relates to underprivileged students and families in need.
"I definitely had a tough upbringing," she recalls. "We never went hungry, per se, but we lived in shelters. So I understand what it's like to struggle. The fact that I get to use my passion to help others is beyond successful. It really hits home for me."
As part of this year's event, Perry will be working with students who have an interest in baking.
"Not only do I get to help end student hunger, but I'll be teaching and mentoring students who want to become pastry chefs," she says.
More than 60 students ages 15–16 will be participating in cooking classes during Taste of the NFL. The students are part of the Careers through Culinary Arts Program, also known as C-CAP, a nonprofit workforce development program that helps underserved teens find work in the food industry.
Perry got her start at C-CAP Philadelphia, and as a result was awarded a full-tuition scholarship to the prestigious Johnson & Wales University in Rhode Island, where she studied baking and pastry arts.
"It's a full-circle moment," Perry remarks.
Joining Bucher and Perry is James Beard Award-nominated Mazon, who will be bringing her Sonoran flavors from Tucson to the Valley and says that GENYOUth's mission speaks right to her heart.
"When I opened my restaurant, I couldn't volunteer like other moms do at school," Mazon says. "So I cooked once a month at my son's school, to teach other kids how to eat vegetables. Some kids are not blessed enough, whether you leave it to the budget or to whatever. And it's inconceivable that there are kids whose only meal comes from their school.
"It's not about race, it's not about political views, it's not about business. It's about [feeding] America. I'm excited to be part of something so beautiful and that at least for a year or a semester, kids won't be hungry here in Arizona."
A quarter of the funds raised from Taste of the NFL will be earmarked for Phoenix schools. The balance will be distributed to schools across the country.
"The majority of the schools serve high-need communities," Krautheim says. "And with that, most of these schools have a higher percentage of children who are Black, Hispanic or live in communities of color."
The event, which will be held at Chateau Luxe in Phoenix, will feature a variety of food and beverage stations. Guests will meet the chefs at each station. A mainstage will host the celebrity chefs who will put on cooking demonstrations, share with the audience about GENYOUth's mission and get guests fired up for the big game.
"Our marquee chefs are all personally and professionally committed to the cause," Krautheim says.
In addition to the food, 30 football players will be on-hand to sign autographs and meet with guests.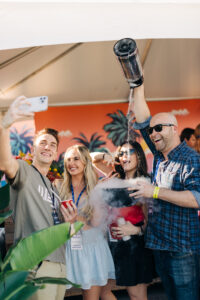 Game Day Gastronomy
Can't make it to Taste of the NFL? Don't worry. Bucher, Perry and Mazon offer their tips for hosting your own tailgate or Super Bowl party that almost will make your guests forget there's a game going on.
"Tailgating and at-home parties have gotten very sophisticated," Bucher says. "It used to be chips and salsa and maybe burgers and hots dogs because that was relatively easy. Now it's almost like a five-star caterer shows up."
Even though he's known for his burgers, Bucher prefers to go all out when it comes to tailgating.
"I love the idea of frying turkeys or grilling ribs," he says. "Breakfast also is a big trend. People are making breakfast sandwiches on top of propane grills."
For at-home parties, Bucher recommends meatballs, chicken wings, charcuterie and biscuit boards, and make-your-own grilled cheese sandwiches. Grilled pizzas, meatball parm and chicken parm subs, and even pasta bars also top his list.
"Step away from burgers and do sloppy Joe's," he suggests. "They stay warm longer. You can also do barbecued pulled pork or pulled brisket. If you're going to do burgers, do sliders. Make them ahead of time and keep them in your oven. Put them on the buns when you're ready to bring them out so they won't get soggy."
For Mazon, the food you serve should be the food you like — even if it's not considered game-day food.
"Cooking should not be stressful," she notes. "It should be about what you like, and it should be fun."
The Tucson-based chef says you'll find her behind the grill on Super Bowl Sunday.
"I'll put out a bowl of chips and some finger foods, but the main star is going to be more elevated," she says. "I don't like fried chicken wings, so last year I grilled wings and we roasted a bunch of vegetables. And a couple of years ago, I did hot dogs, but I made my own sausages. Whatever we're in the mood for, that's what I'm going to cook."
Of course, no meal is complete without dessert.
"When it comes to making dessert, there's no right or wrong answer," Perry says. "It's okay to have a root beer float or a fun chocolate-themed sundae."
One year, she made a cake in the shape of a football and filled it with ice cream. Another time, she did football-shaped ice cream and brownie sandwiches.
"It's really just getting to know your crown and taking into consideration where you are," she adds. "Make what feels good to you."
Taste of the NFL
Saturday, Feb. 11 // 4–8 p.m. // Chateau Luxe // 1175 E. Lone Cactus Drive, Phoenix // $750+ // tasteofthenfl.com