Writer Joseph J. Airdo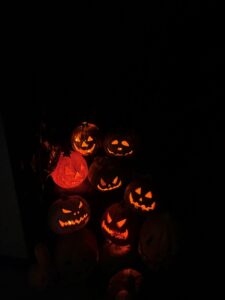 Ghost stories are among the oldest forms of storytelling, with tales of hauntings stretching way back to ancient times.
Figuring prominently in the folklore of cultures around the world, the earliest recorded ghost story is believed to have been written by the great Roman author and statesman Pliny the Younger who, in the first century A.D., recounted witnessing the specter of an old man with a long beard and rattling chains who was haunting his home in Athens.
Since then, ghost stories have evolved and expanded to include everything from bestselling novels to bank-breaking horror films. Of course, the best way to experience these terrifying tales remains live and in-person, where the frightening feelings that they stimulate can truly envelop and transport you to other times and places most frequently described with the following seven spine-chilling words: "It was a dark and stormy night."
With Halloween right around the corner, performing arts organizations around the Valley are pulling out all of the stops to serve up spooky spectacles to Arizona audiences, proving that this ancient form of storytelling is still very much alive — or, shall I say, undead.
'Blithe Spirit'
Skipping the scares and going straight for the funny bone, Starlight Community Theater's production of "Blithe Spirit" — set for Oct. 14–23 — tells the story of a writer named Charles who invites a local eccentric medium named Madame Arcati to hold a seance in his home.
Despite initially believing that the seance has been a failure, it soon becomes clear that Madame Arcati has unwittingly brought back Charles' first wife, Elvira, to haunt him. Once in his house, Elvira is unable to leave and, as she cannot be seen or heard by his current wife, Ruth, she causes all kinds of mischievous trouble between the married couple.
"I think that there is a lot of room for what I call low-tech theater magic," says director Eric Schoen, describing scenes in which a table moves and stuff falls off the fireplace mantel. "I think that it will be fun if audiences know that all of it is very low tech. Then, maybe by the end, we can have something that genuinely feels like a little piece of magic within the budget and size of this theater."
Although the story involves several supernatural characters and elements, Schoen says that it is all played for laughs rather than for scares. Moreover, he believes that the heart of the play is love.
"You could argue that it is the love that Charles has for his current wife or the mess of the love from the ghost of his previous wife," the director explains. "But I think that is what ultimately drives it."
First brought to life by Noël Coward in 1941, "Blithe Spirit" has since been adapted into two major motion pictures — the most recent of which, released last year, starred Dan Stevens, Leslie Mann, Isla Fisher and Judi Dench.
"The play is 80-plus years old," Schoen says. "There may be some dated references but I think that it holds up pretty well in terms of the repartee. I will be looking to find ways to embrace the theatricality of it, not have everything be literal and try to, if not modernize, make some things more timeless."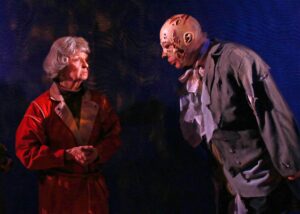 'Gaslight'
Over the past few years, the term "gaslight" has grown exponentially in popularity, with it being used to describe everything from the duplicitous actions of reality show contestants to American politics. However, it is not just another word that millennials have wished into existence. In fact, its origins date back to more than 80 years ago, when Patrick Hamilton used it to title a 1938 thriller set in the Victorian era.
"Gaslight" tells the story of a woman who, in the evenings, hears strange sounds and witnesses the gaslights dimming for no apparent reason. Little does she know that her overbearing husband is responsible for the mysterious occurrences, determined to send his wife over the edge of insanity.
Ben Tyler will resurrect the thriller Oct. 14–30 when he directs Fountain Hills Theater's production of it, showing audiences where the now-popular term came from.
"Because it is set in the Victorian era, none of the houses had electricity and everybody had gaslights in their homes," Tyler says. "So the term 'gaslight' comes from the way in which this guy is [manipulating] the level of light coming from the gaslights in the house in an effort to drive his wife crazy."
Tyler adds that he believes the woman's husband is one of the greatest villains who has ever been written.
"He convinces his poor wife that she is physically and mentally ill when there is actually nothing wrong with her at all," the director explains. "You see him preying on this completely innocent woman and it is really easy to hate him. He presents himself as being the nicest guy in the world but the audience knows that he is evil personified."
As a result, the play elicits feelings of anxiety and fear that are only accentuated by the story's Victorian setting.
"It really is this story of good versus evil," Tyler says. "It builds really good tension. Plus, it takes place in London and everything is kind of dark and shadowy. The [classification of] Victorian thriller is pretty accurate because a lot of the dialogue and characters are a little heightened. But it is a story that could absolutely take place today — especially when you think about things like the Me Too movement and the victimization of women."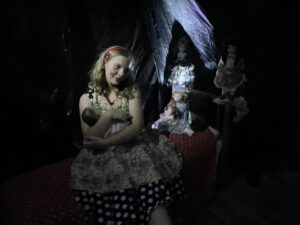 Musical Theatre of Anthem's Haunted House
After the remarkable success of its first haunted house last year, Musical Theatre of Anthem is doubling down on its sensationally spooky sophomore effort — expanding the number of days that it is open from two to three.
The fright-fest begins with a month-long workshop in which youth aged 11–18 will collaborate to create creepy characters, design macabre makeup and costumes and decorate a hair-raising haunted attraction that community members of all ages will be invited to enjoy Oct. 27–29.
Musical Theatre of Anthem instructor Sierra Litman says the production extends far beyond the standard haunted house.
"The participants do a lot of training for it," Litman explains. "So they build up an entire character, including its backstory. They put together their own costumes, makeup and hair. Then we work on weaving those characters together into one story. It is a full page-to-stage production."
Last year, participants were given the setting of a witch's lair and asked to create their characters to exist within that. This year, they will be given more creative freedom to truly construct the haunted house from the ground up.
"I want to have the actors develop the concept," Litman says. "That way, they can create different characters and weave them into their own story."
Litman adds that last year's haunted house was a runaway success.
"We had a huge turnout," she says. "I do not think that we stopped bringing people in the entire time that we were open. We had some people coming through five or six times just because they wanted to explore different ways of going through the house, as there were several different paths that you could take."
Conceived by Musical Theatre of Anthem's staff and instructors as a new way to engage the community in the arts, organizers knew that the haunted house would be a hit — especially since there is really nothing else like it in the North Valley. But being its inaugural year, they could not have anticipated just how much the community would embrace the attraction. Nor did they know just how much time and effort it would require.
"Last year was kind of like a mad dash," Litman says. "It came together, but there were a lot of full days to try to get everything done in time. We are giving ourselves a lot more time and space in our regular performing schedule this year so that we are not working around rehearsals and things like that. We have fully committed this time in October to this project."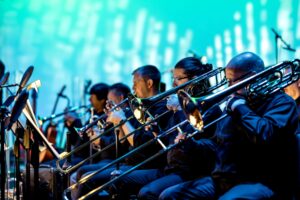 'Hocus Pocus' in Concert Live to Film
Originally from Pittsburgh, The Phoenix Symphony's vice president of orchestral operations and artistic administration Christopher Powell misses many of the sights, sounds and feelings of fall that are simply not part of the typical Arizona experience.
"There are a lot of people in Arizona who are not originally from here and have had fall in their lives," says Powell, noting that Arizona does not get the autumn chill in the air that many other parts of the country do.
Therefore, when the 1993 film "Hocus Pocus" became available to license for an orchestra to play live to film, The Phoenix Symphony leaped at the opportunity as Powell and other organizers knew that they could effectively bring all of those wonderful sights, sounds and feelings of fall to Arizona audiences through the magic and film and music.
"Hocus Pocus" stars Bette Midler, Sarah Jessica Parker and Kathy Najimy as a trio of witches known as the Sanderson sisters who, accidentally brought back to life in Salem on Halloween night, attempt to steal the life essence from the town's children so they can have eternal life. On Oct. 28–30, The Phoenix Symphony will play the score as the film is shown on the screen above the stage.
"This was the movie of my youth," Powell says. "I love it, personally, because I have always been a big fan of Bette Midler. She is hysterical in the movie. And there is so much chemistry among the three actresses who play the Sanderson sisters. It is such a fun film."
Adding the element of the symphony orchestra performing the score live — perfectly synchronized with the film — takes the experience to an entirely different level.
"It is almost like a like a sonic 3D effect," Powell explains. "It is a completely immersive experience when you have the musicians right in front of you. It feels like you are in the film studio, putting the music together for the first time."
The score for "Hocus Pocus" was composed by John Debney — who returned to create the music for its long-awaited sequel, which is now streaming exclusively on Disney+.
"The music is whirling and exciting during the action sequences yet very tender when it needs to be," Powell says. "There is an iconic Hollywood sound to Halloween and it ended up in this score. It is just masterfully done."
Prior to each performance, The Phoenix Symphony will host a prelude in Symphony Hall's lobby that will include trick-or-treating, storytelling and even a costume contest.
Experience
"Blithe Spirit" // Oct. 14–23 // See website for times // Starlight Community Theater // 1611 W. Whispering Wind Drive Suite 9, Phoenix // $25 // starlightcommunitytheater.com
"Gaslight" // Oct. 14–30 // See website for times // Fountain Hills Theater // 11445 N. Saguaro Blvd., Fountain Hills // $32; youth, student and senior discounts available // 480-837-9661 // fhtaz.org
Musical Theatre of Anthem's Haunted House // Oct. 27–29 // 6–10 p.m. // Musical Theatre of Anthem // 42201 N. 41st Drive, Suite B100, Anthem // $10 + a canned food donation for Foothills Food Bank and Resource Center // 623-336-6001 // musicaltheatreofanthem.org
"Hocus Pocus" in Concert Live to Film // Oct. 28–30 // See website for times // Symphony Hall // 75 N. Second St., Phoenix // $34+ // 602-495-1999 // phoenixsymphony.org