Writer Joseph J. Airdo
Photography by Carl Schultz
[dropcap]L[/dropcap]ike so many musicians, North Scottsdale resident Gary Spaniola's start was a result of seeing the Beatles perform on "The Ed Sullivan Show."
"It solidified my dream," says Spaniola, who was born and grew up in Detroit. "I was just mesmerized by them."
Little did he know back then that he would go on to enjoy not only a very successful 25-year career in the music industry but also a career in computer programming and software design that resulted in the invention of a system that is regarded as the future of home automation. Nor did he know that he would eventually return to his musical roots to make a difference in the lives of children and families in need.
As a child, Spaniola worried about being or becoming bored. However, his mother used to say, "If you are bored, then it is your own fault." So at age 10, believing that if he could write songs every day for the rest of his life like the four men with the textured mop-top haircuts he saw on television, Spaniola took matters into his own hands and began to teach himself how to play the guitar.
Spaniola practiced playing his guitar at least eight hours every day. In fact, he practiced so incessantly that his mother had to actually beg him to leave the basement to go play outside. By the time he turned 13 years old, he had successfully learned how to play by ear — something that he says opened an entirely new and exciting door for him.
"I had a hard time reading music," he admits. "I tried to understand it but it never made much sense to me. It seemed like just a bunch of dots on a page. But I realized that I could hear anything and start playing it. And if you practice that enough, you can eventually see what the person is playing with your mind's eye."
One of Spaniola's friends who lived down the street informed him of a classmate who played the drums. The band Bitter Sweet Alley was born.
Castle in the Sky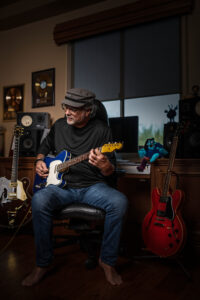 "We started playing high school dances and such," Spaniola says. "We even played in bars. We were only 15 years old. In those days, all you needed was a note from your mom saying that it was OK and that you would not drink. We just built upon that and started playing more and more."
A local DJ eventually discovered the band and Bitter Sweet Alley was entered into full rotation on the radio. It was even invited to be the opening act for a number of high-profile performers — including Rick Springfield, the Romantics, Cheap Trick and Ted Nugent.
"I found that I did not like the sound that we were getting recording in other studios," Spaniola says. "So I bought a house just north of Detroit and I built my own recording studio there. I started recording many of the bands in the city."
In fact, Spaniola's recording efforts grew to the point that he eventually decided to leave Bitter Sweet Alley in 1987.
"Everybody thought that I was crazy for leaving the most successful band in the city at the time," he says. "But I really liked the producing and engineering aspect of it all. I got to work with a lot of different bands and a lot of different styles of music. And I just loved doing it."
Spaniola would go on to work with more than 100 musical groups, earning both gold and platinum records along the way. Some of his producing and songwriting credits include a top 10 hit with rhythm and blues group Ready for the World and a song for the "Beverly Hills Cop II" movie soundtrack.
Spaniola eventually sold his second Michigan recording studio to hip hop duo Insane Clown Posse and pursued something completely out of left field — computer programming and software design.
"Music was changing," he says. "It was becoming very electronic and I was not really into that. So I began playing around with the software side of things and realized that it was pretty cool."
Spaniola taught himself C++ programming language, just as he had taught himself to play the guitar by ear a few decades earlier. He ended up getting a number of high-profile clients — people he describes as among the richest men in the world — and even invented a system that is still displayed at the Chicago Museum of Science and Industry as the future of home automation.
During this time, Spaniola and his wife moved to Arizona. Shortly after that, his father passed away.
"As we were going through my father's house, we found a scrapbook in which he had placed all of these interviews and news reports about my old band that he had cut out," Spaniola says. "That really tugged on my heartstrings."
Sunrise Again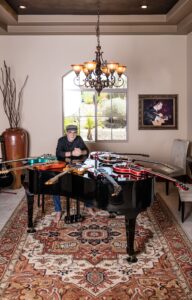 One day, Spaniola was driving by a guitar store and decided to stop and go inside. He had not been to such a store in decades.
"There, out of a hundred or more guitars, hanging on the wall, this one just stared at me," Spaniola says. "I knew what he was trying to say, so I packed him up and brought him home."
And the songs just started pouring out.
"I feel like all of these songs live in the instrument and when I buy a new guitar they just come flying out," Spaniola explains. "It was like a backlog of songs wanting to get out. All I had to do is get my fingers back into shape."
Spaniola says that, just as riding a bicycle, one never forgets how to play the guitar. One need only re-strengthen the muscles in their fingers that are responsible for the physical movements. That process only took three weeks for Spaniola, who believes that the guitar is a part of him.
Having built a small studio in North Scottsdale, Spaniola released his first album in years — a collection of instrumental music titled "Entropia." He followed that up with a classical album, "Lost in Control." His latest release, "In Wonderland," is rich in harmony, melody and something that the musician describes as "ear candy production."
"I think I play even better now than before because it is more melodic," Spaniola explains. "When you are younger, it is more about how fast you can play than what you play."
He also aspires to imbue each song with the sincerity and honesty that are only made possible by experiencing the incredible journey of life. For example, the first song on his new album, "Soda in a Bottle," was influenced by a heartfelt conversation that he had with his older brother, Michael.
"I remember talking with him about going back in time, when life was much easier," Spaniola says. "In those days, soda came in a glass bottle, and drive-in theaters were a big deal. One of [Michael's] muscle cars was a blue GTO that he would race on Woodward. It was a little before my time, but I lived vicariously through him."
Michael has since passed away and is greatly missed by his younger brother. Speaking of loss, the album's title track, "In Wonderland," is a very deep, very sad song about death and dying. Oddly enough, Spaniola wrote it for his wife, Erica Smith, a singer who was formerly signed with Columbia Records and is also featured on the album.
"She was like, 'I do not want that song,'" Spaniola says, laughing. "So I wrote, 'When I See You' for her instead, which is much nicer. But the other one is about something that people do not talk about. But it is a part of life. And I have found that sharing that through music can be very beneficial for people.
"Music is so strong and rewarding. A lot of times, when you are kicked to the curb, music is where you go to help yourself recover or just change your mood for a minute. If I can be part of that, then I think that is just fantastic. It is therapeutic for me, too. When things are not going well, I can just get lost in the music."
Heart of Gold
Spaniola's three recently released albums have been remarkably well received. Their strong sales are especially poignant considering the musician doubles every purchase and donates it to St. Jude Children's Hospital.
"I do not withhold any money for recording, promotion or expenses," he says. "Every cent received goes to charity. I have been very fortunate and am so grateful. It is my way of giving back. The more I can give to charity, the better I feel.
"I truly love the process of creating, developing and recording songs. Knowing that it will be helping children and families in need makes the experience shine even more brightly."
Speaking of which, Spaniola's talent and generosity ensure that, at 63 years old, this star shines even more brightly than he did during his initial 25-year stint in the music industry. Best of all, with no publishing company dictating what he can write, sing, record or release, his music is more resonant than ever.
"I never write a song thinking that it is going to be a hit," Spaniola says. "I may have done that a long time ago, but not anymore. I just write what is in my heart. And that is what you hear."