Writer Joseph J. Airdo
Photography by Carl Schultz
[dropcap]F[/dropcap]or the past four decades, Les Conklin has been fighting to preserve North Scottsdale's heritage and have a positive impact on future development in the area.
The 83-year-old resident has founded, been appointed to and become involved with a number of organizations, associations and commissions that exist solely to ensure that our uniquely scenic community remains scenic for not only current residents but also subsequent generations.
You might wonder what could convince someone to fight for the preservation of an area with such a persistent passion. Surely, he must have lived here his entire life, pursued an education in historic preservation and worked as an environmental specialist or some other related field.
However, you would be surprised to discover that Conklin has done none of those things. He was born on the East Coast, has lived in cities all around the United States (and traveled to places all around the world), obtained a degree in industrial management and has enjoyed a lifelong career at the forefront of the technology industry.
In fact, Conklin only arrived in Arizona in the 1980s. But the moment his feet touched the state's soil, he felt compelled to preserve its many special qualities. Although he acknowledges that the area is unavoidably different than it was when he first got here — especially in terms of population — he believes its changes are far fewer than those in other cities around the US and the world.
And that is something that he says is still worth fighting for.
Computer Genius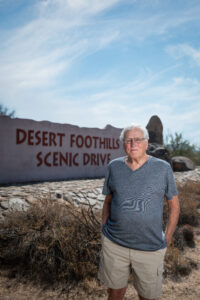 Born in a small town in New Jersey just outside of New York City, Conklin played sports, edited the school newspaper and sang in a group called The Hoots while attending high school. Upon graduation, he sought a degree in industrial management from the University of Rhode Island.
Conklin then served six months of active duty with the National Guard before securing a job as a life underwriter with Aetna in Hartford, Connecticut in 1961. It was there that his knack for computers was discovered via a series of tests, placing him on the programming team that began to computerize the insurance giant's business systems.
"I then flew out to Los Angeles for a long weekend over the Christmas holiday and took three job interviews while I was there," Conklin says.
He ended up taking a job providing computer training for NASA's Apollo moon mission with aerospace company North American Aviation. During his time there, he also developed and taught the very first course in business computer programming at El Camino College.
While in Los Angeles, Conklin met Judy, a beautiful and intelligent artist who lived in the same apartment building as he did, and asked her to be his wife. They eventually had two sons with whom they moved to Boston.
"In those days of computer programming, you could pretty much go anywhere," Conklin says. "There was just so much need. At the time, people who knew computers were considered geniuses. Of course, we were not geniuses. We were just the first people in that field."
Conklin took a job as a consultant with Computer Usage Company — the first independent company to market computer software.
"In those days, most companies did not have their own departments for developing computer software," Conklin explains. "I met a guy there and we started our own software consulting company called Synergetics in 1968."
Conklin and his Synergetics co-founder did contract programming and even put together a book that created standards for documentation.
"I spent a lot of time on airplanes traveling all over the country," Conklin adds. "We came out to Arizona during the school year of 1981 and rented a townhouse in McCormick Ranch."
Opening a branch office here, he instantly fell in love with the area.
"This was just such a beautiful and vibrant place," Conklin says. "It was very relaxed here and I thought that the area had a great future. I thought that Arizona had so much to offer and that it would grow and be a great place to live."
Synergetics was then acquired by a division of The Dun and Bradstreet Corporation — a company that provides commercial data, analytics, and insights for businesses. Conklin was permitted to continue to spend some time in Arizona, doing consulting, training and marketing work for the company until it, too, was acquired.
"I then ended up working as the head of sales and marketing for another company in Chicago for about a year and a half," Conklin says.
He was soon given the option of remaining in Chicago or move to Arizona to, again, work as a consultant for the company. Conklin did not even need a second to think about it. He, his wife and their two sons permanently relocated to a home on county land north of Scottsdale in 1983.
One Corner at a Time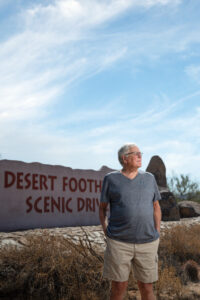 Conklin recalls looking out at the lot behind his home one day and spotting a red rezoning sign.
"They wanted to build at the northwest corner of Dynamite and Scottsdale roads a motion picture production studio with two hotels, a theme park, townhouses and homes," Conklin says. "That really got my attention."
Conklin formed and became president of the Monte de Paz Homeowners Association — a group that began fighting the 320-acre mixed-use development. He put together a presentation with everyone's input and, for the first time in Scottsdale's history, got more than 50% of property owners to force a two-thirds vote of the council.
"In the end, they withdrew the development," Conkin says. "I think that is the biggest contribution that I have made to Scottsdale. If that thing had gone in, it would have totally changed the area."
All seemed right with the world — until yet another red rezoning sign appeared on the southeast corner of the same intersection, this time for a proposed gas station. Conklin knew that he had to change his approach if he wanted to preserve the area's scenic beauty and tranquility.
"If you fight for one corner at a time, you are just going to lose one corner at a time until it is all gone," he explains. "We needed to save not just one corner but the entire stretch of roadway."
Conklin picked up a pen to continue a story that residents had begun writing two decades earlier.
In 1963, when Scottsdale Road was paved up to the new town of Carefree, residents throughout the Cave Creek-Carefree area feared the possibility that neon lights from motels and gas stations would destroy their beloved slice of the state just as they had other Arizona communities.
These residents established the Desert Foothills Scenic Drive, protecting roadside vegetation and vistas along the 6-1/2-mile stretch of Scottsdale Road between Happy Valley Road and Carefree Highway.
By promoting the Desert Foothills Scenic Drive, Conklin was able to not only defeat the development of the proposed gas station but also preserve the area's heritage and have a positive impact on future development for years to come.
Adopted Home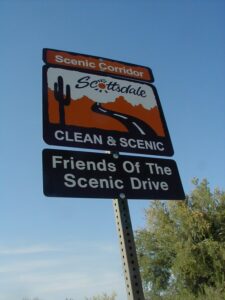 In addition to founding Friends of the Scenic Drive, a nonprofit organization that works to preserve and enhance the roadway by conducting regular litter pickup programs and maintaining its plant exhibits and monuments, Conklin was appointed to the Scottsdale Pride and the McDowell Sonoran Preserve commissions, has been an active member of the Pinnacle Peak Rotary, has served on the board of the McDowell Sonoran Conservancy and has even volunteered as a museum guide at Musical Instrument Museum.
He also became involved with the Greater Pinnacle Peak Association — a nonprofit organization, founded in 1977, dedicated to the preservation of the natural environment and the enhancement of quality of life in the North Scottsdale Sonoran Desert. Since 1996, Conklin has served the association as a director, president and editor of its publication and website — "A Peak at the Peak."
Since the 1980s, Conklin has had a particular fascination with researching and writing about history — of his own family, of America and especially of Arizona. Incredibly fond of the North Scottsdale community that, after 40 years, he considers to be his adopted home, he even published a book about the area in 2011 — "Pinnacle Peak," part of Arcadia Publishing's "Images of America" series.
"The quality of life here is still great but it does not seem as relaxed as it did when Judy and I first came out here," says Conklin, reminiscing about two-lane roads and the horses that, having gotten loose from nearby ranches, could be seen freely walking up and down them. "Growth has really changed things. Then again, it still seems very relaxed here compared to the East Coast."
That growth has also created opportunities, though — specifically, opportunities for Conklin and other preservation advocates to get involved to ensure the area does not fall victim to the significant decline or loss of character he has witnessed in other cities.
"Having gotten to do all of that travel, I would wake up in the morning in a hotel somewhere and really not know where I was," Conklin explains. "I would look out the window and I could be anywhere. Places all looked alike. Then there were places that I really liked at first, but when I would go back four years later, they had changed. They had lost some of what I had liked in the first place. I saw that quite frequently."
Conklin is proud to live in a community where, when things change, people become vehemently angry and get involved to prevent or at least minimize that change. Nonetheless, he worries about just how much longer it will all last.
"Urban sprawl is a hard thing to beat," Conklin says. "The Desert Foothills Scenic Drive that was originally created in 1963 was more or less forgotten about. Here we are 30 years later and people are not as aware of it as they used to be. But getting involved in that has been huge, as has the whole preservation thing. You do not get a chance to do something like that very often. And it will all go away if people do not continue to fight to protect things."