Writer Shannon Severson
[dropcap]S[/dropcap]ometimes the most wonderful dining discoveries are those you've likely driven past a dozen times and failed to notice. There's something especially satisfying about stumbling upon a gastronomic gem, either on your own or on the good advice of a friend.
The Cave Creek/Carefree area is home to some absolutely incredible restaurants. Many of them are well known — and deservedly so. But there are also some newcomers and longtimers that are just under the radar and worth a visit when you're in the mood to add to your list of local spots to support.
Vino & Panino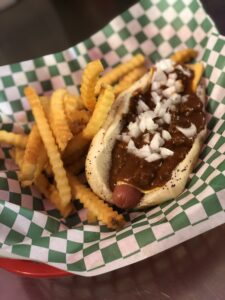 It's not every day that you can have a delicious panino (Italian pressed sandwich) or Chicago dog prepared by a fine dining-trained chef whose work experience includes the two Michelin star restaurant owned by Culinary Hall of Fame's Charlie Trotter… but you can Tuesdays through Saturdays if you head to Vino & Panino in Cave Creek.
Chef Ralphie Castellano — whose first career was as an aircraft mechanic after serving in the United States Air Force — and his wife, Pam, opened their brightly-hued shop with 60s and 70s flair in the fall of 2019.
"We wanted to create a happy place that's a new experience for Cave Creek," says Pam, who designed the lettering of the logo and restaurant's color scheme herself. "It's fun how things just came together. We have the ultimate in authentic Italian ingredients — the best Prosciutto di Parma, Vienna Beef hot dogs, the best sandwich bread and rolls from Turano Baking Company in Illinois. We aren't skimping on anything."
Not to be forgotten is the vino side of Vino & Panino. The restaurant has a carefully curated selection of wines by the bottle or glass to enjoy alongside Ralphie's sandwich creations, either inside or on one of two patios.
In addition to his classic, Da Chicago Beef with au jus and a choice of spicy or sweet peppers, Ralphie serves up specialties including The Castellano, which contains hot "gabagool" (also known as capicola), soppressata, 24-month aged prosciutto, pistachio mortadella and aged provolone and the Cave Creek Snake Bite with stacked Italian sausage, arrabbiata sauce and aged provolone.
Along with the traditional Chicago dog on its characteristic poppy seed bun, Ralphie also offers a corn dog or a chili cheese dog. If you've still got room in your belly, finish off the meal with a cool scoop of Italian gelato.
"The response we've had is amazing," Ralphie says. "We have great wines. People love the quality of meats and comment on how good the food is and how clean the restaurant is. People always say it's a happy place. That was my goal and it makes me feel good inside when I hear that."
On the horizon for Ralphie and Pam is an upscale piano lounge that will open next door in early winter. It will give diners the opportunity to experience great live music while enjoying carefully crafted regional tasting menus that showcase Ralphie's fine dining culinary talents. On Flamenco Fridays, the menu will feature Spanish specialties including tapas and paella.
Vino & Panino
6920 E. Cave Creek Road, Cave Creek
480-595-0976
vinoandpanino.com
The Village Coffee and Creperie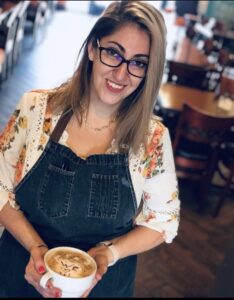 Located in Cave Creek's Stagecoach Village shopping center, The Village Coffee and Creperie captures a little bit of France in Arizona. Owner Marina Matatov's restaurant is most famous for its array of sweet and savory crepes, which can also be made with gluten-free batter and oversized cups of organic, locally roasted Roastery of Cave Creek coffee.
"I want people to feel cozy and at home," Matatov says. "The coffee cups say stay as long as you want. I will always find a way to accommodate guests. It's the way I was raised."
Matatov is extremely close to her family who emigrated from St. Petersburg, Russia in 1995. She watched her parents leave behind everything that wouldn't fit into the single suitcase they were allowed to take as a family. Their hard work has been a constant example to her of what hard work, a dream and opportunity can accomplish. Her father, who owns Sam's Barber Shop in Stagecoach Village, has been a primary source of inspiration and support.
"All because of him, I was able to succeed," she says. "He told me that whatever I do in life, I should be sure it makes me happy. I originally trained to be a pharmacist, but it didn't make me happy. Now, every day, I can't wait to go bake."
While she began in 2010 with a tiny space serving coffee and pastries, she dreamed of doing so much more and was convinced that crepes were going to be a hit with her loyal customers. Again, she relied on her family for inspiration.
"I use my grandma's crepe batter recipe," she says. "It's the same one my mom and grandma used when I was a child. My dad was doubtful, but I had a gut feeling and ordered my first crepe griddle from France. I really wanted to do something fresh and I could do that with crepes. I want people to see everything I'm putting in the food. I want an open feel, making honest food with quality ingredients."
This single mom of three also counts her employees as family and credits them for being steadfast and willing to learn every element of the business. Matatov says that, when it comes to cooking and baking, she learned almost all of what she knows at the "University of Grandma."
Now, she bakes everything herself –– lemon bars, rugalach, biscotti, kuchen, raspberry lemon cake and quiche that changes with the seasons. The extensive crepe menu includes sweet styles with fresh fruit, salted caramel, Nutella, lemon curd, peanut butter and chocolate. The hearty, savory selection includes smoked salmon, Italian meats and cheese, ham and cheddar or Swiss, chicken Dijon and veggie deluxe.
The Village Coffee and Creperie is open for breakfast and lunch and even has a liquor license so the friendly servers can mix up Mimosas or Bloody Marys, which are very popular with the brunch crowd.
"There's a joy I get from seeing unhappy people walk in and seeing the smile on their face when they take a bite," she says. "There's a connection with food. What a blessing that all the people in Cave Creek have supported me through the years. It's even a roller coaster, but I love what I do."
The Village Coffee and Creperie
7100 E. Cave Creek Road, #138
480-488-3835
thevillagecoffeeshop.square.site
Z's House of Thai
Tucked behind Big Bronco on Cave Creek Road is a little wooden building that looks straight out of the Old West. Upon entry, you encounter a food and cultural experience created by owner Sirikorn "Z" Rungboonkong.
Z's House of Thai has been delighting diners seeking authentic Asian specialties since 2018, but it was originally opened in another location as Z's Asian Fusion in 2012.
"When I changed locations, I wanted to focus on my grandmom's recipes," Z says. "I grew up with my grandmom and she influenced my skill. When she died, she gave me a very powerful word. She said, 'I don't want to see all my great recipes die with me.' Now I continue her recipes and her dreams are coming true through me."
Z took all the money she had made from Z's Asian Fusion to transform the new location into exactly the environment she wanted. Her yellow and green curries are some of her most popular dishes. The kitchen turns out meat, seafood and vegetarian dishes replete with garlic, ginger and Thai basil and Z adds all manner of traditional Thai herbs upon request.
Beyond the set lunch and dinner menus with her famous fresh summer rolls — which are prepared and cut more like sushi to maintain structural and taste integrity — and Pad Thai, she always has specials rotating through as ingredients are available. Her crispy soft shell crab with black pepper sauce is a favorite.
When it comes to heat, customers can suit their tastes by adding it themselves. Her "Z Hot Sauce" is so well-loved that she will soon be bottling it for resale. She does not use any MSG in her cooking and adjusted her recipes to make most of her dishes gluten-free. It's part of her commitment to have items on the menu that everyone can enjoy, regardless of dietary restrictions or lifestyle.
Z originally came to the United States from Thailand to complete her Ph.D. in social work at Loyola University Chicago, but her grandmother's passing prompted her to take another path. She fell in love with Cave Creek and her customers. In a way, she's using those social work skills to create a welcoming and delicious environment for everyone who walks through the door.
"For me, I'm so honored that my grandmom is around me and supporting me in spirit," Z says. "It's hard to run a restaurant but I hear from customers all the time that I have the best food. Cave Creek is a cowboy town and a unique community. I was so welcomed here and I fell in love with it. I'm lucky to have a strong community and loyal employees. This is now my hometown and I love serving the people here."
Z's House of Thai
6602 E. Cave Creek Road, Cave Creek
480-489-7055
zhouseofthai.com