Writer Joseph J. Airdo
Photography Courtesy of Scottsdale Public Library
[dropcap]A[/dropcap]nywhere you look around Arizona, horses play a very important role. They are a cowboy's best friend, an outdoor enthusiast's favorite form of transportation and an entire population's primary symbol of simpler times.
Horses have become synonymous with our state's Western heritage. This is especially true in our Desert Foothills communities, where these majestic creatures have been helping to create, shape, maintain and vitalize our lives for the past 140 years.
Their significance to our state's history is vast, as horses have provided essential contributions to both the labor that built the communities in which we now live and the recreational activities that define the unique culture that people travel here from all over the world to experience.
Arizona simply would not be Arizona without horses.
The Real Workhorses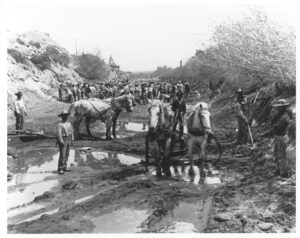 Much of our state's history begins with William John Murphy — a businessman, contractor and land developer who, in 1880, moved with his family to what was then known as the Arizona Territory. Initially contracted by railroad companies for grading and roadwork services, Murphy later joined three builders with whom he landed a $500,000 contract to build the 40-mile-long Arizona Canal from Granite Reef to New River.
To say that the project was vitally important would be an understatement, as it would bring water to the very dry lands of Maricopa County and eventually lead to Scottsdale's founding in 1951. Murphy and his team used horses to pull their digging and dredging equipment to complete the canal by 1885.
A few years later in 1888, U.S. Army Chaplain Winfield Scott visited the Salt River Valley and, impressed with its potential, made a down payment on 640 acres of land to start a farming operation near the heart of what is now downtown Scottsdale. Scott, too, relied heavily on horses as he and his wife Helen provided settlers with tours of the town via horse-drawn carriage.
Scott also traveled by horse into downtown Phoenix to deliver crops to the Phoenix Herald newspaper and to attend sessions of the Arizona Territorial Legislature — to which he was eventually elected.
In 1909 — one year before his death — Scott commissioned Scottsdale's first resident artist Marjorie Thomas to paint a portrait of his beloved retired U.S. Army mule, Old Maud. That oil painting, which is now on permanent display in the Scottsdale Historical Museum, led Thomas to have a lifelong fascination with horses and mules as they became a favorite subject in her work.
Around the same time, George Cavalliere arrived in the Arizona Territory and began providing blacksmithing services for the horses that were being used to dredge and maintain the Arizona Canal. Originally mounted on skids and pulled along the canal bank by a team of horses, Cavalliere Blacksmith Shop later set anchor at Brown Avenue and Second Street — where it remains operational as an ornamental ironwork business today.
Speaking of Brown Avenue, the street's namesake Edwin Orpheus (E.O.) Brown — who was responsible for much of North Scottsdale's early development — heavily relied on horses to traverse the 44,000-acre cattle ranch that he, his sons and his partners established in the 1910s.
Even as automobiles began appearing in the area at that time, horses remained residents' primary form of transportation — especially because many of them were ranchers and much of Scottsdale's side streets were still unpaved.
Horseplay Encouraged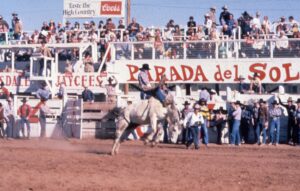 Of course, horses were — and still are — used for much more than just work and travel. Their history is deeply rooted in Arizona's recreational activities as well.
The fall of 1920 saw the rise of the Cavalry Reserve Officers Training Corps at University of Arizona. Cavalry ROTC sponsored a number of recreational activities on the campus — including co-ed horseback riding clubs and a nationally recognized polo team. In 1924, University of Arizona's polo team won the Western Collegiate Championship and traveled to the east coast to present President Calvin Coolidge with a cowboy hat.
Equestrian recreation continued to gain popularity and spread throughout the state over the next two decades. In 1929, the manager of Phoenix's then-new Westward Ho arranged for his guests to ride horses at Captain H.A. Mosse's riding academy and stable. This led to the creation of the Westward Ho Riding Club, later renamed the Valley Field Riding and Polo Club.
Unfortunately, World War II diminished the number of polo players and clubs not just here in Arizona but across the entire country. University of Arizona's polo team was preparing for a tournament on Dec. 7, 1941, when players learned that Pearl Harbor had been bombed. Many men joined a newly mechanized army that no longer relied on horses and, by 1944, the university sold its 80 horses, effectively ending the sport's existence on campus.
However, when one gate closes, another one opens. When Arizona State College (now known as Arizona State University) took over the WWII aviation cadet training base in 1947, it also built a rodeo arena — a site that hosted a number of Intercollegiate Rodeo Association events, proving that equestrian recreation had not vanished but merely pivoted.
Also in 1947, a group of merchants led by Malcolm White — a man who, in 1951, became Scottsdale's very first mayor — aspired to capitalize on the city's potential as a tourism destination. White and the then-new Scottsdale Chamber of Commerce began referring to Scottsdale as "The West's Most Western Town" and integrating elements of that image, such as hitching posts and horse troughs, throughout the area.
The Scottsdale Chamber of Commerce partnered with a local riding club in 1951 to host the Sunshine Festival, which featured an entirely horse-drawn parade — a predecessor of Parada del Sol, an event that still today draws hundreds of horses and participants and thousands of spectators each year. A rodeo was added to the festivities in 1956.
Meanwhile, several Arabian horse ranches had opened north of Scottsdale, creating a new industry that became extremely significant to the local economy. A small group of Arabian horse owners met in August of 1952 at the Westward Ho and founded the Arabian Horse Association of Arizona.
The association hosted its first All Arabian Horse Show in February of 1954 at Arizona Biltmore, leaving locals who had previously only read about the gorgeous creatures completely awestruck. In 1957, Anne McCormick of McCormick Ranch Arabians invited show participants to hold the event at her show ring on what is now the southwest corner of Shea Boulevard and Loop 101.
The All Arabian Horse Show — which is now endearingly referred to as the Scottsdale Arabian Horse Show — later moved to a ranch at 60th Street and Bell Road before again moving to a then-new equestrian event facility.
WestWorld of Scottsdale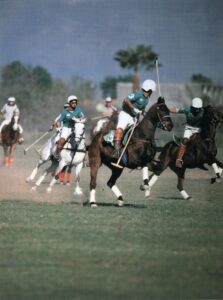 In the 1970s, the city of Scottsdale aspired to establish an equestrian-oriented park in order to provide residents with a place to ride their horses. Desert Park opened on the north end of the Scottsdale Airport runway. However, less than 10 years later, the park — which had undergone a name change to Cholla Park — closed to accommodate a runway extension.
The city then entered a long-term agreement with the U.S. Bureau of Land Management to lease land north of the Central Arizona Canal and at the base of the McDowell Mountains for the development of a park.
Horseman's Park opened in 1986 and initially featured an open-air arena, several smaller open arenas and stables. The park underwent a name change to HorseWorld in 1988 before finally settling on WestWorld of Scottsdale in 1990. The facility now hosts more than 90 equestrian events each year — including the Bentley Scottsdale Polo Championships, the Parada del Sol Rodeo and the Scottsdale Arabian Horse Show.
From pulling digging and dredging equipment and providing Arizona's earliest settlers with transportation to fortifying our lives with sportsmanship, recreation and beauty, horses throughout history have helped to establish a culture here in our state that is unlike anywhere else in the world.