Sedona Visual Artists' Coalition: Open Studios Tour
Cover photo: Terry Israelson "Corn Bowl," glass art, 9″x2.5"
Up: Barbara Donahue "You've Got Mail," oil on canvas, 14″x11″
Cheryl Waale "Material Girl," mixed media on canvas, 30″x24″
Cheryl Waale "Tapestry," mixed media on canvas, 40″x30″
Terry Israelson "Tekta," glass art, 18″x3″
Down: Terry Israelson "Navua," mixed media glass, 9″x18″x4″
Terry Israelson "Lune," glass art, 14″x3″
Barbara Donahue "Old Payson Barn," oil on canvas, 16″x20″
Barbara Donahue "Taos Winter," oil on canvas, 30″x40″
Writer Grace Hill
Artists Barbara Donahue, Cheryl Waale and Terry Israelson

Iridescent glass work, delicate ceramics, masterful paintings and imaginative hand-crafted jewelry — just a few of the many creations that will compete with the magnificence of the surrounding red rock buttes during the Sedona Visual Artists' Coalition's (SVAC) 14th annual Open Studios Tour.
On April 28–30, this free, self-guided tour returns with more art to uncover in the areas of Sedona, the Village of Oak Creek, Cornville, Cottonwood, Clarkdale and Camp Verde. As guests enjoy a relaxing day perusing artwork of excellent craftsmanship, they will also delight in the opportunity to observe and interact with working artists from over 40 studios.
This year, the tour welcomes three returning artists: painter Barbara Donahue; mixed media painter Cheryl Waale; and glass artist Terry Israelson.
Barbara Donahue
Barbara Donahue hopes her paintings transport the viewer to the place that inspired each image. Through her skill depicting natural light and her application of color, she effortlessly achieves this.
However, it boasts of more than her skill. Emotions that run through Donahue while she creates consequently materialize within her paintings, becoming an essential element in her work.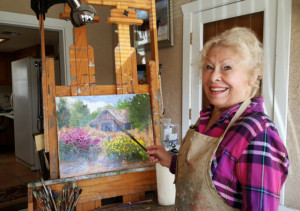 "When I observe something interesting, I feel a connection and a lifting of my spirits with a warmth and joy along with a desire to share the feeling with others," explains Donahue. "It is important to me to have others enjoy and feel the same things that I feel when creating."
Connecting through creativity has been important to her since she began drawing and painting as a child. Growing up on a farm in Ohio, nature became her close companion and her main source of inspiration. It would have been easy for Donahue to focus on more pressing tasks, like cooking for the field hands. Yet, she still made sure to create, and through her art she brought joy to those who worked tirelessly around her. As a senior in high school, her family moved for her mother's health. And so, she left her beloved farm for the Arizona desert, but this would bring new inspiration to Donahue.
"I loved the Southwest as soon as I saw the beautiful skies and mountains. My first sunset really sold me," says Donahue. "The scenery seemed to satisfy a need in me to express my feelings in a painting."
As she grew as an artist, she experimented with other mediums. However, painting was her first love and she always returned to it.
During the Open Studios Tour, as guests experience Donahue's paintings, they will sense that love and all the other emotions that flow from it.
Cheryl Waale
From a young age, Cheryl Waale had a desire to create. Whether sketching wildlife outside or painting horse murals on her bedroom wall, she found a need to make any blank surface reflect the energy that painting gave her.
As an adult, the opportunity to commit to her passion full-time didn't often present itself. However, no matter the day job, there was no taming her creative side as it always emerged in some form of her work. Then in 2006, after encouragement from her women's group, she finally committed to full-time painting.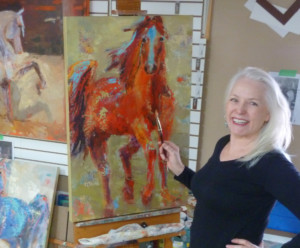 "When I started painting again after years away from it, they said, 'When you talk about it, your energy increases. This is what you should be doing!' It felt like I was finally given permission," says Waale. "It also helped to have a very supportive husband. I have to add, there are plenty of times when I get discouraged. But one thing I've learned, the only way through those times is to keep at it. You can't think your way through them. It takes brush mileage."
While her brush has traveled many miles, it shows no sign of slowing down. For Waale, the energy necessary to continue through the challenges of her acrylic and mixed-media work has come from being constantly inspired.
"My favorite things to paint have been trees, barnyard animals and certain birds," says Waale. "And, lately it's been the female form in abstraction. I love abstract works. They are so personal, and they're more difficult to do well. This has been my latest challenge. Learning how to sell an idea with less information takes a lot of skill."
Less information, though, doesn't mean guests of the Open Studios Tour will experience simple paintings. Rather, they will discover complex images made by beautiful layers of color, texture and material, reflecting Waale's artistic energy.
Terry Israelson
Terry Israelson spent most of his adult life creating wood furniture and cabinetry. With a successful business and the ability to experiment within his craft, Israelson was in a comfortable place as an artist. However, feeling that he had done all he wanted with wood, he was ready to travel a less comfortable road. It was time for a new creative endeavor.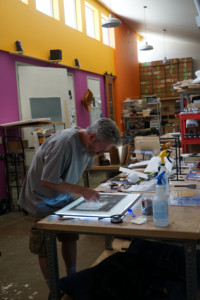 After asking the powers that be for direction regarding a new medium, he thankfully only had to wait two days for a response. When Israelson read a Facebook ad that said, "glass artist seeking studio assistant," he felt it was the natural next step, as many of his woodworking skills applied to glass working. But he also found an excitement with glass that didn't exist with wood.
"Glass is a very seductive medium for me," says Israelson. "What excites me the most about glass is using light and color. Glass can be either front-lit or back-lit, and one's design must account for this. I am currently working on wall pieces and light sconces to encapsulate both considerations. I find the sconces the most fun because they have to work both ways: when they are off during the day, and on at night."
The opportunity to admire these gorgeous sconces and other works by Israelson will occur during the Open Studios Tour. In addition, the event will become a family affair as his daughter will join him as a participating artist.
Getting to know Israelson and his daughter exemplify one of the main benefits of attending this event.
Israelson says, "The SVAC Open Studios event is a rare and fantastic opportunity to see a plethora of art in Sedona, and more importantly, to meet the artists who create it. For me, hearing their story, seeing their work environments and learning of their artistic inclinations and inspirations always add depth to the work. A day or two in Sedona ain't half bad either."
And what better motivation than the SVAC Open Studios Tour to make a little trip to Sedona.
Sedona Visual Artists' Coalition's Open Studios Tour
April 28-30
10 a.m. to 5 p.m.
Free
928-239-9967
See website for a map of studio locations and list of participating artists.
sedonaartistscoalition.org
barbaradonahue.com
cherylwaale.com
terryisraelson.com