Writer Joseph J. Airdo
Photography by Linda Spears
[dropcap]O[/dropcap]nce upon a time, an incredibly inventive man named Boyce Luther Gully would bring his young daughter Mary Lou to the beach in Seattle. There, the two of them would bond with one another while building sandcastles.
However, these brilliant creations, extravagantly designed and carefully constructed by the father and daughter, were tragically not long for this world. Just as the precious moments the two architects shared with one another were fleeting, the tide washed their beloved sandcastles away, leaving not a single trace of their existence behind.
"Please, Daddy, build me a big and strong castle someday that I can live in," Mary Lou would cry. "Maybe you ought to build it on the desert where there is no water."
Sadly, the sandcastles were not the only things to disappear without a trace. One day, Boyce did as well. The man's family — including Mary Lou — were left to wonder about his whereabouts and eventually had no choice but to accept his absence.
Years later, Mary Lou was contacted by a mysterious man who informed her that she had inherited a remarkably unique piece of architectural engineering in the desert. She and her mother traveled to the land, foreign to them, to claim the abode that was said to be built by her father.
Upon arriving, they discovered a native stone structure featuring 18 rooms, 13 fireplaces, parapets and numerous charming nooks and crannies all furnished with southwestern antiques. Mary Lou had finally gotten her castle. And that is where, taking her rightful throne as a newly crowned princess, she lived happily ever after.

Known endearingly as the Mystery Castle, Boyce's ingenious creation that appears to have been materialized right out of a fairy tale is among Arizona's most amazing architectural achievements. Today, visitors travel from all over the world to tour the fantastic framework, which is located in the foothills of South Mountain Park.
A Resourceful Architect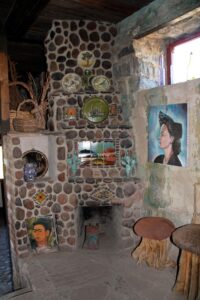 "Boyce Gully was from Seattle and developed tuberculosis," explains Linda Spears, a member of the Mystery Castle Foundation — the nonprofit organization that maintains the property so that future generations can share in its history and magic. "He left his family without a word. They had no idea where he went or why he left."
As many others suffering from the same disease did at the time, Boyce settled in Arizona, believing that its dry air and warm weather would be beneficial to his health. While here, he decided to build what is now known as the Mystery Castle. But because this took place during the early days of the Great Depression, Boyce was forced to get creative with the building materials.
Said to be held together by a combination of mortar, cement, calcium and goat milk, the three-story structure — which boasts a chapel, a cantina and a dungeon — is comprised of stone, adobe, automobile parts, salvaged rail tracks from a mine and even telephone poles.
"He used the hubs of wheels to provide ventilation," Spears says. "He did not want to have just an open hole where animals could come and go so he used that as a barrier, using the natural weather patterns for placement to get air to move throughout the castle."
Spears adds that the Mystery Castle features several interior windows and light corridors that are made from Depression glass — clear and colored translucent foodware made between 1929 and 1939 and distributed free or at low cost. He also incorporated into the building the oddly shapen bricks that he was able to obtain for free from a Phoenix brickyard.
In other words, Boyce was a resourceful architect as he made use of reclaimed, salvaged and natural materials to build the Mystery Castle.
"Boyce Gully lived during the time of Frank Lloyd Wright's heyday and he incorporated a lot of Wright's ideas into his building — although he claimed to have a strong dislike for him," Spears says. "He incorporated a lot of Native American building methods, mixing his mortar with natural elements and working with pieces of rock. It is just an ingenious architectural structure with different elevations built into the natural terrain."
A Modern-Day Princess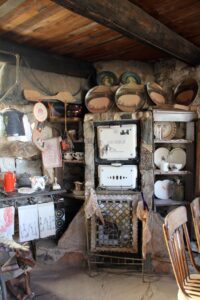 In 1945, Boyce's family — still living in Seattle with no knowledge of his whereabouts — was notified of his passing and their inheritance of the castle that he had built in Arizona.
"When [Mary Lou and her mother] arrived, South Phoenix was not the most desirable neighborhood," Spears says. "The property had no running water, no electricity and, unfortunately, they really did not have any money. They decided to live in the castle."
Mary Lou had just turned 18 at the time she became the legal owner of the Mystery Castle and, despite the difficult living conditions, she lived a fairy tale existence.
"She just wanted to be there and made it work," says Spears, noting that the family made money by hosting dinners at the castle before eventually opening it up for paid tours. "There were instructions that there was a trap door but it was not to be opened until after [the family] had lived in the castle for one year. When they opened the trap door, they found money and letters [from Boyce]. That trap door is still guarded by the metal alligator that has protected it all these years."
The same year Mary Lou and her mother began offering tours at the castle, Life Magazine published a story titled "Life Visits a Mystery Castle: A Young Girl Rules Over the Strange Secrets of a Fairy Tale Dream House in the Arizona Desert," accompanied by a photo of the modern-day princess posing atop the cantilever staircase leading to the roof. That is how the castle got its now official name.
In 1952, Mary Lou published a book about her experience titled "My Mystery Castle," for which she won the Mark Twain Young Writer's award. She passed away Nov. 3, 2010, but not before arranging for the Mystery Castle Foundation to take over the property to ensure its existence for future generations.
"There were developers beating on her door constantly wanting her to sell the castle and she was adamant that it would not be sold," Spears says.
An Everlasting Fairy Tale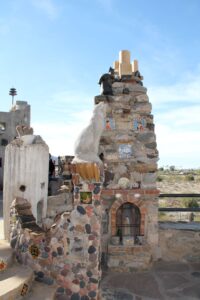 Today, the foundation owns the Mystery Castle and operates its tours October through May.
"We are a charitable organization," says Spears, noting that, although the Mystery Castle now has water and power, much of it remains unimproved, without modern conveniences like WiFi or even air conditioning. "We do not seek any kind of funding other than through the tours. That pays for the operational costs, including paying the caretaker and guides.
"We get a lot of foreign visitors as well as a lot of school groups, scout troops and senior organizations. We cannot take as many people as we would like just because we are not accessible. It is almost impossible to retrofit the castle to do that. But it truly is an architectural tour as much it is about the lore, just knowing what resources were available in the 30s and what [Boyce] was able to do with it without structural engineers or building inspectors."
Spears adds that Mary Lou inherited more than just her father's castle; she also inherited his architectural prowess.
"She would frequent thrift shops to find things," Spears explains. "After her passing, we went through the castle to figure out if there were things of value that needed to be protected. [Mary Lou] had a fruit bowl on a table and it turned out that it was a piece of glass that had originally been a lampshade that she had picked up at a thrift store that was worth thousands of dollars."
The foundation, of course, removed the bowl and other valuables from the property, which has been designated as a Phoenix Point of Pride and is listed in the Arizona Historic Register.
Above all, Spears believes that the Mystery Castle and the fairy tale behind its existence provide a very valuable lesson to visitors:
"No matter what happens in life, you can always do something about it, using what you have at hand to create something better."
Experience
Mystery Castle Tours // Thursdays–Sundays // 11 a.m.–3:30 p.m. // The Mystery Castle // 800 E. Mineral Road, Phoenix // $10; youth discounts available // mymysterycastle.com