Writer Joseph J. Airdo
Photography by Carl Schultz
[dropcap]A[/dropcap]s I casually meandered around Donna Cece's Arizona Horseback Adventures property, which is located on the site of an 1870s gold mine, I could not help but feel as though I had been transported back in time to the era of the Old West.
I took a moment to enjoy the view of Arizona's absolutely breathtaking desert landscape from the front porch of Cece's quaint western ranch. I admit that although I have lived here my entire life, I cannot recall the last time that I simply stood still and appreciated the natural beauty of our majestic mountain vistas.
Hearing some scraping of the dirt behind me, I turned to see a 150-pound sulcata tortoise gazing up at me from the ground. The mere sight of such an ancient creature further facilitated my relaxation. It was then that I also noticed a pair of goats, whose enormous eyes epitomized a serene state of mind.
Cece suddenly called me over to where she stood, beside the most gorgeous white horse I had ever seen.
"This is Destiny," Cece said. "She is going to take very good care of you today."
A short time later, I was riding Destiny through the very desert that I had previously been staring at in sheer amazement.
Located four miles north of Cave Creek, on the edge of the Spur Cross Ranch Conservation area, Arizona Horseback Adventures offers a variety of trail rides through the scenic Sonoran Desert and the foothills of the Tonto National Forest. The property also features a cute little cantina, which Cece makes available for parties and events.
It is Cece's goal to give each and every one of her visitors a chance to step away from the hectic hustle and bustle of the city and enjoy the quiet solitude of a virtually undisturbed wilderness environment on one of her very well taken care of horses, guided by her staff of informative, professional wranglers.
"It is a great way to connect with nature and de-stress while outside, breathing in the fresh air in a safe environment," Cece says.
Follow What Makes Your Heart Happy
Cece has been riding horses since she was about 5 years old. Having grown up in the country part of New Jersey, she had early aspirations of embarking on a career that kept her close to the horses that she so loved. However, at the behest of her parents, she did not pursue those dreams and instead became a physician assistant in orthopedic surgery.
"I was working in Manhattan when 9/11 happened," Cece says. "I went to ground zero and volunteered down there as a medical person for about a week and a half until FEMA came in. That pretty much changed my decisions about life. You see that and you start to want to follow what makes your heart happy as opposed to what makes you money."
Cece then moved to Puerto Rico — where she had previously spent some time surfing, scuba diving and riding horses — and did some horse and dog rescue work there. Having family in Arizona, she frequently visited the Valley, working as a wrangler for Spur Cross Stables.
Four years ago, Cece decided to move to Arizona full-time and, in October 2019, she bought the ranch and renamed it Arizona Horseback Adventures.
"It was a childhood dream of mine to work with horses and it is wonderful that it came back to that," Cece says. "I was working with them in Puerto Rico as well but having my own business working with them has always been a dream of mine. I get to make the decisions and care for the horses the way that I know they need to be cared for."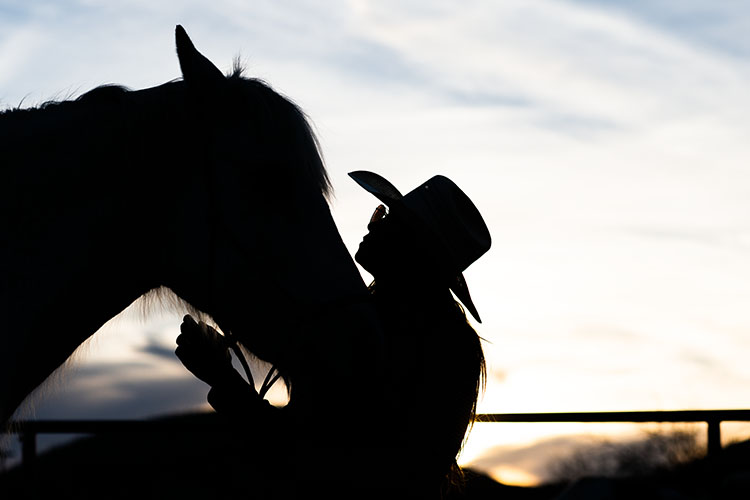 For the Love of Her Horses
Of course, although Cece's dreams were coming true, it could not have happened at a more inopportune time.
"We got rained out the weeks of both Thanksgiving and Christmas that year," Cece says. "Those are two of the biggest weeks that we have."
Then things took a turn for the worse as 2020 reared its ugly head. Because it is an outdoor business, Arizona Horseback Adventures was allowed to remain open throughout the COVID-19 pandemic. But, of course, business dropped dramatically.
"Then we had to deal with the hottest summer on record," says Cece, noting that she reduces the number of trail rides during Arizona's scorching summer months and only operates in the somewhat more mild morning hours. "And the kids camp that my horses normally go to work in the summer was canceled [due to the pandemic] so I had 30 horses left with me to feed."
Things went from bad to worse when not one but two wildfires raged in Cave Creek. Cece was fortunate that neither fire damaged the ranch's property but it was far from a cakewalk evacuating 30 horses as quickly as possible.
"The second fire breached the road — our only entrance and exit to the ranch — so we were basically driving out with flames on both sides of us," Cece says. "I thank God that none of my animals were injured. And I am also so thankful to the community. There were so many people who helped me get my horses out of there."
As business continued to remain sparse in the latter half of 2020, Cece picked up three other jobs so that she could keep some of her more valued employees on staff — and keep Arizona Horseback Adventures afloat.
"I waitressed, I bartended and I went out to Colorado to work for another dude string out there," Cece explains. "I sent money back to Arizona to feed the horses because, after all, I cannot tell them, 'Sorry, there is no work today so you cannot eat.'"
To make matters worse, because Cece was a relatively new business owner, she did not qualify for any of the economic help that was available to other business owners during the pandemic. If it had not been for the kindness of a few community members who donated a few bags of feed and bails of hay to her, Arizona Horseback Adventures may have not survived.
"I was not sure if I was going to make it," Cece explains. "But the two things that kept me going were my love for my business and my love for my horses. I look at each and every animal on my property as one of my babies. They all have a personality, they all have a name and I know and love each and every one of them."
A Second Chance at Life
Cece is well aware that many other people in the community — including those with whom she is very close friends — were hit much harder by 2020. She has therefore been hesitant to request help.
"There were a lot of other things going on at the same time," she says. "How do I ask for things when there were two fires with people who had lost their homes? I felt like there were people who were in more dire straits or greater need than myself."
Shortly after acquiring the ranch prior to the pandemic, Cece had begun planning a number of improvements on the property. She intends to one day follow through with those plans but, for now, her priority is making sure that her animals are fed and well taken of.
"People who know me know how hard I work and how much I care about these animals," she says. "When people come out now, they say, 'Your horses look great.' That is such a huge compliment to me and means so much in my heart because I work really hard to make sure that they do."
Speaking of Cece's heart, she has enough space in it for not only her own horses but also others — especially those who have wound up in kill pens.
"There is an overabundance of horses now due to people not being able to take care of them and they end up going to a kill pen," Cece explains. "Kill pens are pretty horrendous places. If no one pays their bond, they go over the border and get made into meat."
Cece recently rescued three horses from a kill pen in Texas, adopting them into her Arizona Horseback Adventures family. She rehabilitated them and now uses them on the trail rides.
"I feel really good that I got to give these three horses a second chance at life," says Cece, noting that there are a number of other rescue horses at the ranch as well.
Return to the Ranch
While riding Destiny, with whom over the course of 90 minutes I felt as though I had developed a very sincere connection, I noticed that it was actually Cece who was riding her own destiny. In addition to being a horse person, as she loves her horses with a very caring heart, she is also an absolutely genuine people person as well.
Not only does Cece provide an exceptional experience for her customers — whom she encourages to visit Cave Creek's other incredible businesses, art galleries and restaurants — but she also greets each and every person she passes on the trails with a smile and a few warmhearted words.
Cece is without a doubt doing what makes her heart happy. And she is a glowing example of how when one follows their heart, they make the world a better place.
arizonahorsebackadventures.com
Trail Rides
Arizona Horseback Adventures | 44029 N. Spur Cross Road, Cave Creek | $47+ | 480-488-9117 | arizonahorsebackadventures.com