Writer Shannon Severson
Photography Courtesy of Annie's Flower Truck
[dropcap]T[/dropcap]here's just something about a vintage Volkswagen bus that brings a smile to your face. It's a vehicle that seems to possess a personality all its own and just the sight of one evokes the carefree imagery of beach boys and flower children in simpler times. So why not combine the beloved bus with a sales concept that spreads a little joy around the city?
That's just what Annie's Flower Truck founder Ann Barker decided to do. Her pop-up flower business launched in November and the unique approach is driving sales and smiles.
It's a career reinvention for Barker, who had a successful corporate career in event marketing before the COVID-19 pandemic hit.
"I'm really grateful to have done all the things I've been able to do," Barker says. "I had an amazing career in event marketing and sports marketing. As the pandemic hit, I knew it wasn't going to be the same — at least not anytime soon. I started thinking, 'What can I do?'"
While scrolling through Instagram, Barker came across photos of women around the world who have flower truck businesses. It was a pandemic-perfect concept: it's outdoors, it's easy for people to maintain social distancing and it creates a convenient way to partner with brick and mortar businesses that are eager to draw attention to their location and provide enhanced services.
The flexibility of a traveling business also makes Annie's Flower Truck ideal for private and corporate events.
"Every pop-up is a mini-event," Barker says. "It creates a memorable experience that people want to share with others. I began building the idea and figuring out what it would look like and what it wouldn't. I wanted to put some fences around that."
Being Phoenix-based means there are also some guardrails on the seasonality of the business, which she anticipates will be active annually from November through April.
A Bit of Nostalgia
Inspired by a personal mentor who bought flowers for his wife each week from the moment they started dating, Barker has always had an appreciation for the power of a beautiful bouquet.
"It's something anyone can do to brighten someone's home or office," she says.
While launching and operating a business is no walk in the park, Barker has been able to tailor her plans to her new, slower-paced life outside of the very busy, nonstop schedule she kept in her previous career. That simplification naturally lent itself to a bit of nostalgia in her choice of vehicle: a 1964 Volkswagen single cab bus in a soft, minty green hue.
"My first car was a Volkswagen," Barker recalls. "I first learned to drive in one. I was drawn to the VW single cab bus and it's a pretty rare find. As I started my search, I came across a guy in Vacaville, California who is known for restoring old VW buses. He ended up selling me his family's personal bus. It was meant to be."
The response from the public and the local business community has been enthusiastic. Every Thursday, Barker posts her weekly schedule on Instagram and a monthly calendar on her website, so it's always easy to find where to buy her blooms. One of her mainstays is right outside Tarbell's Wine Store on Camelback Road and 32nd Street.
"We pop up outside Tarbell's every Friday from 1 p.m. until 4 pm," Barker says. "People are stopping by to pick up a bottle of wine or golf balls at Van's, and then come by the truck to pick flowers by the stem. That keeps the price flexible. We wrap each market bouquet in brown paper and tie it with string and off they go. We have many repeat customers."
Tarbell's is an example of Barker's business partnerships. This past Valentine's Day, she and chef Mark Tarbell teamed up for a Bubbles with Blooms promotion. Patrons could pair a specially designed contemporary bouquet with a vintage Pol Roger Brut Rose Champagne.
"One of the things Mark has done so expertly during these times is create a takeout model that is extremely good," Barker explains. "We added this promotion as a Valentine's option that was convenient and special."
Other locations Barker has paired up with include Sip Coffee and Beer, Melt by Melissa and Sonoran Optima Village in Scottsdale; Carsten Salon in Phoenix; and Liberty Market in Gilbert.
"We have a lot of customers who are looking for something different than they can find just anywhere," Barker says. "We introduce new flowers and many people bring their kids by on the way home from school. It's a Friday afternoon tradition."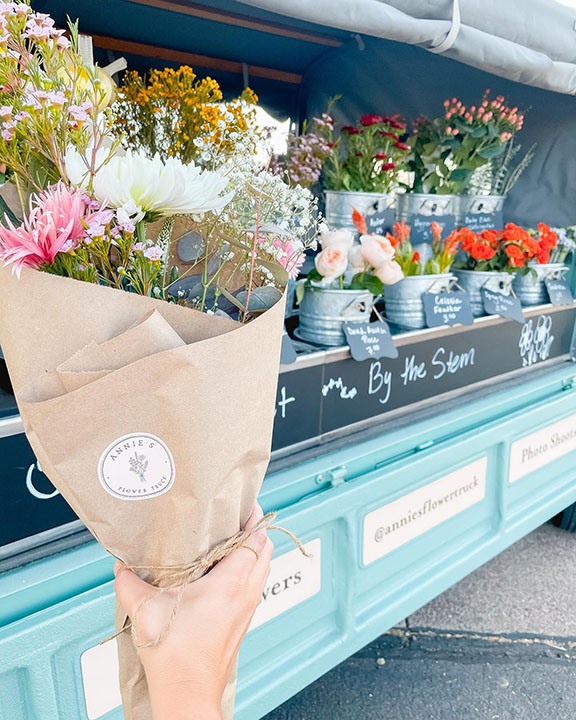 Creating Memories
The open, welcoming setup encourages people to get creative. Barker says she likes to let each customer be the expert. She has some men who have made it a habit to come around for flowers every week. They may be hesitant at first, but she encourages starting with what appeals to them or the intended recipient and says she's noticed that gentlemen often come up with really brave arrangements that are quite amazing.
Meanwhile, women often pick out flowers to gift to their friends as a gracious gesture or pick-me-up.
"People who are choosing flowers are creating a little memory," Barker says. "We have had people drive up crying or leave crying. Flowers touch us on an emotional level."
While floral design isn't her bailiwick, she does sell spa bouquets which are quite popular. Stems of baby blue eucalyptus are bound with string and can be hung in the shower; the steam that is created keeps sinuses clear and turns every shower into a spa experience.
"When people choose flowers, they're doing it to give as a gift or to make someone happy or it's to take care of themselves, which is so important these days," Barker says.
Another frontier for this little bus-that-could is private and corporate events. Annie's Flower Truck has booked bridal showers and member appreciation events at private clubs. With so many gatherings happening outdoors, businesses and party hosts can have the truck as a bountiful event centerpiece, giving guests the chance to make their own bouquets to take home as sweet-smelling keepsakes.
"Events are my biggest focus for expansion," Barker says. "I love rotating around on Saturdays, meeting local businesses that we can collaborate with and interacting with the community. As things continue to open up, I would love to work with companies to create memorable employee appreciation events."
As Barker has reinvented her career, Annie's Flower Truck is transforming the way the Valley buys flowers –– at a groovy little bus that's creating memories and spreading happiness.