Writer Shannon Severson // Photography by Marion Joson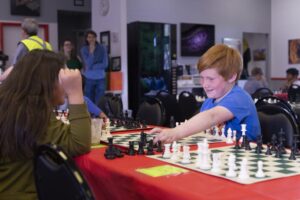 It's all there in black and white: the game of chess is hugely popular and, according to Dr. Debra Rose Wilson of Healthline Media, Inc., playing "can improve cognitive skills like memory, planning and problem-solving." It's that ability to stand back, assess what someone else might be thinking and visualize multiple scenarios that may be necessary to accomplish a task that is excellent practice for the game of life.
It's also a lot of fun.
Chess Emporium is celebrating its 30th anniversary this year and has taught more than 100,000 children the game of chess since its founding in 1993. The company operates chess clubs in 388 schools around the Valley and has three physical chess centers located in Scottsdale, North Phoenix and Tempe.
The school clubs are primarily for kindergarten through sixth-graders, with a few that extend to eighth grade. High schoolers learn and play at the centers during the school year and can attend camps during holidays and summer vacation. Weekend tournaments develop further skills, friendships and the opportunities to compete for trophies as a team.
"Chess is pretty popular at the moment with shows like 'Queen's Gambit' on Netflix," says James Wicker, the director of business development at Chess Emporium. "We teach in public, charter and private schools and reach roughly 10,000 kids per year. You could name every city in Maricopa County and we are there in some type of form."
Wicker himself is proof that it's never too late to take up the game. After an injury that temporarily hampered his participation on his high school's baseball team, he began playing chess at age 17. He loved it so much that, during college breaks, he continued to come back to work for the company as a chess teacher. As business development director, he's helped create partnerships beyond the classroom with the Phoenix Suns and the Phoenix Mercury.
"Chess helped me," Wicker says. "It teaches a lot beyond the game. Life skills like accountability, tenacity, grit; you have to work hard and understand your planning. Every game must be planned and is a whole new event.
"I learned late but it helped me in college, especially as a college athlete. It was hard with practices, games, homework and classes. I had to be on top of things. In chess, if you're not on top of every single move, you'll lose quickly. I liked winning on and off the field — whether in chess or baseball."
Chess Emporium's chess centers offer structured monthly classes and the flagship program hosts about 200 students each month.
"They pick a class and time slot based on their level — pawn, knight, bishop, rook or queen," Wicker says. "It's very intense, detailed work; not casual play. They're building strategy while learning opening principles, tactics and theory. A lot of kids like it better than the after-school clubs if they want to take the game more seriously."
Wicker says there's no stereotype for kids who get involved in chess. Across the board, all different interests, backgrounds and personalities are represented.
"I've seen kids go from building their brain power to developing in every aspect," Wicker explains. "Chess is building skills for life. Some kids have begun reading two or grade levels higher or go from being a C student to an A student. It's brain development away from screens. We don't teach online other than an occasional instructional video. It's over-the-board play and instruction is over-the-board.
"With the pandemic, a lot of kids are lacking confidence and social skills. Chess [builds] confidence in kids [and it's] a building block for the future. These kids will be our future leaders and we are helping them develop skills at a young age."