Writer Shannon Severson // Photography by Loralei Lazurek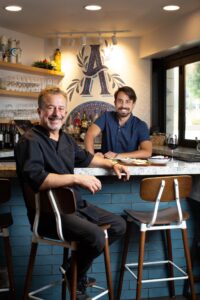 A trip to the dentist doesn't generally conclude with the realization of a dream, but in Sandy Athenson's case, it did. The culmination of that dream is Athens on Easy Street, serving Greek and Mediterranean cuisine just steps away from the historic Carefree Sundial.
Sandy's son, Augie, tells the story of how his parents returned to the restaurant business and made it a family affair.
"My father went to see the dentist and said his dream was to own a restaurant again, just as he had in the 1980s in New York," Augie explains. "He and my mother were both veterans of the restaurant industry at the time, but he left the business for something more financially safe.
They figured that they might own a restaurant again when they were older. The dentist put him in touch with the previous owners of the restaurant's current location, and after some minor renovations, we opened in the fall of 2020."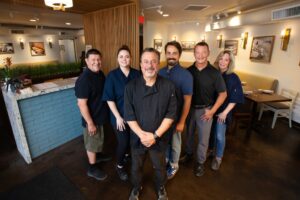 Heritage & New Ventures
While Augie didn't grow up in the "restaurant era" of his parents' lives, he and his fiancé Rita Culpepper both worked in restaurants during college and even met while working at the same restaurant. He says that during his younger years in small-town Illinois, Sandy and Augie's mother, Julie, were the consummate hosts, with dinners for extended family, their Greek Orthodox church community and school hosting 100–200 guests at a time.
"I lived down the street from my cousins," Augie recalls of his upbringing. "We would get together on Sundays for meals. The spanakopita was always there, and one of my aunts made the best pastitsio. These aren't items we would eat every day. We held them in high regard because it was a special occasion to eat them, with a lot of work involved in their preparation. They were foods we held dear."
Interestingly enough, Sandy and Julie had never operated a Greek restaurant, despite their heritage. Here in Carefree, they saw a need for Greek and Mediterranean cuisine, and this was a chance to share family favorite recipes with their neighbors.
When the family opened Athens on Easy Street that fall, they opened on a small scale with a limited menu of sandwiches and salads — necessitated by a very small kitchen. With the limitations of the COVID pandemic, the family was able to ease into building a menu and a loyal clientele, but they soon knew that they needed to embark on some serious renovations.
"Sandy decided that if we were going to do this [Greek restaurant], we were really going to do it all the way," Culpepper recalls. "We were all on the same page. The concept quickly went from the basics of gyros and souvlaki to some lesser-known Greek dishes like grilled octopus on a bed of curried lentils and a few items of the team's own invention, such as the curried chicken skewers and jackfruit gyros."
With supply chain challenges, what began as a six-month renovation project in the summer of 2021 became an 18-month project as delays mounted.
"People thought we gave up," Culpepper says. "Augie and I were working other jobs and working with the contractor. When we reopened in January 2023, we were pushed right into the busy season. We brought in a beautiful bar, additional seating and we have a larger kitchen that can produce for the many tables we added. We are very pleased with how it turned out."
Athens on Easy Street now stands out with a huge patio; its bright blue umbrellas are easy to spot against the white building, conjuring the characteristic colors of the Greek Isles. Inside, blue tiles, a marble-topped bar and warm wood tones create an inviting atmosphere.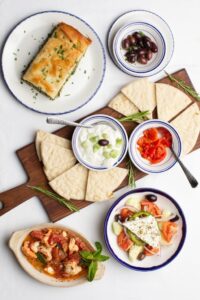 Gathering Around the Table
"It warms my heart when customers from our first opening tell us how excited they are that we came back," Augie says. "We have a lot of regulars, and it's a pleasure to see their names on the reservation list."
Athens on Easy Street also has a lot of fans from far-flung locales. Regulars bring friends, and the restaurant often welcomes visitors all the way from Greece and from the Valley's Greek community.
"It's great to be part of this small-town community," Augie says. "We like recognizing people from local businesses and getting their support."
The restaurant's convivial patio has an outdoor kitchen where, every Saturday, the scent of lamb on the rotisserie creates an aroma that draws in patrons — and sells out by the end of the night. This patio grill creates an interactive experience and, as weather permits, will be able to prepare an extensive number of menu items to order.
Indoors and out, Athens on Easy Street's menu allows customers to tailor their eating experience to the occasion — a meal for two, a gathering of friends for bites and drinks or a larger group ready for a feast of grilled meat platters and salads.
The "mezze and dips" section of the menu features small plates to share among friends with a glass of Greek wine, Greek Mythos beer or handcrafted cocktails like the Skilo Martini created with olive oil-washed, locally made Stray Dog gin, lemon vermouth, olive juice and orange bitters or the adventurous Tzatziki Tiki with gin, brandy, lemon, pineapple and tzatziki cordial.
To add a little drama to the meal, Saganaki flaming cheese is set alight tableside for a creamy, attention-getting appetizer. The eggplant and zucchini chips are also very popular and are a favorite of Augie's.
Bestselling entrées include the spanakopita, either as a main with soup or salad or as a smaller appetizer portion, the gyros and the pastitsio — a layered, Greek-style lasagna with seasoned beef and tomato sauce topped with creamy béchamel.
For dessert, Julie makes the restaurant's traditional baklava each week and a lesser-known treat, Bougatsa. It's a tradition in the Thessaloniki region of Greece that's also made with crispy, thin sheets of phyllo dough, but with a custard base similar to a light French toast or bread pudding.
Another secret weapon on the delectable dessert menu is Marnelle Ross. She's the official ice cream maker in the kitchen, and her creations go beyond the traditional flavors, instead concocting lavender honey, white chocolate-chocolate mint, Tahitian vanilla and refreshing sorbets made with the juice of local oranges and lemons. The dessert favorites can even be combined in a baklava sundae. Rita notes that customers claim it's the best vanilla ice cream they've ever had.
Augie and Rita say that customers enjoy making it a point to try something new from the menu every time they visit — a Greek passport to a dining adventure. They take home menus and cross off each item they've tried.
It's these experiences that make the Athensons feel that they've expanded their family to include their loyal customers, their hardworking and talented culinary and service teams and fellow business owners in the area.
"We have been very lucky to have been able to bring back almost every single former worker from when we first opened," Augie explains. "We have all become family."