Writer Amanda Christmann // Photography Courtesy of The Larry Fitzgerald Foundation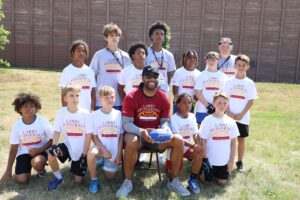 Mention the name "Larry Fitzgerald" nearly anywhere in the country and people will smile in recognition. They might not know how many touchdowns he caught in his remarkable career as a Cardinals wide receiver (121), or how many times he was selected to Pro Bowl (11), but what they do know, and will tell you, is that he's a really great guy.
At 39 years old, Fitzgerald has spent his entire pro career doggedly leading the Arizona Cardinals through victories and through losses. His dedication to the team, in good times and bad, has earned him respect among sports fans worldwide. It's also earned him a figurative halo among Arizonans, whether they've stepped foot or not inside State Farm Stadium or any of its earlier iterations.
This year, fans were saddened, but no one was truly surprised, when Fitzgerald unofficially announced that he would not be on the Cardinals' lineup this season.
The average age of retirement for an NFL player is 27 years old, and the average career length for a wide receiver is just 2.8 years. Seventeen years and more than 40 franchise records in, Fitzgerald has not only exceeded the expectations of anyone who's had them; he's served as a beacon for an entire generation of youngsters who've looked to him as a role model and an inspiration.
The great thing about Fitzgerald, and what his fans all seem to notice, is that he isn't just a one-skill wonder. His football career has been an important chapter in his life, but it's only one aspect of a guy who's far more complex than first meets the eye.
From a seat on the sidelines of his son's football practice, Fitzgerald spoke about his continuing goals with conviction, and with the same focus that he brought to the playing field.
"I'm moving forward," he said. "I'm raising my three sons and working to provide them with the structure, insight, and leadership they need. I'm heavily invested in the community as well. I'm continuing to look for ways to make the biggest impact and be a positive agent for change."
That impact involves using his name and fame to raise awareness and funding for programs near to his heart.
"It was always my hope to utilize football as a way to create opportunities for others," he explained.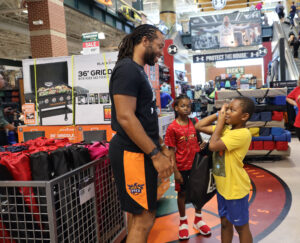 Breast Believe
In 2003, Fitzgerald's mother, Carol, lost her battle with breast cancer. Since then, Fitzgerald has made it his mission to do all he can to save lives.
In November, The Larry Fitzgerald Foundation created the Breast Believe campaign to educate women, particularly in underserved communities, about the importance of early detection, as well as breast cancer prevention, symptoms, treatments and access to resources.
"One in eight women, and even some men, will be diagnosed with breast cancer in their lives," Fitzgerald explained. "African American women are more likely to be diagnosed at a later stage of their cancer. Even though they're less likely to get breast cancer, they're more likely to die from it.
"It's that fear of getting checkups and that fear of going to the doctor. To me, that's unacceptable.
"I want to make sure that The Larry Fitzgerald Foundation is focused on the African American men and women who are dying at a disproportionate rate, so our outreach is focused on those communities in particular."
The goal of his foundation is to provide free mobile and in-clinic mammograms, education and resources for as many people as possible. Those resources include support for families who are struggling with challenges he knows all too well.
He's also growing his network of partnerships so that he can empower like-minded organizations to spread the word. Through grants and other help, he recognizes that teamwork isn't just for sports.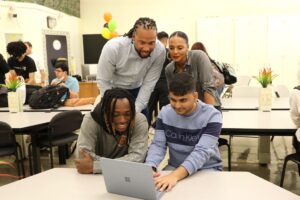 New Goals for Education
"Education is something that was emphasized by my dad when I was a youngster," Fitzgerald said, "He always told me, 'I don't care how long you play sports, or if you play sports at all. It's important that you get your education. It's the one thing they can't take away from you.'
"I've been fortunate enough to have been to 108 countries around the world. It doesn't matter if you grew up in East Baltimore, South Central LA or the South side of Chicago. You can come from the roughest area, but if you are willing to put the work in, you can crawl your way out of that environment. Education is that one thing you can utilize to do that."
It's difficult to comprehend the fact that, in the United States — one of the most prosperous countries in the world — a startling 31% of children are below proficiency in reading skills. Unfortunately, many of those children attend schools that are underfunded and overburdened and live in neighborhoods where families struggling struggle to survive.
A majority of these students are part of the racial and ethnic divide. Black and Brown communities are more likely to live in poverty, with little or no access to computers or Wi-Fi, fewer after-school programs, and less access to sports and other programs that teach children problem-solving skills, help them understand the value of hard work, and provide them with confidence and leadership skills that help them throughout their lives.
Fitzgerald is addressing all of these gaps with his youth education program.
"Technology is the bridge for the learning gap that I've seen," he said. "I want to focus on providing for the needs of schools, especially those that serve minority populations.
"The last two to three years have created a massive gap due to the lack of availability of technology and internet for kids in these communities. My goal is to increase their math and reading test scores, their attendance — all the things that equate to the love for school and the desire to continue to be educated.
"I don't have all the answers, but we continue to learn by trial and error. I know we'll keep finding ways to be helpful by working with organizations and with school districts to fulfill those needs."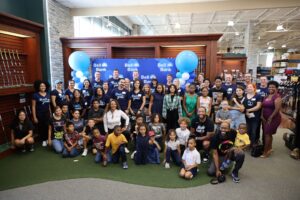 Transcending the Game
It can't be easy to be an icon. If Fitzgerald ever has moments of doubt about his larger-than-life role, it never shows publicly. He's carried a great deal of responsibility on his shoulder pads. Now that he's entered a new chapter, he may have switched hands, but he certainly hasn't dropped the ball.
He's a father, a friend and an activist, and he hasn't lost his sense of purpose simply because he's not putting on his No. 11 jersey each week. Instead, he's finding ways to turn his biggest struggles into opportunities to make a positive difference in the lives of others.
He's showing that his integrity, passion and drive transcend the game of football, and that who he is becoming is just as important as who he has been.
"People don't remember how many touchdowns or Superbowl rings you have or how many yards you've run," he said. "That stuff isn't important. They judge you based on how you treat people.
"Hopefully, at the end of the day, they'll say I treated people in a positive way."