Writer Shannon Severson // Photography by Taylor Hill and 2 Diamond Photography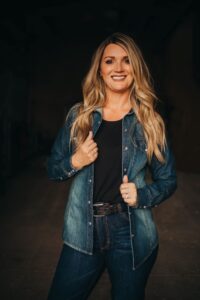 The genesis of blue jeans began thousands of miles away from the rugged wild west. Denim fabric can be traced to Nimes, France and the term "jeans" originally referred to Genoa, Italy –– the manufacturing hub for a durable, twilled cotton workwear fabric called 'Genoa fustian.'
But the humble blue jean — which transcends age, social class and culture — is now synonymous the world over with the American West.
Here in Arizona, Matt and Amanda Kimes have put their own imprimatur on this timeless wardrobe staple with their Kimes Ranch brand. The couple founded the company on a shoestring budget in 2009 as Longhorn Jeans with the goal of creating a stylish, uncomplicated, great-fitting jean that would wear just as well working in the dirt or out to dinner with friends.
"Western is the foundation of denim," Amanda says. "Our evolution in the western industry should be a natural progression that brands like Levi's and Wrangler have taken. We have a classic fit that works for cowboys, but the focus of our brand has always been 'western that transcends from the barn to the street.'"
They've built a loyal following among ranchers and riders since the beginning. Their reputation for attractive design, comfort, durability and best-in-class customer service soon spread to the mainstream as the line has expanded. Kimes Ranch recently experienced a publicity boost when their clothing appeared on popular TV series like UPtv's "Heartland" and Paramount's hit, "Yellowstone," starring Kevin Costner.
"We make functional, beautiful clothing that is fashion forward while still remaining western-friendly," Amanda explains. "Shows like 'Yellowstone' have allowed western-focused trends to appear in the mainstream market. It is a great time to capitalize on that momentum by showing that audience how beautiful western culture can be."
Kimes Ranch has steadily and strategically expanded its line to include woven wear, button-downs, tees, hats and outerwear –– including jackets, denim and polar fleece –– and a tech line that has taken off like a bull out of the chute.
"Our goal was to be a household name," Amanda says. "We leaned into a western world where we had familiarity and now we are pushing a western lifestyle brand into street style. But we had to be good at jeans first."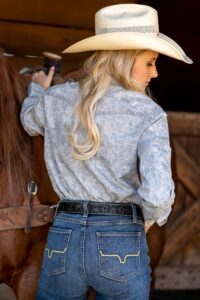 Denim Dreams
Amanda and Matt have deep roots in the western lifestyle. Both grew up in families with a history of ranching and riding –– Amanda grew up in Oregon native and Matt is a native Arizonan. When they first started dating, they would have "what-if talks" about their dream jobs.
"We both wanted to start a business and a brand that was really identifiable, like the Nike swoosh," Amanda recalls. "We kept landing on jeans. We both grew up showing horses and we lived and worked in jeans all the time. We really thought we could bridge the gap of a jean that was versatile enough to be ridden in all day and then –– with a change of shoes –– could be worn out to dinner."
They married in December of 2008 and one Tuesday in March 2009, both grew exasperated with their jobs. They playfully dispute who called whom with the words, "I can't do this another day," but they both felt it. By that Friday, they'd driven the 350 miles to Los Angeles' garment district to peruse rolls of denim and meet with jobbers.
"We had to figure it out," Amanda says. "We had no idea what we were doing. Matt had a Blackberry at the time and we would Google the questions the suppliers and jobbers were asking us and then give the answers. We both learn by doing. We didn't go to fashion school; we had no background in the business at all, but we had to figure it out. We are still with the same manufacturers today."
The pair invested everything they had in the business. A motorhome inherited from Amanda's grandma became a home away from home for weeks at a time in Southern California. The least expensive –– and safest –– spot to stay in the Los Angeles metro area was an RV park in Malibu. Amanda says they would sit in the cutting room, learning and directing every detail of this dream that they'd poured their lives and finances into.
"We had our first goods within three months," Amanda says. "We had 300 pairs of jeans in our hands and no idea what to do. We sold them out of our motorhome at horse shows and swap meets. As we became more reputable, we started going to wholesale shows, but that took years."
Eventually, they had kids and were on the road for weeks at a time.
"How well we ate at night was dependent upon how many jeans we sold that day," Amanda says. "We put most of it away to make more jeans. Those were really lean times for us.
"One year, we went to our first National Finals Rodeo, which is the creme de la creme of rodeo events. It was ten days long. We sold ten jeans a day at $100 each the first day. Our goal was to sell 30 pairs in a day. We did it on the last Saturday and our splurge was dinner at Pink's Hot Dog Stand. We paid more to park than we did for the hot dogs."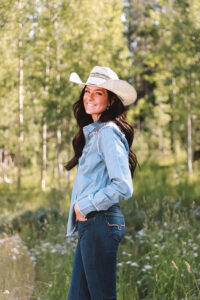 Emblematic of the American West
The turning point came in 2014. Lindsay Perraton was hired as marketing director and she suggested a name change to Kimes Ranch. Putting their family name on the product was the start of a huge momentum shift. The company grew 150% in 2020 and, in 2021, growth was up to 200%.
While they can't out-market big-name brands with flashy commercials, they excel in quality and customer service that includes a no-questions-asked replacement policy that has fostered a loyal clientele.
Matt designs and oversees the men's line while the women's line is Amanda's purview.
"We stay in our own lanes," Amanda says with a chuckle.
They live on a working ranch here in the Valley with three children and collaborate closely with their Arizona-based team as well as a design team in Los Angeles. The company truly embraces a family culture and that has been enthusiastically accepted by its customer base.
When asked if she had a favorite jean, Amanda couldn't choose.
"Our jeans are like children," she says. "I can't choose a favorite. We probably have 15 women's styles and nine for men. We can't discontinue any one style because our customers are so loyal to their favorites. Our customers are always coming to us with ideas. We take our customer feedback very seriously. Our customers feel like we made something just for them."
The jeans –– with names like Betty, Jolene, Wayne and Cal –– likely propel the customer feeling that they're in a relationship with their favorite jeans and wouldn't want to abandon one style for another.
That connection and family feel are something consumers are yearning for today –– even those who didn't grow up in the saddle –– and Kimes Ranch has positioned itself well to serve that desire.
"There has been a push for people to go back to their roots and the western lifestyle is really popular," Amanda says. "People want to go back to it. It's a part of our culture that is important and valued."
Matt and Amanda have certainly found that sweet spot of flair and functionality –– designed in Arizona and emblematic of an American West spirit that's alive and well.