Writer Joseph J. Airdo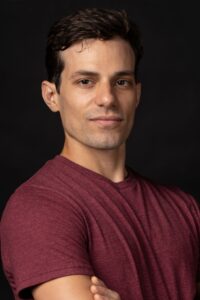 Following the tragic passing of a fellow Ballet Arizona dancer earlier this year, Nayon Iovino — who, this season, the company made a resident choreographer — aspired to create a work of beauty and healing.
"I wanted to do something that would give us all a chance to grieve through the thing that we are very comfortable with, which is dance and movement," says Iovino, alluding to the remarkable power of the art form as well as the sense of family that exists among Ballet Arizona's dancers. "I am very interested to see how I can connect and express a sense of spirituality, grieving and grounding through art."
The dancer and choreographer debuted the new work last month as part of Ballet Arizona's "Contemporary Moves," a vibrant program of diverse short ballets that kicked off the company's 37th anniversary season.
The concept of generating catharsis through dance is not new to Iovino, who previously used dance and movement to grieve and heal from the loss of his mother to cancer.
"It was such a big thing for me to have that artistic outlet at that moment in my life," he explains. "I tend to be an overthinker and I can go deep into thought. Doing something with movement and dance and getting lost in that takes over my thoughts. Through dance and movement, I have this lightness that I would otherwise not have."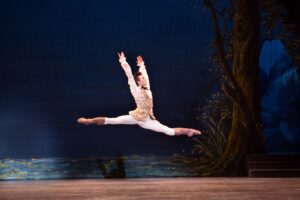 A Passion for Movement
Iovino began dancing at age 10 under the instruction of Gisela Vaz at Studio Dancarte Brazil.
"My sister did ballet and her teacher encouraged me to come and take a few classes," Iovino explains. "At first, I was very resistant to try it because I did not want to be called names or be given a hard time at school. But, over time, that faded, and my passion for dance just kept growing."
At age 17, Iovino was awarded a full scholarship to begin training with The Washington School of Ballet with Kee Juan Han and Carlos Valcárcel. In 2009, he joined Houston Ballet II and was featured in Stanton Welch's "Fingerprints," "Blue," "The Long and Winding Road," "Red Earth" and "Tales of Texas." The following year, he joined The Washington Ballet, where he performed soloist roles in Septime Webre's "The Nutcracker" and "The Great Gatsby" as well as in Twyla Tharp's "Sinatra Songs," "Push Comes to Shove" and "Surfer at the River Rocks."
Racking up accomplishments such as the bronze medal at the 2009 Youth America Grand Prix and the gold medal at the 2012 World Ballet Competition in Orlando, Iovino joined Ballet Arizona in 2012 and was immediately embraced by audiences and other dancers.
"I started dancing lead roles and, over time, [Ballet Arizona's artistic director Ib Anderson] requested that some of the dancers create a program with which we would raise funds for when we retire to have some sort of career transition money," Iovino says.
"They asked for some of the dancers to choreograph new works. It was 2013 when I first experienced that and tasted what it is like to create in dance. I have done painting before and I have played guitar and composed my whole life. So, once I got to experience that artistic outlet in dance, I really clicked with it."
Making Iovino a resident choreographer, Ballet Arizona has essentially put its trust in the dancer to continue creating artistic works for the company for years to come.
"Ballet Arizona has very high standards," Iovino says. "Coming here has really helped me to develop the full potential that I have as a dancer. Now that I am getting a little bit older, I can look back and see how much amazing information Ib was feeding onto me.
"I am looking forward to someday being able to share that gift with dancers when I am in the front of the room. I love working with dancers and am [eager] to contribute to the development of their artistic expression through movement and technique."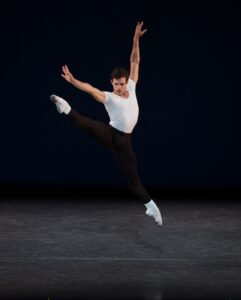 A Season of Spectacles
Ballet Arizona's 37th anniversary season continues Oct. 20–23 with the company's performance of "Cinderella." As if stepping between the pages of a beloved storybook, Andersen brings the classic story of romance and magic to life, vividly delighting audiences with the beauty and majesty of classical ballet, wrapped in the promise of "happily ever after" and generously sprinkled with humor.
Dec. 9–24, Ballet Arizona will take the Symphony Hall stage in grand fashion with its performance of the holiday classic "The Nutcracker." The Phoenix Symphony will play Pyotr Ilyich Tchaikovsky's iconic score that perfectly encapsulates the feeling of Christmas while Clara battles mischievous mice and charms the Sugar Plum Fairy.
Although "The Nutcracker" tends to get all of the attention, the ballets that spark the most fire in Iovino's heart are those that are performed less often — such as "Giselle," a ghost-filled, haunting masterpiece that tells the tragic-yet-passionate tale of a young woman who dies of a broken heart. Drawing audiences in with themes of enduring love, tragedy and romance, the ballet is famous for the Wilis — maiden spirits that take revenge on the young nobleman that betrays its title character.
"The story is so deep," says Iovino, noting that Ballet Arizona will perform "Giselle" Feb. 9–12. "I am very much looking forward to that ballet as well as All Balanchine."
Scheduled for May 4–7, All Balanchine features three ballets by George Balanchine, who is widely considered to be the father of American ballet. This year's program will include "Raymonda Variations," "Emeralds" and "The Four Temperaments." Andersen is one of a handful of artists worldwide entrusted by the Balanchine Trust to stage the masterpieces.
Ballet Arizona will conclude its season with a series of performances at Desert Botanical Garden. Surrounded by the matchless landscape with the setting sun as a backdrop, Andersen's vision for dance in the desert will evolve, take chances and challenge the boundaries of contemporary ballet each evening May 16–June 3.
Give Dance a Chance
Iovino, who will be dancing in each of this season's performances, is grateful to Ballet Arizona for furthering his development as a dancer and entrusting him to create art for the company. He is also grateful to his parents, who supported his dream to become a professional dancer.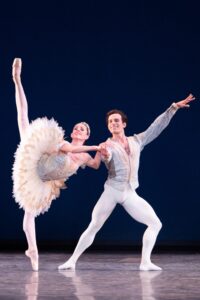 "Dancing ballet is just as hard as gymnastics or even harder," says Iovino, noting the physicality and athleticism required by the art form. "It is hard work. It is tricky to do something with a crazy-high amount of effort and, with a smile on your face, still make it look like it is nothing. I love that. It is such a nice challenge for me."
Iovino adds that he also loves the gift that dance bestows upon the audience.
"Because of the way that our brains work, we can somehow experience what a dancer feels through their movement," he explains. "As you age and it becomes harder to move, you can still, as an audience member, experience those feelings as though you are right there on stage. It is an amazing thing to be a part of — both as a dancer and as an audience member. This only works with all of us together."
With first-hand experience on both sides of the auditorium, Iovino encourages those who may be struggling with any unpleasant thoughts or feelings to explore their emotions through movement.
"Give dance a chance," he says. "You never know if it could be something that is healing for you, as it has been for me. Do not be afraid to try new things. If one [dance style] does not click with you, then you can always try something else. There are so many ways and styles of dance that you can explore movement."
Experience
Ballet Arizona's "Cinderella" // Oct. 20–23 // See website for times // Symphony Hall // 75 N. Second St., Phoenix // $35+ // 602-381-1096 // balletaz.org