Katalin Ehling: A Heart for Art
Writer Joseph J. Airdo
Katalin Ehling equates art with memories.
It can be argued that the Carefree resident is an expert in both subjects. After all, she has been making contributions to the art world through a variety of mediums for almost 60 years.
"When I travel, I take a ton of photographs," Ehling says. "I look through my photo album and think, 'Where in the world was that?' But when I go through my sketchbook and look at what I sketched, I can just close my eyes and feel the temperature in the air and hear the voices around me. Art puts me right back in that moment whereas a photograph does not."
Ehling, who will turn 80 this March, looks back over her collection of work and sees the world in an extraordinarily unique way. Each piece is a time capsule that is brimming with culture, history and emotion. She knows where she was when she created it, how she felt, what was occurring in her personal life and what was transpiring in the world around her.
There are, of course, gaps in time as represented by the pieces that Ehling has sold over the years. She says that is why it is so incredibly difficult for an artist to let go of their work.
"I still have many of my pieces just because nobody bought them," she explains. "In a way, I was happy about that because they were my favorites. I wonder if, as an artist, you put a spiritual hold on some pieces so that nobody else will take them away from you."
The Strangest Artwork
Ehling was born in Hungary in 1941.
"[The country's] language and culture were a large part of my upbringing, including during my five years living in Bavaria after the war," she says. "Over the decades, my travels have taken me to many parts of the world — Indonesia, Japan, China and most countries in Europe. Provence proved to be the most inspirational, but Hungary remains closest to my heart."
Ehling immigrated to the United States in 1950. Her introduction to the art world occurred in 1962, at which time she spent a year in Paris studying and working on art design. In 1968, she arrived in Phoenix.
"I started going to Phoenix College for art classes," Ehling recalls. "A couple of years later, I traveled to San Francisco and ran into a gallery that carried the strangest artwork."
That artwork was batik — an Indonesian technique of wax-resist dyeing applied to whole cloth. Each piece is made either by drawing dots and lines of the resist with a spouted tool or by printing it with a copper stamp.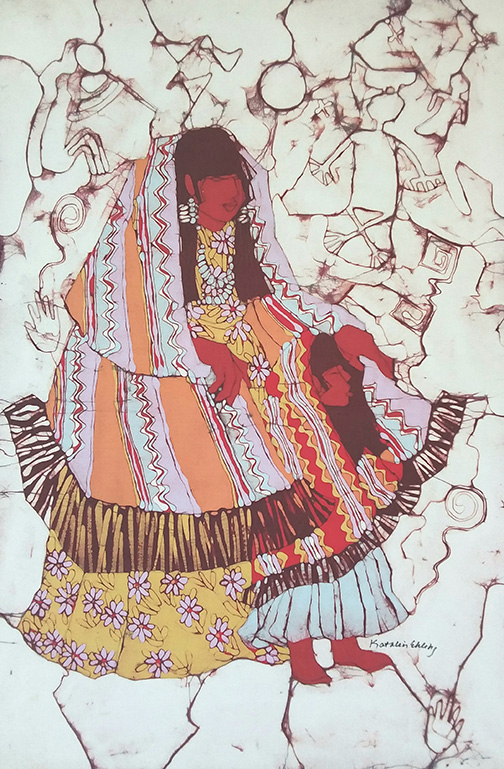 Intrigued, Ehling purchased a kit to try out the technique for herself. She was instantly hooked.
"I did not do anything except batik for many years," the artist explains. "And I was very fortunate because I got to be very successful at it. Galleries galore wanted and carried my work."
Ehling focused on Southwest-themed Native American pieces. That changed in the mid-80s , when she paid a return visit to the country of her birth.
"That really got me to look at different subject matter — especially all of the colorful Hungarian costuming and patterns," Ehling says. "So when I got back to Arizona, I started doing those themes. Those turned out to be quite successful as well and I enjoyed doing them."
In 1995, author Linda Theresa Raczek asked Ehling to illustrate her children's book "The Night the Grandfathers Danced."
"Later that year, it received the Best Juvenile Book Award from the National Cowboy Hall of Fame and Western Heritage Center," Ehling says. "For the first time, batik was used as a medium to illustrate a children's book. I was honored to have been asked to do it."
Very Personal Pieces
In the late 1990s, Ehling attended a batik convention in Ghent, Belgium, where she met like-minded artists from all around the world.
"It was really life-changing," she says. "It encouraged me to transition from the crafty look that batik often has to a more sophisticated fine art look."
Around this time, Ehling also started regularly traveling to different countries for two or three weeks at a time. She and a few other artists would rent a place, make it their headquarters and spend their days exploring different villages and other areas for inspiration.
"Fortunately, villages are not that far apart," she says. "And each one is so unique. We would spend the morning painting, drawing or sketching. Then we would have lunch and move on to another one."
Ehling ended up with an endless supply of sketches that she later evolved into batik and watercolor works. However, some of the raw sketches themselves hold one of her most cherished memories.
"One thing I did — especially from Paris, Provence and Tuscany — is sketch on postcards," the artist explains "I then wrote a note on the other side of each postcard and sent it home to my husband in Carefree. People always want to buy those but those are something that I will never sell. They are very personal pieces."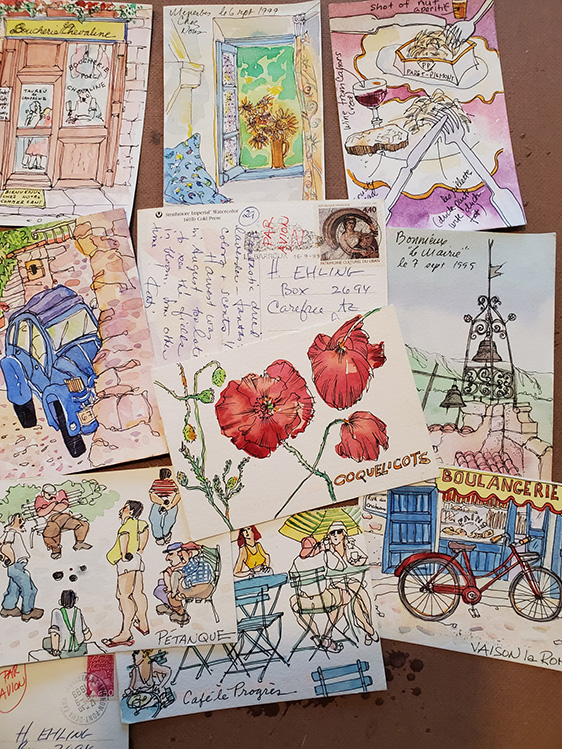 As the turn of the century approached, Ehling became very involved with the Sonoran Arts League and Hidden in the Hills. She notes that it was a lot of work but she cherished every moment of the experience.
In 2011, she wrote and published "Waxing Life," a memoir about her then 50 years as an artist.
With Different Eyes
Over the past decade, Ehling has taken a bit of a step back and slowed down a little. However, as she nears her 80th birthday, the artist continues to make memories with her art every chance that she gets — something that has now taken on not only a whole new meaning but also an entirely new method.
"I have been concentrating on autobiographical collages," Ehling says. "I have a ton of old photographs and other things from when I lived in Germany after the war. I also have a ton of stamps and letters from my grandparents. I use them in my art. I burn the edges and collage them. That has been really fun to do the last two years and I am going to continue doing it. It is fun to just do abstract work and not get so hung up on the subject matter."
Each of Ehling's autobiographical collages tells a story, which she has written on the back of each piece. However, unlike many of her previous works, she is not at all interested in selling them.
"I am doing it for myself," she explains. "I enjoy the process. I go into zen mode. It is meditative. I may eventually like to have an exhibition strictly with my autobiographical work, but I do not have enough of them right now to be able to do something like that."
Ehling was preparing for an exhibition of her work last year at Desert Foothills Library just as the COVID-19 pandemic hit. Instead of being seen by countless members of the community, her pieces were locked up inside of the library for months on end — quarantined like the rest of us.
Ehling spent much of the past year reading — particularly art history books and artist biographies. She also followed her late father's advice about not losing her languages and practiced reading in Hungarian, German and French.
"I also spent time going through my art storage in our garage — older pieces I never liked or ever really finished to satisfaction," Ehling says. "Lo and behold, with different eyes, I found some of the pieces to be quite good, needing only a little tweaking. Other pieces were really unacceptable, so we just burned them in our outdoor fireplace."
Ehling also discovered a collection of empty canvases on which she began envisioning new paintings and collages. Suffice it to say, there was never a dull moment for the artist.
Creativity of the Moment
Desert Foothills Library's building remains closed to the public therefore Ehling — who is eager to share the wealth of stories that she has surrounding her life as an artist — will have to wait a while longer for the previously planned exhibition of her artwork.
In the meantime, she is scheduled to participate in Desert Foothills Library's month-long Love Your Library celebration with a virtual reading from "The Night the Grandfathers Danced" 11 a.m. Saturday, Feb. 20. During the program, which will be available on the library's website, Ehling will encourage children to create their own art inspired by the story and share with them what it is like to be an artist.
Ehling also donated a collection of her original serigraph prints that will be for sale through Desert Foothills Library's website, with all proceeds directly benefiting the library.
Ehling says that her past 60 years as an artist have taught her that a true artist's goal is never to make masterpieces or to sell their work — although they may do so along the way.
"I think that when you are a real artist, you just want to create," she says. "You just do whatever comes out of you. It is creativity of the moment. You can sketch your life away and feel very satisfied if that is all you want to do."
The Night the Grandfathers Danced
Saturday, Feb. 20 | 11 a.m. | Free | dfla.org