Historic Spanish Village: Enchanting Generations
Writer Shannon Severson
Photography by Bryan Black and Loralei Lazurek
There's something special about the reliable touchstones in life. Familiar traditions, places we return to again and again that, of course, change a bit with time, but still retain the charm and essence of what first made them memorable.
On a corner in the picturesque town of Carefree, where Ho and Hum roads meet, sits the iconic Historic Spanish Village — one of the first buildings constructed in the community back in 1969.
The white stucco arches leading to an enchanting courtyard have welcomed generations of locals and visitors, many of whom return year after year, sharing a childhood memory with grandchildren now in tow. It's more than a collection of upscale art galleries, shops and restaurants; it's an experience.
"It's such a unique place," says Bruce Raskin, who owns the property with his wife, Kim. "The property has an amazing history; Carefree's founder, Tom Darlington and his crew used to hang out where Keeler's Neighborhood Steakhouse is now.
"In these times, it is ideal because there is so much outdoor space. People walk their dogs, wander by to look at the shops or dine outside. The location, the tenants and the patrons are really special. The sense of community and history here reflect a sense of place."
The village has seen hard times and good. The Raskins' renovation efforts have brought the property to 100% occupancy, up from just 22% four years ago. These days, this destination is experiencing a revitalization that stays true to its roots as a center of arts and culture and it is poised to play a central role in the future of Carefree.
The Raskins' trips to Southern Spain inspired them to create an experience of tastes, sights and sounds that enhance the reasons people already have for visiting this beautiful little corner of the desert. They worked closely with the town of Carefree and its vision for drawing more visitors and making the area's shopping, retail and cultural experiences more cohesive, while maintaining a variety of 100% independent small businesses.
Carefree's economic development director Steve Prokopek says Historic Spanish Village fits exceptionally well into the town holistically.
"We are positioning ourselves in the marketplace of experience-based shopping and they have shown there's a demand for more retail in the area — especially quality restaurants," Prokopek adds. "We are very happy with what Raskin and Associates has accomplished and the level of retail they've brought to the community."
Grace Renee Gallery
The courtyard at Historic Spanish Village has expanded its stone sculpture garden to include 24 new, extraordinary works by some of Zimbabwe's most gifted artists. The sculptures are part of the Zuva Gallery Collection, which is owned and curated by longtime gallerist Thomas Obert.
"There are 24 different sculptures of all sizes by 12 different artists," Obert says. "These are the best of the best Zimbabwean stone sculptors from the Shona people of the country. These artists are continuing a centuries-old tradition. Some of the earliest examples found at the Great Zimbabwe Ruins date back over 700 years."
All pieces are available for purchase through Grace Renee Gallery. owner Shelly Spence, a longtime tenant, has expanded the square-footage of her gallery that features fine contemporary art as well as exquisite luxury jewelry.
"I love having Grace Renee Gallery at Historic Spanish Village," Spence says. "Even before you walk in to see the art, you already feel like you're somewhere special. With the addition of the sculptures Tom has brought in, it is a magnificent place to roam through and enjoy. It really has to be seen and experienced in person."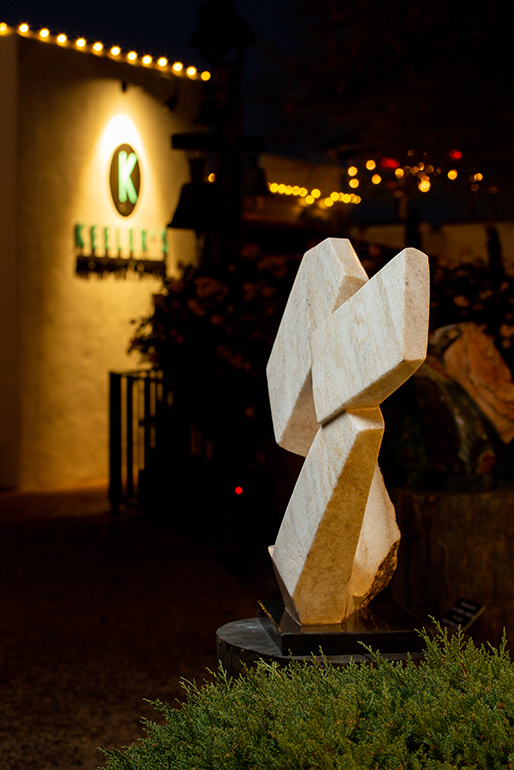 Desert Treasures
Among the many places at Historic Spanish Village in which visitors may discover just the right gift or service, the shop that has been around the longest is Desert Treasures, established in 1973. Owner Barbara Vander Leest recalls many family vacations to the Carefree and Cave Creek area dating back to 1962. Her parents fell in love with the area, eventually settled here full-time and opened the shop that features a unique trove of rocks, fossils, jewelry and gifts.
Just as the shop is a family tradition for Vander Leest, her clients include generations of folks who came as kids and now return — accompanied by their own children and grandchildren — to share this experience that has become a must-see on many a trip to Carefree. Young or old, everyone's eyes light up when they see the sparkle of crystals and marvel at the many types of minerals and fossil specimens on display.
"I love [Historic] Spanish Village," Vander Leest says. "I've never considered moving even when I was the only open business here. I've always felt a real attachment to this place and I'm proud to have a business here. All the shop owners have become friends. We stop in to chat and browse and celebrate birthdays together after work."
Keeler's Neighborhood Steakhouse
Another spot that is both celebrated as well as known for hosting celebrations is Keeler's Neighborhood Steakhouse, which has played a huge role in bringing Historic Spanish Village back to life. This upscale family-owned spot offers a top-quality steakhouse experience and is a meeting place for locals as well as a destination for visitors.
Guests can dine indoors and enjoy drinks from the island bar or opt to enjoy their meals on the patio, in the courtyard or entertain under the stars on the rooftop deck.
"We feel like we've been able to add energy to the overall project," says owner Paul Keeler. "It's been rewarding to see people genuinely excited about visiting the village. Especially in this challenging environment, people like the option of being outdoors and we have plenty of spaces to offer them, along with indoor dining. We love being part of this community."
Black Mountain Coffee Shop
If it's a bit too early in the day for a steak, Don and Lisa Little's Black Mountain Coffee Shop welcomes locals and travelers from around the world for just a cuppa or a meal at breakfast and lunch. They recently opened up a larger outdoor space and say that while they might be a bit hidden from view, it's worth seeking out this friendly java joint that has been a Historic Spanish Village fixture for decades.
"I love being part of the Carefree community," Lisa says. "Since we bought the place in 2017, we have expanded our capacity and our menu. We have always been known for our cinnamon rolls and now our new chefs — Josh Sweat and Willie Castillo — are making many baked goods, sweet treats and homemade dishes from scratch. We are proud to offer something a bit different from other places in town."
The Littles added an espresso machine, serve specially-roasted coffees and teas from Espresso Italia in Tempe and expanded their menu to include lunch items, gluten-free and vegetarian dishes. The sunny patio is the perfect spot to people watch and while away a Carefree day.
L Skincare
Of course, if you're going to join a friend for breakfast, connect with a colleague for happy hour, meet up with family for a steak dinner or simply do some shopping or visit a few galleries, you'll want to look your best. Fortunately, Lindsay Jackson-Pennino of L Skincare has you covered.
Jackson-Pennino and her husband, Chris, have expanded L Skincare, which is heading into its seventh year at Historic Spanish Village. They completed their own renovation and design work to accommodate a full-service med-spa. Expert estheticians, hairstylists, a nail technician, permanent makeup technician and a massage therapist stand at the ready to help guests look and feel their best.
"We love our location at Historic Spanish Village and feel like we have been part of its growth," Jackson-Pennino says. "We are lucky to have plenty of parking and are centrally located to the adjacent neighborhoods of Desert Mountain, Terravita, Rancho Mañana and Legend Trail. We're looking forward to expanding even more in the future."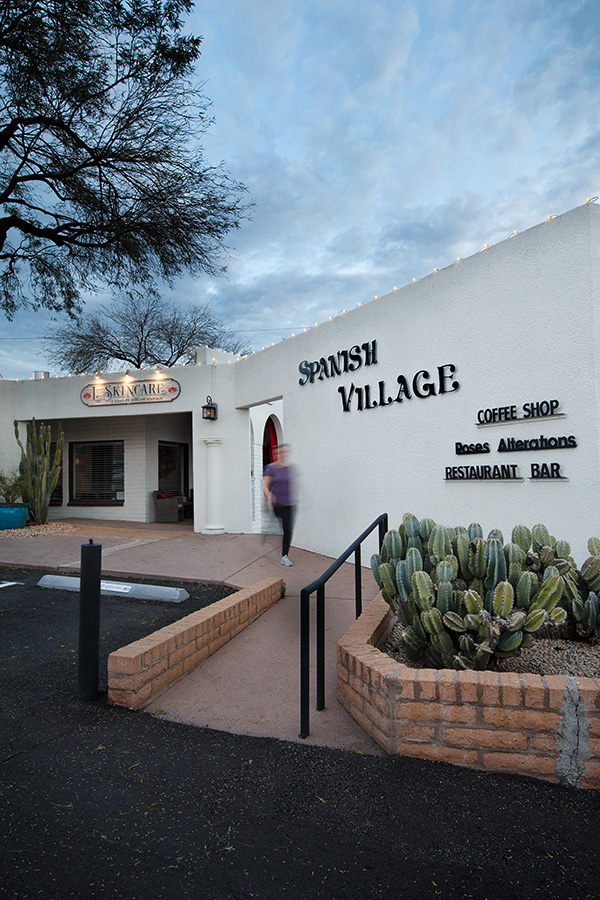 A Legacy That Will Last
Grace Renee Gallery, Desert Treasures, Keeler's Neighborhood Steakhouse, Black Mountain Coffee Shop and L Skincare are just the tip of the iconic iceberg when it comes to Historic Spanish Village. In total, 24 thriving individual businesses share the revitalized, sun-drenched shopping and entertainment hub.
When the Raskins look at the partnerships they've built with the town of Carefree and their many tenants, they feel a sense of connection and pride — in the history of what was and how they have worked together to put a new face on what will be in the future.
After 35 years in commercial real estate, the Raskin family is now trying to focus on projects where there's something really special, where they feel their investment can truly make a difference in a community.
"That's what Historic Spanish Village is, a truly special place," Bruce explains. "Wandering around is like a treasure hunt. There are so many amazing things to see and interesting people to meet. It has been rewarding to have so many business owners come to us and want to be a part of this.
"These small businesses care greatly about the community and they've embraced being part of its success. One of the best parts has been talking to people who fell in love with the property decades ago, were sad to see it run down and now are delighted to see it restored."