Writer Joseph J. Airdo // Photography by David Cottle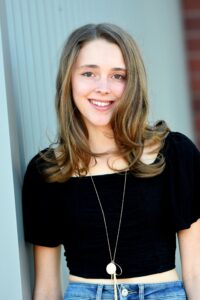 In conversation, seventeen-year-old Scottsdale resident Jenna Rae comes across as a somewhat shy and relatively reserved young woman.
"I am generally a really quiet person," says the singer and musician, who will this month finish her junior year at Saguaro High School. "But the moment I get on stage, I turn into a different person — well, not a different person; more like my truer self. When I am performing, it feels really natural and innate. It feels like I am in just the right spot where I have new confidence."
That confidence has served her well in the classroom, where she is a self-described perfectionist who is passionate about learning.
"I am definitely an A-plus type of student," Rae says. "I am very driven. I just want to learn as much as possible. And I am the same way about music.
Rae's parents encouraged her to pursue piano lessons when she was just 5 years old. Six years later, she picked up the guitar, and in middle school, she began lending her musical skills as a keyboardist and background vocalist for several bands.
At the onset of the isolative COVID-19 pandemic, Rae took the opportunity to develop her sound. She was a finalist in Alice Cooper's Proof is in the Pudding Music Contest in 2021 and, shortly thereafter, she began gigging professionally as an acoustic soloist at venues across the Valley — including Stumblina's Cantina in Cave Creek and Sheraton Phoenix Downtown.
"My shows at the Sheraton have been really a lot of fun because they are in this giant room and the sound just bounces all around," Rae says. "It is also cool because every now and then the hotel hosts these conferences and you never know what kind of crowd you are going to get. Are they going to like country? Are they going to like pop? You just never know."
Such experiences allow Rae an opportunity to find her own unique voice — something that she is determined to do before putting out an album, which she intends to do this summer.
"When I write songs, I tend to write one country song then one blues song then one pop song," Rae admits. "So that has been one of the challenges because, when I release my debut album, I want it to have a coherent sound that is really representative of who I am as an artist."
Although Rae says that she leans most heavily toward country music, she draws inspiration from other artists in a variety of genres.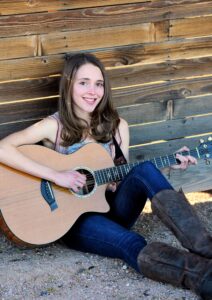 "One of my favorite artists is Miranda Lambert," she notes. "I just love the way that her lyrics come together with the melody of her music. It is really inspiring; and she has the coolest country twang ever. I also like Stevie Nicks. I really love her rock influence with Fleetwood Mac. It has definitely led me to create more music with a little bit of blues in it. I also love Taylor Swift, who has mastered crossing genres, and Kacey Musgraves. The songs she writes are so fresh and I love the understated instrumentation."
Rae has found inspiration in a number of local musicians, as well — including acoustic pop duo J Forte, rock-influenced country band Jaty and the Black Stallions and the talented Rich Adams Band.
Of course, she is also inspired, motivated and supported by those closest to her.
"My mom has definitely been a crucial part of my music career," Rae says. "I guess you could say that she is my momager. She helps with booking and a lot of business side of things. But both of my parents have been really supportive of music — and just everything I am passionate about. I also have a wonderful guitar teacher and an incredible voice teacher. I am surrounded by support — even at school. My friends all really want to see me go somewhere.
That "somewhere" definitely involves a music career — ideally as "the next big Taylor Swift."
"But, in reality, I just really want to share my music with others," Rae says. "I want to continue to improve my songwriting skills and really build my artistry for that so I can create a band, tour nationally, get out there and share it with others."
In the meantime, Rae is committed to entertaining local audiences at events such as the city of Tempe's Second Sunday on Mill and to using her music to inspire others through nonprofit organizations such as Alice Cooper's Rock Teen Center and Music United Against Teen Bullying and Suicide.
"Music has such a significant impact on our lives and especially on our mental health," says Rae, who is also a dog lover, a cross-country athlete and an avid wake surfer. "So it is really important to me that I use my music for good.
"I just also have such a passion for entertaining. I love bringing the vibe. The role of a musician is to provide an atmosphere; and I just love doing that. I want to do it everywhere I go. I want to make every room better, more exciting, more fun and more joyful."
Jenna Rae
Friday, May 26 // 6–9 p.m. // Sheraton Phoenix Downtown // 340 N. Third St., Phoenix // Free // jennaraeofficial.com