Writer Shannon Severson
Photography Courtesy of Baiyang Qiu Jewelry
[dropcap]A[/dropcap]s ephemeral and delicate as a dandelion's downy fluff or the wings of a dragonfly, artist Baiyang Qiu's exquisite fine jewelry is a wonder of masterful skill and creativity.
"Jewelry is such an interesting art object," Qiu says. "My jewelry is wearable sculpture. It is art that must be touched and held in the hands. When it is worn, that's when the art is complete. That's when my work is done."
Qiu's jewelry line will make its Arizona debut this month exclusively at Grace Renee Gallery in Carefree.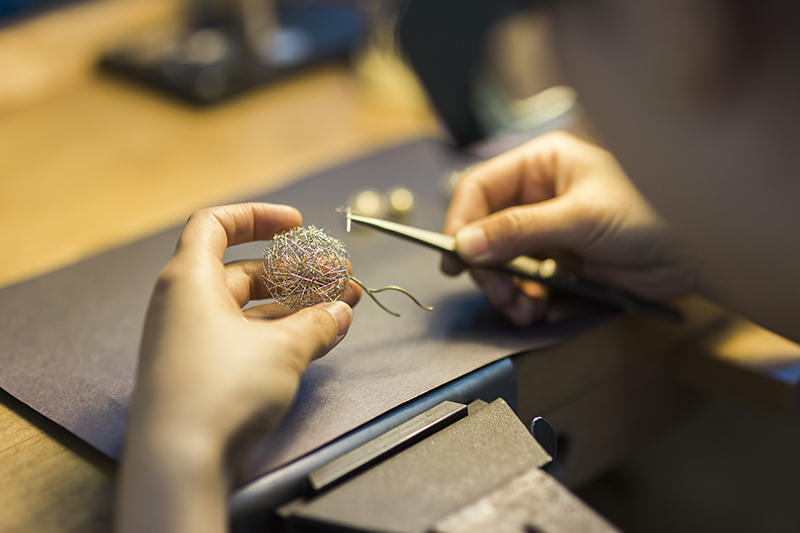 "I met [Grace Renee Gallery owner] Shelly Spence at the Couture Show in Las Vegas, which is the most premium show in the world for fine jewelry," Qiu says. "She appreciated my strong art background and we both speak the language of artists. My work is very sculptural, so she felt it would fit right in at the gallery."
Born in Jiangsu Province, China, Qiu first came to the United States to attend Savannah College of Art and Design, where she received a Master of Fine Arts. Having also earned a degree in industrial engineering, she excels regardless of which side of her brain she is using.
That engineering background is evident in the geometric qualities of many of her pieces and in how she has managed to make the majority of her pieces durable enough for everyday wear – particularly her earrings, rings and necklaces.
"I have many, many sketchbooks," Qiu says. "I draw from many different perspectives. I start with expressional drawing and then go to the engineering part of how to put it together, the thickness of the wire … I make a CAD model on my computer just like a builder would. It helps me make fewer mistakes in my handwork because computer mistakes can be easily adjusted. It's much more painful to correct during the handwork process."
Using 18k gold and platinum wire, she painstakingly creates earrings, rings, necklaces and brooches, some with gems and some without, but all with a strikingly unique intricacy. It can take an entire week to create a single pair of earrings.
Qiu bends and molds wire made from the precious metals. Each tiny length and intersection is formed with different curvatures and welded one at a time.
"Some jewelry makers use a soldering process where they introduce other mediums that are melted during soldering," Qiu says. "My pieces are like paper maché –– the joint is the weak spot of the whole object, so I can't use another metal for connection. I use highly concentrated heat on the tip of the gold, just hot enough so the metal will fuse together and it will be strong."
Inspired by Nature
Qiu draws design inspiration from many sources, but nature is at the top of that list.
"I love nature and plants and spend a lot of time in my yard and with my houseplants," she explains.
A dandelion inspired a particularly spectacular brooch in the tradition of vintage pieces of its kind, but with a modern approach that highlights the intricacy of structure. The response was so clamorous, Qiu created a series of everyday wearables, as if tiny bits of the brooch had scattered in the wind and each became its own piece.
Earrings, rings and necklaces with round, rose quartz stones or pearls – often encased in spheres of gold and platinum – represent the bulk of the collection. When wearing a pendant as delicate and intricate as these, it can tie a whole look together.
"The dandelion brooch was the first of my natural inspirations," Qiu says. "It's beautiful, but a lot of people don't have an occasion to wear a piece like that in their everyday life. I expanded the line for those who want to wear their jewelry every day. I call them 'Seeds.' I made all the studs and necklaces as the floating seeds of the dandelions. I want things to still fit the scene, but with geometrically abstract shapes."
A trip down her garden walk on a rainy day was the impetus for a stunning pair of earrings, in 18k gold and set with small rubies, that earned her a first-place Vision Award for Professional Design Excellence from the Manufacturing Jewelers and Suppliers of America in 2015 – one of nearly a dozen she has earned over the years.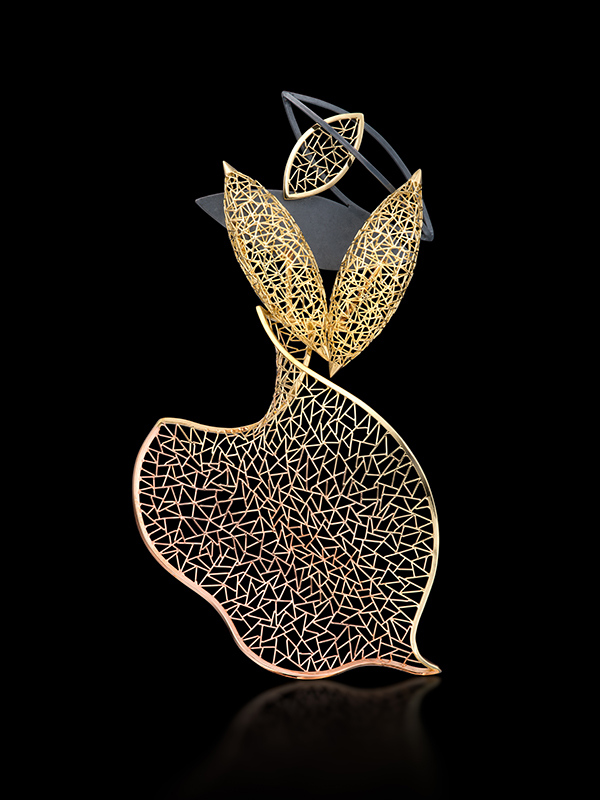 "I walked into my yard and there was a flower petal lying on the ground with water droplets clinging to the petals," Qiu recalls. "That kind of beauty is so temporary; it could disappear in a day. I wanted to capture that moment with my skill and materials to become a permanent wearable piece of art. I try to mimic the delicacy of nature, but the jewelry itself can't be too delicate."
Qiu set about voraciously researching and drawing flower petal forms, followed by creating a 3D version in CAD –– and all of that before she picked up a single jewelers' tool. She didn't endeavor to replicate nature exactly, but to recall the idea of it as she determined the curves and connections of the delicate ear baubles.
Design-Focused
Qiu chose to use rubies for these particular earrings, but not all of her creations incorporate precious stones.
"Some designers start with gems and design from there," Qiu says. "For me, it's the design first. Then I ask, 'Do I need to add a diamond or some other gemstone?' Maybe not. My work is design-focused and the gem is the icing on the cake. It needs to fit the whole design. When I do use them, I love to use very premium stones because finer stones last longer."
Choosing stones is something she recalls doing with her father during her childhood in China.
"My family owned a jade business and I grew up watching them carve and produce pieces," Qiu says. "Precious metal was not allowed, so my father would choose carefully and look for the quality. Sometimes we would go to the mine to see pre-cutting and grinding. I tell my mom that the apple didn't fall far from the tree."
Today, Qiu credits the support of her family, her husband, her patrons and the many mentors with whom she connected during her schooling and early years at juried American Craft Council shows in Baltimore and Philadelphia.
She shares her own expertise with young jewelry makers who reach out to her. Some say her success looks effortless. However, she reminds them – as she reminds her own children – that every success is the result of hard work and refusal to quit.
"My husband and I are both workaholics and we work really hard," Qiu says. "We are a team. I explain to my kids that if you really like something, you have to try harder. Think twice before you quit. You don't have to be successful at everything, but try every possibility. Life is short and you have to do something you really love."
Baiyang Qiu's Fine Jewelry
Friday, March 20 and Saturday, March 21 | 10–6 p.m. | Grace Renee Gallery | Historic Spanish Village | 7212 E. Ho Hum Road, Carefree | Free
480-575-8080 | gracereneegallery.com