Writer Rebecca L. Rhoades // Portraits by Reed Decker // Architecture Images by Matt Winquist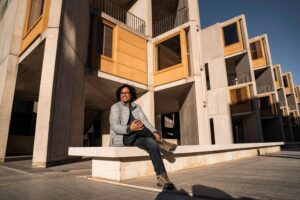 The great 20th-century American architect Louis Kahn once said, "Architecture is the thoughtful making of spaces." For Amit Upadhye, those words define his philosophy and guide his design work. In fact, the Scottsdale-based architect owes much of his career to the great masters of the industry — including the legendary Kahn.
Upadhye was born and raised in Ahmedabad, India. Known as the Manchester of India because of its proliferation of textile mills, the city on the banks of the river Sabarmati attracted some of the midcentury's most innovative architects.
In the 1950s, Le Corbusier was commissioned by the president of the Mill Owners' Association to build its headquarters. At the time, he was working on Chandigarh, a master-planned city in Northern India in which most of the government buildings and housing were designed by the French architect. Le Corbusier also designed the famed Shodhan and Sarabhai villas and Sankar Kendra, an arts and culture museum.
That work attracted Charles and Ray Eames, whose study of Indian buildings brought about the development of the National Institute of Design, a group of design universities, with the primary center being in Ahmedabad. Frank Lloyd Wright conceptualized a structure for a local textile mill, but the project fell through; in its place, Gira Sarabhai constructed a geodesic dome inspired by the works of Buckminster Fuller.
In addition to designing an underground art gallery and a brutalist-style auditorium in the city, B.V. Doshi set up the School of Architecture, now known as CEPT University. And, of course, one of Kahn's most famous buildings, the Indian Institute of Management, continues to attract tourists and architecture buffs to this day.
"The IIM is one of the most amazing buildings on the planet," Upadhye remarks.
Seeing these masterworks instilled a love of modern design in the young student, who decided to forgo his family's tradition of studying engineering and instead apply to a local school of architecture.
"It felt like destiny for me," he recalls.
Upadhye passed the grueling and competitive application process, which included interviews, live drawing evaluations, and other aptitude tests, and excelled in the classwork.
During his fourth year, Upadhye needed to complete an internship. One of his father's friends, who happened to be a well-known contractor, set him up with a position in the design firm of Anant Raje — a disciple of Kahn whose office happened to be in the IIM building.
"I didn't know who this guy was," Upadhye says. "He was world famous, and I didn't even know it. He was so charismatic and amazing. He literally changed me. By the time I was done with my four-month internship in his office, I had such confidence. His design DNA was planted in me."
After graduation, Upadhye joined a small local firm but found the work unsatisfying.
"I was intellectually starving," he says.
He returned to Raje's office, where he stayed for the next two years, until he got married at age 25.
Hoping for a fresh beginning with his wife, Shilpa, Upadhye headed to Singapore at the behest of a friend, who suggested that he could find architectural work in the Asian country. His internship with Raje opened the doors to one of the largest practices in the world.
"That changed my life forever," he remarks.
Not only did he work on the Esplanade Complex, designed by Pritzker Prize winner James Stirling, but it was also here that he met David Turnbull, a professor of architecture at Arizona State University who would become a mentor and encourage him to explore new cultures and destinations.
Determined to move to the United States — after all, it was the home country of his idol, Kahn — Upadhye decided to pursue his master's degree at the University of New Mexico in Albuquerque.
"I was in America," he says. "Everything was possible for me now, right? Nobody was stopping me."
Fortuitously, right around the time he graduated, his wife's company transferred her from Singapore to Scottsdale. Stints at a number of Valley architecture firms followed for Upadhye, with assignments including schools and clinics. Although the projects were vital, they were creatively unfulfilling.
"To me, a building and architecture are different things," Upadhye explains. "Charles Correa (a renowned Indian architect and urban planner) once said, 'There are writings and then there is literature.' I was after literature. After working in Kahn's building for two years, I knew what architecture meant, because I had experienced it every day. So really, I was in search of my own Louis Kahn."
By the early 2000s, things were looking up. Upadhye joined Architekton and worked on the design of the Tempe Center for the Arts. This was followed by shifts at The Construction Zone and then Jones Studio, during which time he was responsible for the entire FF&E (furniture, fixtures and equipment) package for the groundbreaking Mariposa Land Port of Entry in Nogales.
Simultaneously, Upadhye also was working on his own projects, including a cutting-edge contemporary home in North Scottsdale. The two-story modernist masterpiece of concrete, block and glass, known as the Essence of the Desert, has a deep connection to the surrounding Sonoran landscape as well as to the young family that resides within it.
"I come from the modernist tradition," the architect says. "Very, very modernist, which sometimes turns out to be brutalist in style. But I'm also a mirror in which the client is reflected. Therefore, all my houses tend to look different. Because it's a different site and a different client. The sun is hitting it in a different way. It's a different time."
At first glance, the Essence house appears almost industrial — a large block plinth with narrow windows and unseen entrances. Inside, the open-concept home centers around the kitchen, where a 20-foot-high wall of windows looks out to the backyard, pool and McDowell Mountains in the distance. Personalized touches abound, including a small window that captures the morning rays on the day of the homeowners' wedding anniversary. The dwelling was featured on the 2010 American Institute of Architects home tour.
A recently completed project is the renovation of a ranch home designed by architect Eddie Jones 40 years ago. The classic adobe brick residence was given a much-needed makeover that included the addition of a "skylight" window that juts out from the roofline and is angled toward the North Star in an homage to rocket launches and the homeowner's job as a NASA scientist. The juxtaposition of rough adobe, sleek steel and precision windows creates a composition that is minimalist and forward-thinking.
"The climate here is very conducive to doing good work," Upadhye says. "You're able to detail buildings in a different way, and minimalism is much easier to achieve here than elsewhere.
"There's something about the desert. It attracted Frank Lloyd Wright and Paolo Soleri. There's a quietude that's beautiful, and the light is amazing. There's just a sense of freedom and liberation in the desert."
After the Jones Studio border project was complete, Upadhye returned for a brief period to Singapore, and then headed to Los Angeles to work for the renowned progressive firm Morphosis. But five years away from his family had taken its toll. Burned out and missing his wife and daughter, Upadhye knew it was time to come back to Arizona and resurrect his studio.
Since 2017, Upadhye has been running his own firm, designing homes throughout the Valley. He also teaches part-time at ASU's school of architecture.
"My practice is not based on money," he explains. "It's about architecture. And it's about the fulfillment you get by working on something that you feel proud of. My goal is to do nice work but also to do meaningful work."