Writer Shoshana Leon
Photography by Bryan Black
[dropcap]T[/dropcap]here is something about the rustic signs, the nods to the past, and the down-to-earth sensibility of folks around this town that makes Cave Creek a little different than most. Sure, there are fun shops, great restaurants, and fun bars in lots of Arizona cities and towns, but Creekers seem to know a secret ingredient that draws crowds from all over the country.
From the 1930s Standard gas station that is now Big Earl's Greasy Eats, to the legend of cowboy saloonery that is Harold's Cave Creek Coral, it's nostalgia that's on the menu in Cave Creek. At The City Creamery, it's served up with a side of hand-crafted ice cream and homemade goodness.
When Charlie Bolton, his nephew Austin Hoepf, and Austin's wife Chelsea Flaherty opened the doors at The City Creamery next to Prickly Pear Inn in January 2018, it didn't take long for folks to start lining up at the doors. People may have been enticed by the idea of a cold treat in the desert heat, but it hasn't been only the delicious flavors that keep them coming back.
Walk into The City Creamery just about any time of day, and you're likely to hear the sound of rock salt and ice churning and turning cream (and a few other ingredients) into something special.
For many of us, The City Creamery brings back fond memories of childhood—back when there were only four channels on television and garden hoses doubled as entertainment and water fountains. Churning ice cream on the front porch was a neighborhood event—one that always came with the risk of running out of spoons.
The City Creamery has captured those moments, and made plenty more memories, in every lick.
With flavors like Huckleberry Honey Lavender flavor (a nod to the creamery's Montana roots), to Cowboy Coffee made with ingredients procured with a handshake from The Roastery of Cave Creek, there's no shortage of sweet adventures at The City Creamery.
Of course, they've still got the old standards we all grew up with, but who can turn down a taste of rich Raspberry Rose or decadent Wedded Bliss?
Co-owner Chelsea Flaherty, who has been a Creeker all of her life, loves what she is contributing to the business, and to the town. She graduated from Cactus Shadows High School, and her roots have kept her grounded in community.
"There were very few ice cream options when I was growing up, so I'm proud to bring this option for homemade ice cream to this area," she said with a glow of enthusiasm. "Cave Creek has a very special small town feeling even though it's right outside of a big city. It is truly a hidden gem in Arizona.
Though her heart is always in Cave Creek, Flaherty also spends time at The City Creamery's two Montana locations in the hot summer months. The group purchased the Montana businesses five years ago, then brought their ice cream to Arizona a year and a half ago. All three operations have been embraced in their respective communities, and they're now looking for a second Arizona location.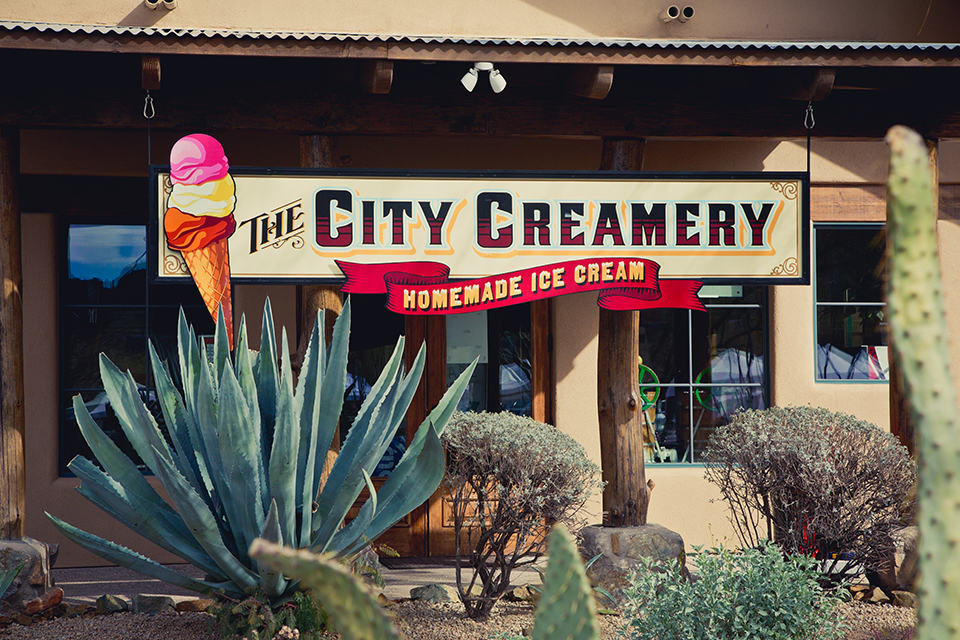 A Recipe for Success
The City Creamery seems to be doing everything right in their little corner of Cave Creek. Everything is made in-house, from ice cream to their hot fudge, sea salt caramel and waffle cones.
The ice cream is made in five-gallon batches, and the ingredients are always fresh. The shop itself has a great vibe, and there's something nearly magical about watching the ice cream as it's being made.
"Customers can taste the quality of the homemade products and the fresh ingredients we use," said Flaherty. "We have recipes for more than 100 flavors of ice cream. We like to be different and creative and try new things, from Dill Pickle ice cream to Candied Jalapeño ice cream. We love our customers to try these unique flavors and let us know what they think.
The City Creamery has been good for Cave Creek, and Cave Creek has been good to it. They've formed partnership with Cartwright's Modern Cuisine, Raven Gastropub, Raven's View and Big Earl's, and they see themselves as part of a larger effort to maintain the town's unique personality in a fast-paced and increasingly homogenous landscape of retail stores and chain restaurants.
Growing up in the restaurant business, Flaherty seems to have a solid take on what it takes to scoop success.
"I learned from the bottom up," she said. "I learned how to treat employees, how much your attitude matters as a leader and the importance of good customer service. Restaurants need both great food and excellent customer service to thrive. You can't have one without the other."
She and her co-owners plan to keep dishing out delicious nostalgia for a long time to come.
"Our products are made with lots of love," she said. " I think our passion rubs off on people."
The City Creamery
6268 E. Cave Creek Rd., Cave Creek