Over the River: Favorite Fall Hikes
Writer Joseph J. Airdo
Photography by Michael Wilson
Arizona may be best known for the stunning saguaros and other statuesque cacti that adorn our landscape year-round, but the colors that decorate our diverse species of trees and line our many venturous pathways during the autumn season are proof that fall really is our state's time to shine.
A mere two-hour drive in any direction — north, east, south or west — will transport you to any number of hiking trails and wilderness areas that allow you to experience the very best that Arizona has to offer this time of the year. The autumnal adventures that await inspire awe as Mother Nature truly is the most gifted artist in existence.
However, while our state's hiking trails exhibit beauty 12 months out of the year, it is important to note that the season's splendor is fleeting. So put on a pair of your favorite hiking shoes and make your way to any of the following trails that flaunt Arizona's fall fantasy. And while you are at it, snap a few photos then send them to images@imagesaz.com for possible publication in an upcoming issue of Images Arizona.
West Fork of Oak Creek Trail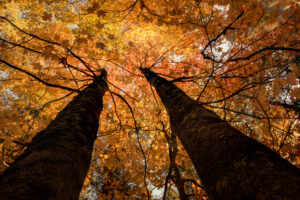 No list of trails worth hiking in any season is complete without including at least one located in one of the most picturesque places in our state — Sedona. Therefore, we may as well begin our journey there with one of the most popular trails in the Coconino National Forest.
West Fork of Oak Creek Trail provides a pleasant stroll beside a little stream that ripples along the canyon floor. The autumn season brings with it plenty of yellow, orange and red leaves, which have fallen off trees and landed in the stream, where they float along with you on your travels.
It is a relatively easy hike, which is why it is among the most popular, but it does require you to negotiate a few strategically placed stepping stones or take a couple of steps in shallow water as you cross the stream several times along the trail.
Huckaby Trail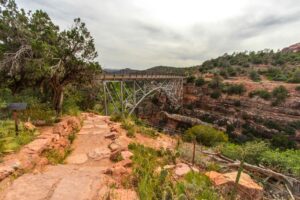 If you want a slightly different view of Sedona's autumn splendor, look no further than Huckaby Trail, which can be hiked from the Schnebly Hill trailhead. After a brief level hike, the trail steeply descends, crosses Bear Wallow Wash and ascends moderately until topping out on a ridge that overlooks Oak Creek and uptown Sedona.
Continue along the trail to experience exquisite views of the creek and floodplain before enjoying the partial shade of riparian trees that look absolutely lovely this time of the year. The trail eventually crosses a branch of the creek, which requires a couple of instances of wading or boulder hopping.
If you plan ahead and park a vehicle at either end, you can continue on, pass beneath Midgley Bridge and arrive at the parking area at the north end of the bridge. Because there is little shade along the trail, which overlooks Sedona's stunning colors from afar, this hike is best completed during the autumn months.
Kachina Trail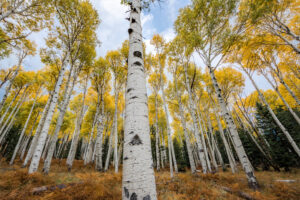 The first — and most popular — of several Flagstaff hikes on this list is Kachina Trail. Bright gold colors light the way through surrounding aspen groves on this trail, which skirts the south face of the San Francisco Peaks. The rolling hike takes you through high forest and broad, sloping meadows, all of which afford panoramic views over the area.
Kachina Trail crosses several canyons before descending a high lava cliff, which features dramatic, cave-like recesses that mark where a bed of looser volcanic debris eroded away from denser flow layers above. Many hikers have spotted a variety of wildlife — from black bears and cougars to elk and mule deer.
But the trees that show off their beautiful foliage are the main attraction along the hike this time of the year. Ancient limber pine and massive Douglas-fir dominate the higher elevations while waist-high meadows of bracken fern punctuate the slopes and scattered ponderosa groves populate the descent toward Weatherford Canyon.
Inner Basin Trail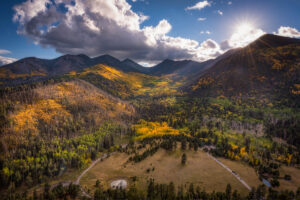 Another favorite among Flagstaff's many amazing fall hikes is Inner Basin Trail, which leads into the heart of the San Francisco Peaks. Beginning at Lockett Meadow, this trail progresses from an island of emerald, ringed with aspens and high peaks, through a shady forest before following a service road into the mountain's beautiful basin.
Once there, you will view extensive stands of aspens that cover the steep slopes of the old caldera, coloring them solid gold. Take a moment to study the spectacular landscape because, if you look carefully, you can still see avalanche tracks and remnants of old lava flows that remind you that the mountain is actually an extinct volcano.
Like Kachina Trail, Inner Basin Trail often provides glimpses of Flagstaff's wildlife — including black bears, elk and porcupine. The hike requires a moderate but steady climb, but the reward of the autumnal allure that it offers is unparalleled and therefore well worth the effort.
Abineau-Bear Jaw Loop
The Abineau and Bear Jaw trails on the north slope of the San Francisco Peaks combine to create a scenic loop through forested canyons. A hike of the Abineau-Bear Jaw Loop requires a steep but steady climb through stands of mixed conifer and aspen.
Where the two trails meet to form the loop, you get a view of the Grand Canyon — 70 miles away — that is unlike any other. The hike also passes through an area that, while colorful year-round, is especially jaw-dropping in the fall as the surrounding slopes are painting crimson and gold with groves of aspen.
Because of the expansive views that the Abineau-Bear Jaw Loop provides, it is not uncommon to spot black bears, elk and mule deer somewhere in the distance. The hike is also popular among birders, who frequent the trail to catch a glimpse of or a song from juncos, Steller's jays and Clark's nutcrackers.
Aspen Nature Loop
The last of the Flagstaff-area trails on this list is the Aspen Nature Loop, a 2.5-mile hike that, situated on sloping meadows and open glades high on the western slope of the San Francisco Peaks, affords unhindered views of the volcanic field to the west and the Grand Canyon to the north.
Begin your hike at the Humphreys Trailhead and branch west through micro-habitats where wildflowers and grasses alternate with shade plants and ferns. A winding, 300-foot elevation change takes you high enough to experience incredible views of Arizona Snowbowl, which likely has at least a dusting of snow — if not more — as its staff prepares to greet eager skiers and snowboarders.
Like the Abineau-Bear Jaw Loop, the Aspen Nature Loop is a popular spot for birders in search of flickers, jays, juncos and warblers. However, for the average hiker, the fall foliage that is so decadently on display by the aspen, spruce and pine that stand along the trail is more than enough encouragement to take the trek.
Rim Lake Vista Trail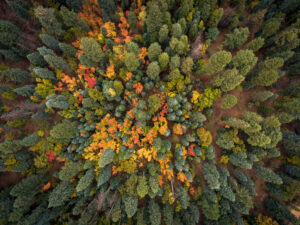 Moving east, the Rim Lake Vista Trail near Payson, which meanders along the Mogollon Rim, provides stunning views of more than 200 miles of Arizona's forests — which look their absolute best this time of the year. The 3.5-mile hike is among the easiest on this list but the rewards are just as outstanding.
In addition to plenty of aspen trees boasting bright yellow foliage, the Rim Lake Vista Trail also affords glimpses of interesting rock outcroppings as well as sprawling views of some of the vast mountain ranges that surround our state.
Awe-inspiring 100-mile views of Mogollon Rim are the real draw, though, as this hike offers you an expansive view that gives you a new appreciation for Arizona's beauty — especially in autumn.
Aspen and Marshall Gulch Loop
Farther south, the loop formed by the Aspen and Marshall Gulch trails is one of the most popular upper-elevation routes into the Pusch Ridge Wilderness near Tucson. The moderate hike leads through an area of diverse habitats that include Canadian Zone riparian areas and ponderosa pine forests.
Perhaps one of the reasons that the Aspen and Marshall Gulch Loop is so popular is the sheer number of different trees hikers experience along the way. Species include aspens, Douglas-fir, white fir, Gambel oak, silverleaf oak and madrone — all of which provide some of the most colorful fall scenes in Arizona.
There is much more to see along this hike, though, with bare granite walls of the uppermost reaches of Sabino Canyon and pathways that sparkle with flakes of mica and quartz being among the many spectacular sights. A cool, shady canyon stocked with wonderful wildflowers and pretty pools of water complete the experience.
Aravaipa Canyon Wilderness
Rounding out our list of favorite fall hikes is the Aravaipa Canyon Wilderness, located near Safford. Although it does not have official trails, the area is widely considered to be one of the most spectacular spots to experience all of the beauty that autumn has to offer.
The Aravaipa Canyon Wilderness features towering cliffs, a rich diversity of flora and fauna and a perpetually flowing creek that nurtures the surrounding ecosystem of sycamore, ash, cottonwood and willow trees. A kaleidoscope of yellow, orange and red leaves provides a poetically dramatic contrast with the surrounding Sonoran Desert landscape this time of the year.
Permits are required to hike here and, as there is so much to see and experience, it may behoove you to make a weekend of it and spend the night at one of the many campsites along the creek — which is home to deer, javelina and coatimundi. As with all locations on this list, properly research all requirements and recommendations before embarking on your autumn adventure.