Writer Shannon Severson
Photography Courtesy of Tim Gast and North Valley Christian Academy
[dropcap]I[/dropcap]n the classic film "Hoosiers," coach Norman Dale, played by Gene Hackman, molds a small-town high school basketball team into unlikely state champions against all odds. He tells them, "Five players on the floor, functioning as one single unit: team, team, team — no one more important than the other."
There's nothing like a good underdog story of hard work and defied expectations. Here in the far northwest corner of Phoenix, 2021 Maricopa Region Coach of the Year Randy Walker orchestrated a comeback of his own — training and guiding a team of young men who became a winning brotherhood at the tiny North Valley Christian Academy.
In only its third year of having a varsity basketball program, the high school — with a student population of just below 90 kids — won this year's 1A Arizona State Basketball Championship and did so convincingly, beating their playoff opponents by an average of 27 points per game.
The ultimate victory was sealed with a 65-48 win against the Mohave Accelerated Learning Center Patriots on March 16 to secure the trophy and cut down the nets at Dobson High School in Mesa.
"I think the most impressive part of this championship is not only the level of basketball that our team has been able to play this year, but the heart of our players and coaches," principal Jason Mitchell says. "Coach Walker has taught these guys how to really work as a team instead of focus on self and to show this unity and teamwork on and off the court."
Long Road to Victory
But getting here wasn't easy.
It was a road paved with injuries, eligibility struggles, delays associated with the COVID-19 pandemic and a whole lot of grueling workouts — including break-of-dawn runs up a nearby mountain the team has dubbed Lion Mountain. On and off the court, it was all about stamina, conditioning of mind and body and taking things one game at a time.
"The first year we took our lumps," Walker says. "We had five kids plus a homeschooler. With injuries and foul-outs, we played one game with just four kids. I knew going in that it would be a challenge. I've never started a program from scratch, but I've always enjoyed taking programs that are struggling and changing the culture, changing the mindset. If you focus only on winning games, you miss the point. The focus is on growing men through the game of basketball."
Walker is no newbie to the coaching scene. He led Boulder Creek High School to the 5A State Championship in 2010 and comes from a family of coaches. Walker left coaching and teaching to take over his family business, but fate had other plans.
His son, senior guard Josh Walker, says the family encouraged his father's return to the court.
"Looking back, going into my freshman year, my dad was unhappy … there was something missing," Josh recalls. "We'd been driving by NVCA every single day and my mom wanted me to go to a Christian high school. My dad said if I was interested, we could start a program together. I took a tour and met some people and it all came together. I remember being so excited to get started."
With his son enrolled, Coach Walker dropped off his resume just in case a basketball team was in the plans. He was hired and, looking at the brand new, state-of-the-art facilities and strong academics, Walker operated on an "if you build it, they will come" philosophy.
From day one, he emphasized the players' responsibility to make their teammates and their team better. He says perseverance and humility are always at center court and uses the example of Jesus washing his disciples' feet the night he was betrayed as an example of servant leadership even in the face of difficulty.
"We talk about giving ourselves a chance for success," Walker says. "What do you have to do to set yourself and each other up for that success? Basketball doesn't define them; it helps reveal who they are."
Josh, who was named 2021 Maricopa Region Defensive Player of the Year, says the pair didn't go in expecting to win a championship together. When he and senior forward and Maricopa Region Honorable Mention Kai Marusteri began as freshmen, there were just 36 students in the high school's inaugural class in 2017.
"We knew it would take a while to build the foundation," Marusteri says. "We talked to our friends about the school, we kept our faith and our prayers were answered. We put God first in our whole program. He is the one who holds us together and that faith sets us apart from other teams."
Over the years, the school grew little by little, players came and went — some with basketball experience, others with more background in wrestling or football than shooting hoops.
Last season, everything clicked. The NVCA Lions tore through opponents in a season with just one league loss, their overall record of 27-4 propelling the team all the way to the 1A state finals at the Findlay Toyota Center in Prescott. There, they faced the Fort Thomas Apaches before a capacity crowd of over 5,000 — and lost.
"We walked off the floor with a strong sense of disappointment," Walker says. "We knew we didn't shoot the ball well. I was angry; not that we lost, but I knew there was unfinished business. That loss was a motivating factor from that night all the way to the final game against Mohave Accelerated this year."
The bitter pill was something the four seniors, in particular, never wanted to taste again.
"Right off the floor, we were ready to go back," Marusteri explains. "The next day, I went out to the court and spent hours shooting. I wanted to put in all the work I could to make a path for success."
Team captain Braeden Roberts — 2020 1A Conference Defensive Player of the Year and 2021 Maricopa Region Offensive Player of the Year — spent the summer waking up at 3:30 a.m. for the drive to Chandler for hard-charging conditioning and basketball drills with an exclusive trainer.
"The feeling of losing was devastating," Roberts says. "That training was one of the hardest things I've ever done; but coming out of that loss, every guy was determined to come back and win it this year. Before every game, I'd tell Josh, 'It starts with us. We didn't do all that for nothing. It's time to showcase that.' And we did."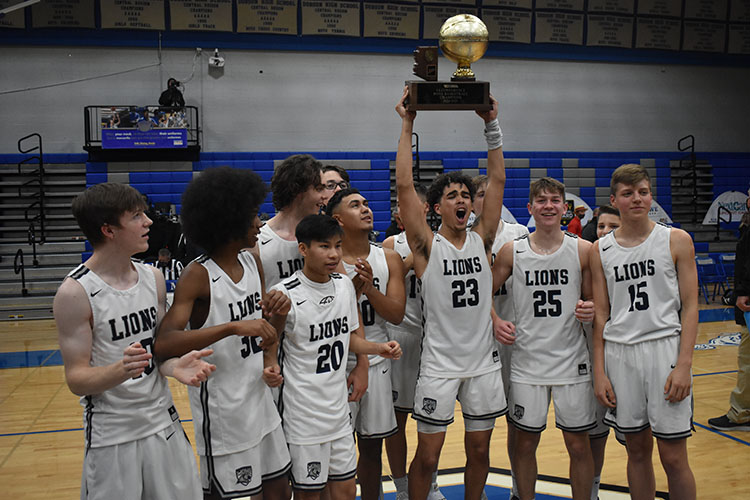 New Year, New Faces, Second Chances
With the COVID-19 pandemic came a total shift in the team's scheduled opponents for the 2021 season, a challenge met by viewing hundreds of hours of game footage. A new crop of talented freshmen joined the team, as well, but it took some time to gel as one cohesive group.
"They had to learn what it was to train hard and what they would go through for the whole season," says senior RayJ Roman, 2021 Regional Honorable Mention guard. "It shocked them. They had to work hard. We made every practice harder than it was in the game so that when we got to the game it was smoother. The opposing teams just weren't ready for all four quarters of NVCA basketball. We never let up."
The Lions dropped their first game to the 2020 2A State Champions Rancho Solano Mustangs by a single point. After that, they faced top teams like Cicero Prep and Leading Edge, beating every one by mostly wide margins along the way.
Then came the first round of the playoffs in their own gym as the No. 1 seed. In walked the Fort Thomas Apaches, wearing their championship rings and T-shirts from their win the previous year.
"It was electrifying for everyone," Roberts recalls. "It was a revenge game. We owed them one. It was personal and we made sure it was clear. It was a good way to start the playoffs."
The Lions dominated the Apaches in a 79-36 victory and rolled on to defeat the Duncan Wildkats 70-38 and St. David Tigers 66-51 en route to the championship win.
The father-son moment that the Walkers experienced was icing on the cake.
"Winning with my dad was so special," Josh says. "Our relationship has gotten stronger. I hope one day I can get into coaching and be half the coach he is. Soon, my brother, Dallas, will be playing high school basketball and I want him to win one with my dad, too. Not many can say they've won a championship and been coached by their dad. I'm really thankful for that."
A Bright Future
As the four seniors graduate and move on from their huge achievement, each looks forward to a slightly different future.
Marusteri will join the basketball team at Arizona Christian University and has plans to be a history teacher. Roberts will go west to play for Hope International University in Fullerton, California, majoring in business. Roman will complete his training in fire science and pursue his dream of being a firefighter here in Arizona.
Josh will head to Pella, Iowa to play basketball for Central College. He hopes to someday return to NVCA as a teacher and coach. Meanwhile, his dad is happy to remain at NVCA, winning one game at a time with fellow coaches Max Wood and Josh Johnson.
"To stay on top, you have to work even harder," Walker says. "Our first goal is always to win the region. We want to be a quality basketball team. We don't want to be defined by our student body numbers. We have the opportunity to coach the game and bring the good news. It's a responsibility we don't take lightly.
I love NVCA. I want to be here. My wife, Lisa, teaches here and teaching is her passion. I've never felt the support at any other school like I've had here. I want to coach another 10–15 years if they'll have me."