A Light Purse Makes a Heavy Heart
Writer Joseph J. Airdo
Photography by Carl Schultz
Upon joining Anthem Giving Circle in 2015, Diane Steenman was surprised to discover the amount of need that exists in Anthem.
"Everybody thinks of Anthem as a well-off community," she says. "But the amount of need in this area is astounding. Quite honestly, you would never know that there is that need here. It is hidden. But it is important to make people aware of it because you cannot fix what you do not know."
Promoting that awareness is only one goal of Anthem Giving Circle. The other is to actually do something to lessen those needs or at least make them a bit more manageable.
"We can make a dent in this," says Steenman, who chairs Anthem Giving Circle. "It is a small dent — and we know that it is a small dent — but it is a dent that is very meaningful."
Anthem Giving Circle was founded in 2007 when a group of 10 women decided to collectively pool their time, talents and monetary resources to impact specific causes and needs within Anthem and its surrounding communities. They believed that their efforts would not only allow them to give back to the community they loved but also develop deep friendships.
The nonprofit organization held its first annual Purses for a Purpose event in 2010, during which stunningly gorgeous designer handbags are auctioned off as a fundraiser for the group's various charitable efforts throughout the year. What started off as a relatively small event featuring 25 lovely purses has grown to a massive celebration at Ironwood Country Club's ballroom, where attendees mix and mingle while bidding on 150 new and gently used handbags.
"Purses have kind of become our brand," says Steenman, noting that the handbags are all donated to Anthem Giving Circle by generous members of the community. "Purses and women giving to charity sort of just fit together."
Last year's event, which saw more than 225 people in attendance, raised $32,000 for Anthem Giving Circle. Unfortunately, due to health and safety restrictions associated with the COVID-19 pandemic, the nonprofit organization has had to scale down this year's event from the usual gala to a virtual fundraiser. However, the group's steadfastness and the event's mission remain the same.
"First of all, 99% of the money goes to the communities of Anthem, Desert Hills and Tramonto," Steenman says. "It is used to help people with medical bills, rent and [utilities] payments, home and automotive repairs and other things like that when someone is unemployed or has had an accident and has no money."
Anthem Giving Circle members — of which there are currently 22 — vote on all expenditures while the St. Vincent de Paul Society at St. Rose Philippine Duchesne Catholic Parish vets all requests to ensure that assistance is going to those who truly need it the most.
Beyond Handbags
The nonprofit organization also teams up with the community's seven elementary schools and two high schools to provide for student needs. Each school has an Anthem Giving Circle member as a liaison to gather information and provide support for students. A total of $300 in gift cards are supplied to each school's administration in both the fall and the spring semesters to be used at their discretion.
"We also usually give three scholarships — two to Boulder Creek High School and one to Great Hearts Anthem Preparatory Academy," adds Steenman, noting that recipients are B-students who are very active in the community. "But because we cannot earn the kind of money that we normally earn, we have had to cut back on what we did and felt that this was something we needed to cut this year."
Each August, Anthem Giving Circle collects new and gently used bras to support St. Vincent de Paul's program for women in need.
"People never think of it but one of the largest needs here in Arizona is undergarments for women," Steenman says. "Over the past four years, we have collected more than 1,200 bras and donated more than $600 for that cause."
Each holiday season, Anthem Giving Circle kicks its efforts into high-gear, creating Thanksgiving and Christmas meal bags for families in need to go along with a turkey from local food banks. The nonprofit organization also adopts a few families through Foothills Food Bank and Resource Center's annual program that helps struggling families have a happy holiday. Last month, they donated $1,000 in $50 gift cards and more than 45 board games to the program.
However, all of Anthem Giving Circle's efforts would be difficult if not absolutely impossible to accomplish without its Purses for a Purpose fundraising event. So the nonprofit organization is pulling out all of the stops to ensure that it is a successful fundraiser despite this year's inherent challenges.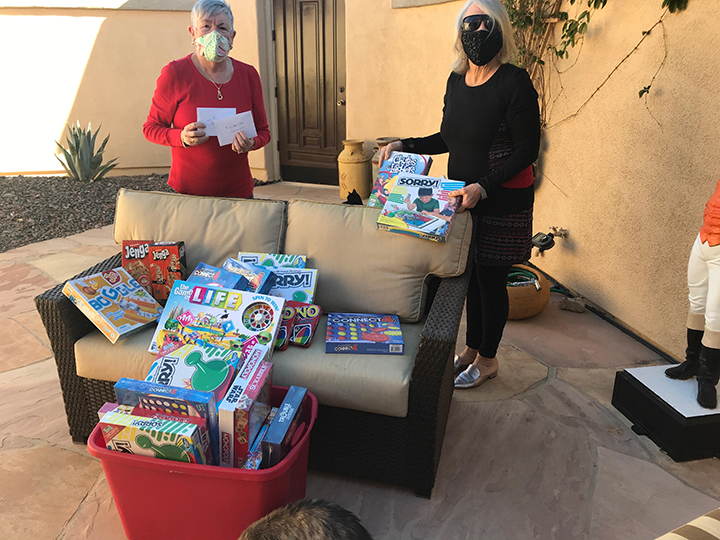 Bidders simply create an account on Anthem Giving Circle's website and buy a virtual "paddle" for $25. They can then browse the selection and bid on the purses of their desire via a system with a setup similar to that of eBay.
Additionally, everyone is welcome to enter a raffle for a designer handbag valued at $1000 with the best offering of 15 tickets for $50 — which would be the cost of an entry ticket for Anthem Giving Circle's usual live event.
This year's raffle purse — a Falabella metallic chenille shoulder bag by Stella McCartney — is a whipstitched trimmed handbag in stunning black chenille with glints of silver and gold woven throughout. It is a perfect mix of feminine luxury with a touch of masculinity in the tonal chain link handles.
All winners will be announced on Tuesday, Feb. 2 during a livestream event.
Quietly Generous
After participating in Anthem Giving Circle's efforts for more than five years now, Steenman has realized just how quietly generous the people within the Anthem community are.
"We have a number of donors who wish to remain anonymous," she explains. "One of the purses this year is a real Gucci purse with a Gucci shawl. It was given to one of our members anonymously. That was a $1,500 gift. People do not need to have their names touted to be generous in this community and that is really unique."
Steenman is grateful to have an avenue like Anthem Giving Circle to strengthen the community — all of it, especially those in need.
"This is a way for us to help the community in a very meaningful way," she explains. "What is great about our Purses for a Purpose event is that people learn how important giving in the Anthem community really is. We are increasing the number of people who actually understand the need in this community and are therefore willing to give more.
"Anthem is lucky to have quite a few charities. This is a just fun event where people make new friends and come to understand what the needs are in this community. And that is very helpful."