Writer Shannon Severson
The Holland Center in North Scottsdale operates from the premise that art — painting, writing, music, theater and creativity — brings people together and contributes to the overall wellness of individuals and the community.
"We are the best-kept secret in the desert," says Kellen Brugman, who is responsible for community development at the nonprofit center. "We want to get the word out so people know about The Holland Center; if we benefit one person in the family, we benefit the whole family unit."
Back to school means back to routines of learning, homework and extracurricular activities. There are many opportunities to build skills and stave off after-school lolling about, but The Holland Center offers a myriad of options that meet the needs of mind, body and spirit while having fun and developing the whole person.
Tell Me A Story
Tell Me A Story is a six-week creative writing program developed by The Holland Center's executive director Jennifer Rosvall for third through fifth and sixth through eighth grades. The classes, which are part of a partnership with the center's Desert Foothills Book Festival board, are taught by published authors and illustrators of children's books. Students write and illustrate their own book and take home a published copy at the end of the session.
"Tell Me A Story meets kids where they're at," Brugman says. "Little ones learn what a story is and how to use illustration to read and tell the story. It develops brain-based health as they read stories out loud to one another.
"The older students learn about literary genres and [how to] determine what it is they want to write about — poetry, mystery, a travel adventure they've experienced. They learn about story arcs, character development, how to write dialogue and [how to develop] a compelling story. They also learn the business side of it — how authors market themselves and their books."
The entire community can experience the upcoming second annual Desert Foothills Book Festival featuring local authors Saturday, Oct. 21 at The Holland Center.
Daily Routines for Stress Management
Brugman has also developed and serves as a teacher for the newest addition to The Holland Center's youth lineup: Daily Routines for Stress Management, The Science of Awareness and Self-Care. The course is designed as an after-school program for high school-aged students but has also been taught as part of a math and science summer bridge program at Cactus Shadows High School.
"We want kids to invest their time in creative endeavors after school rather than using devices that waste time," Brugman says. "This course teaches easy, effective and enjoyable daily routines that address sleep habits, food choices, digestion, an understanding of the nervous system, goal setting and managing the use of personal technology."
Brugman's course helps students understand the three important areas of their lives where they can weave in routines — waking up; school assignments, tests and studying; and bedtime.
Thoughtful challenges are presented in ways that allow young people to try something new and see how it affects their lives for the better. For example, students experiment by spending 15 minutes at night outside in nature and take note of how they feel after that activity in comparison to spending 15 minutes on an electronic device, which can disrupt sleep rhythms and affect eye health and posture.
"Participants learn to use their senses in a way that supports the nervous system and connects them to nature or their family and friends instead of a limiting device," Brugman says.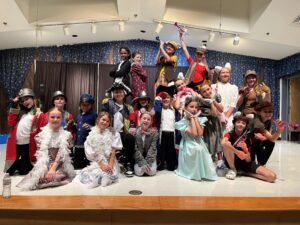 Desert Foothills Theater
Desert Foothills Theater, led by producing artistic director Sandi Carll, will offer after-school theater programs with performance opportunities and theater productions for children ages 7–18 during its 2023–24 season. Professional performing artists work with young thespians to develop skills in acting, singing and musical theater dance while building stage and presentation skills.
"Today, live theater is more important than ever," Carll says. "While schools are focused on fundamentals and meeting common core curriculum goals, external children's arts programs are filling the gaps. Studies show that consistent participation in the arts actually increases academic performance."
Currently, children ages 6–12 can participate in Desert Foothills Theater's no-cut production of "Roald Dahl's Willy Wonka Kids." Later this fall, the theater will hold auditions for its production of "Disney's Aladdin, Jr.," based on the 1992 Academy Award-winning film and 2014 hit Broadway musical. "Seussical Kids" is also on this season's roster, with auditions taking place just after the new year.
"Theater sparks the imagination, cultivates curiosity, empathy, literacy, courage and self-confidence," Carll says. "Kids who participate in theater learn to be great collaborators, problem solvers and idea generators."
hollandcenter.org
desertfoothillsbookfestival.com
dftheater.org