Celebrity Fight Night. Celebrates Ali
Writer Lara Piu
The first anniversary of boxing legend Muhammad Ali's passing approaches. Jimmy Walker, long-time friend, Phoenix businessman and the founder and chairman of Celebrity Fight Night, recalls some of Ali's greatest moments outside the ring.
"Muhammad Ali, he's the greatest of all time," Walker says. He remembers Ali once saying, "The greatest religion in the world is the religion of love," and he practiced it.
"He was more than a fighter; he stood for so many good causes. I think of Muhammad as someone who cared deeply about the sick, deeply about the poor and deeply about the elderly and children."
Ali and Walker spent a lot of time together outside the ring, including attending more than 20 Phoenix Suns games together.
"We would walk in unannounced and typically the entire building, 16-17,000 people, would give him a standing ovation," Walker says. "Then players would walk over, most of them in single file, and say, 'Hey champ, just wanted to meet you and shake your hand,' and they'd walk away saying, 'I just met Muhammad Ali.' He'd be waving people down so he could be with more people. We'd get up to leave the game, and he'd get another standing ovation. There's nobody who can walk into an arena like that, night after night, and get standing ovations."
Ali reached out to people everywhere, even from a car on the road.
"He'd love to roll the windows down and look at people, and they'd about drive off the road saying, 'My gosh, I just saw Muhammad Ali,'" says Walker. "He'd love that and he'd smile real big."
Walker recalls the time Ali would take reaching out to people to another level.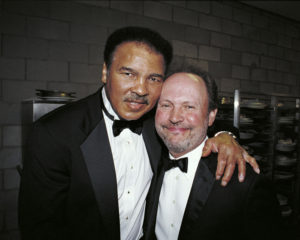 "One time, he had the window rolled down, we'd just left a Seattle Mariners baseball game, and he's waving to people to follow us. We had about 25 cars following us, they all followed us to his home. So, we get out of the car and he invited them all to his house. Lonnie, Ali's wife said, 'Who are all these people? They're strangers, they could hurt us or something,' but Muhammad replies, 'No, they're my friends."' The boxing icon was a prankster and loved to perform magic tricks.
"I'd introduce him to someone, and if a guy was with his wife or girlfriend, he'd push the guy aside and put his arm around the girl and walk away and say, 'That guy's a fool.'"
Most importantly, Walker asserts, Muhammad loved people and was famous for his convictions.
"In the four years of his greatest earning capacity, he stood against the war, he didn't want to kill, and he forfeited his fame. He would have gone to prison for his beliefs. I don't see a lot of people today willing to put the money aside for their beliefs and their cause. He stood for something. I think people respected him. He's just a man who had a lot of love in his life for a lot of people."
One lesser-known project that Muhammad endorsed was the Never Give Up program at St. Vincent de Paul in Phoenix
"It meant a lot to Muhammad. He loved to come down," remembers Walker.
He is just a man who had a lot of love in his life for a lot of people.
To date, between 500 and 600 homeless people are reached through this program every Monday.
"He loved to be with people who had needs. The poor and those who were suffering — they were his favorite crowd. He wasn't looking for the celebrities; he was looking for people that were poor, who were homeless and needed help, like the sick and the elderly."
Jimmy first met Ali in 1996 when they were introduced at a Lakers basketball game.
"I said, 'Muhammad, you and I have a mutual friend in Ernie Shavers.' He didn't say too much, so I repeated myself, and he [still] didn't say a lot, and I said, 'Muhammad, Ernie loved you a lot,' and Ali finally responded, 'If he loved me so much why'd he hit me so hard?'"
It was the start of a great friendship, and eventually, a collaboration that would raise nearly $127 million for the Muhammad Ali Parkinson Center at Barrow Neurological Institute in Phoenix, as well as other charities from Celebrity Fight Night's 23 years.
"He never once said no to me. He was always, 'What can I do to help?'" adds Jimmy.
This year, the elite gala will celebrate the legend Ali. Emcee Reba McEntire, along with celebrities like Billy Crystal, Lonnie Ali, Brooks & Dunn, Colbie Caillat, Larry Fitzgerald, Carson Palmer, Brian McKnight, Dennis Quaid, Smokey Robinson, Mike Love, Evander Holyfield, Harrison Ford, Sharon Stone, Earnie Shavers, Billy Blanks and more will pay tribute. The event is held March 18, at JW Marriott Desert Ridge Resort & Spa. Tickets range from $2,000 to $5,000. You can also make donations online.
Walker says the event will continue, as it always has, one year at a time.
"This is a one-year event going on its 23rd year," notes the founder.
Four years ago, Celebrity Fight Night launched in Italy, thanks to Andrea Bocelli. Since then, some 300 celebrities join the famous singer each fall on a trip-of-a-lifetime chartered jet visit across the pond. This year, Bocelli will perform with Elton John at the Roman Colosseum.
The events primarily support the Muhammad Ali Parkinson Center at Barrow Neurological Institute in Phoenix. Since 1997, the center has addressed the tremendous needs of people with Parkinson's disease. It is perhaps the only center in the country to provide comprehensive access to research, clinical care, education, intervention, music therapy, physical therapies and more.
"Our primary goal is to improve the daily quality of life for people living with this disease," says Muhammad Ali Parkinson Center director, Dr. Holly Shill, "whether it's research avenues or through emotional support for patients and families."
Shill says they're working on the addition of in-home and transportation services so the center can reach many immobile people who suffer from the debilitating disease.
"I know this: Ali wanted to find a cure," Walker says. "There's still not a cure for Parkinson's disease, but the Muhammad Ali Parkinson Center still continues to help people."
Walker adds one last tribute:
"I've always said this: There will never be another Muhammad Ali. They don't make them like him anymore."