Writer Shannon Severson // Photography Courtesy of Fever and Wonderspaces and by Yadira Villarreal and Superfly X
There's no doubt that Phoenix has a reputation for fantastic outdoor experiences… for most of the year. However, when our temperatures grow infernal, we tend to hunker down indoors or get out of town entirely.
But there's no need for seasonal hibernation or an all-out escape if you're looking for some one-of-a-kind entertainment this summer. The buzzword of the moment is "immersion," with indoor experiences that offer a feast for the eyes, ears and mind — while simultaneously providing a super simple way to beat the heat.
Artopia: The Immersive Art Experience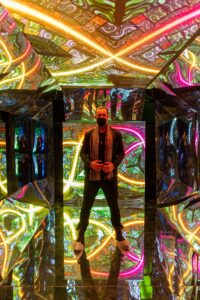 Phoenix is just the second city to launch Artopia: The Immersive Art Experience after the innovative and collaborative exhibition's successful opening in Chicago last year.
Merging art and technology, visitors take a self-guided tour through a brightly-colored, creative world filled with large-scale light installations, massive sculptures and murals by street artists from Arizona and across the country. Projection mapping and sound reactive LEDs, including a healing Solfeggio frequency dome, draw visitors to participate in the art itself.
Wonderspaces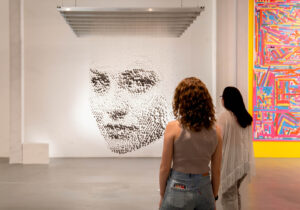 Wonderspaces — a 16,000-square-foot art venue inside Scottsdale Fashion Square — has, over the last three years, featured 60 different artists from all over the world. The installations are visually impactful and often interactive, all meant to make the viewer think, discuss and feel a sense of wonder.
One of Wonderspaces' newest installations is "The Immigrant" by Perceptual Art pioneer Michael Murphy — a 3D halftone sculpture created from 2,300 wooden balls that, when viewed from a distance, reveal the image of the artist's partner. Another is "Radiance (Infinity Box No. 6)" by Matt Elson — a two-person experience where the view from the arranged windows changes with your position.
The "Friends" Experience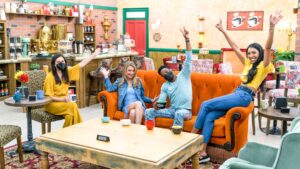 The "Friends" Experience will wrap up its run May 8 in Phoenix after having been a huge hit for both casual and superfans of the iconic 90s sitcom.
Visitors walk through 12 rooms filled with set recreations, history and fun facts about the show. There are many photo opportunities and, just like the characters, everyone ultimately winds up at the Central Perk coffee shop with the legendary orange couch.
Genie's Secret Bazaar: An Exploratory Magical Adventure
A waitlist is forming for Genie's Secret Bazaar: An Exploratory Magical Adventure — an experiential event set to debut in June at a secret venue.
Visitors will explore a space modeled after the classic Arabian Nights tale of "Aladdin and the Magic Lamp." Doors open to reveal secret rooms where magicians, games, fortune tellers and other performers will entertain. Guests will also be able to purchase exotic food and drinks from around the world.