Writer Shannon Severson
The hardened clay soil of our dry desert might not look like fertile ground, but with a bit of careful tending, timing and persistence, a colorless and barren backyard can teem with colorful blooms — even year-round!
The Valley gardening community is full of flower-growing enthusiasts who have found connections on social media — particularly Instagram — where they share photos of seedlings to bouquets as well as trade tips and even seeds.
Mary's Backyard Blooms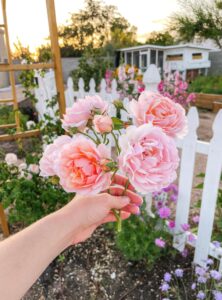 Mary Shirley grew up in Tennessee, working in her grandparents' "massive" garden. It shaped her as a gardener and as a person.
"I would spend my summers picking peas, collecting vegetables and watching my grandma can pizza sauce," Shirley says. "I think it made me who I am. It gave me my strong work ethic."
When she moved to Arizona nearly seven years ago, she wanted enough land for chickens and a garden of vegetables and flowers. But the flowers brought her so much joy that she soon found herself replacing the vegetable beds in favor of flowers.
"The flowers just bring pure magic to my desert backyard," Shirley explains.
Shirley says growing 365 days per year is absolutely possible; the key is figuring out what types of flowers grow at what times.
"There are some flowers that absolutely thrive in our summer heat," she says. "That gives me something to look forward to. The list is almost longer for what we can grow rather than what we can't."
Some of her favorite surprises have been daffodils, dahlias and hollyhocks. A pack of hollyhock seeds she threw out on the desert soil has now come back year after year with mostly just rainwater.
Shirley uses those hot summer months to plan and source what she will sow in her Northeast Phoenix garden when the weather cools.
"I spend the summer dreaming," she says. "I'm so anxious to get out into the garden in fall."
One of her absolute favorite flowers to grow is roses. Specifically, David Austin roses, of which there are more than 200 varieties. These beauties are bred by an Englishman of the same name and in his nearly 60 years of work he has drawn a dedicated following. Some have so many layered petals they appear to be peonies.
"[David Austin roses] take my breath away," Shirley says. "Some even smell like citrus. They're bred for their scent and dozens or hundreds of petals and they grow here so easily."
Shirley's gardening philosophy is to plant everything and grow everything. She experiments constantly to see what works and what she loves. She says the gardening community here in Arizona is like nothing she's ever experienced; she's found her fellow gardeners to be generous and inspiring. Sharing online has led to camaraderie and some great results in the garden. The benefits don't stop at what can be arranged in a vase.
"The garden and growing things have given me such peace, hope and passion," Shirley says. "I hope my flowers and posting will inspire those passions and hope in other people — even in difficult times. For me, personally, it has made such a difference in my life, my mental health, and my outlook on the world. It's amazing what growing things can do for your soul."
instagram.com/marysbackyardblooms
The Potter's Bench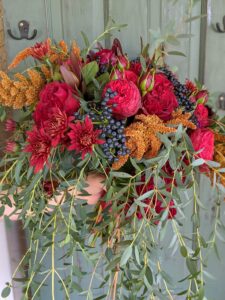 Stephanie Walker also finds gardening and being out in nature to be therapeutic.
"I feel we all need a little boost," Walker says. "Growing up in Colorado, my parents always had a garden. I didn't really like it at the time because it meant pulling weeds on Saturday morning, but I appreciated it. When my husband and I bought our first home 22 years ago, we had this little 8-by-10 garden bed that we started and that was really fun."
That small garden bed has blossomed into an acre of land in Queen Creek, a master gardener designation from University of Arizona and a full-time business — The Potter's Bench, a flower farm and garden consultancy that includes a website and blog, newsletter, workshops and a Community Supported Agriculture bouquet subscription service.
"People are just shocked to learn that we can grow these flowers here in Arizona," Walker says. "It's been fun to educate people and help them realize we tweak our growing season a little and can grow almost everything anyone else can grow. The bonus is we can really grow year-round. That's one of the biggest plusses for vegetable gardens, especially. We can harvest from our vegetable gardens year-round if we choose to."
Walker starts thousands of seedlings indoors and plants everything in full sun. Her summer crop bursts forth full of zinnias, cosmos, celosia, amaranth and lisianthus, planted in blocks of color. She is also a David Austin rose enthusiast and has at least 40 shrubs from the purveyor.
Sunflowers are planted successively — a tray of seedlings goes in the ground every week so they're ready to sell throughout the season. The tall, large-headed sunflower stalks and blooms are strategically planted on the south and west sides of her vegetable garden, creating a natural shade screen.
"By the time it gets really hot in June, they've grown enough to shade my plants and I don't have to rig up shade cloths," she reveals.
Walker's tip for beginners is to just start and not worry about having perfect beds. The same soil that allows desert weeds to pop up after a rainstorm will support a flower or vegetable garden.
"If you plant something and provide the water, it will grow," Walker points out. "If you can amend your soil, even better. Just plant something. Believe it or not, Arizona has good soil."
instagram.com/the_potters_bench
Cottage Garden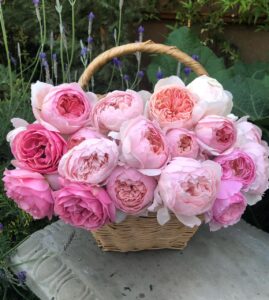 Michelle Moghina's earliest gardening memories were working in her family garden in Romania. The family escaped communism when she was nine years old after her father swam the Danube into Serbia and settled in New York City as a religious and political refugee. The family eventually moved to Michigan and her mother's first requirement was to have a garden.
"I recall my mom bought a packet of zinnias and that's the first thing she planted, along with a Rose of Sharon tree," Moghina says. "I helped her plant and weed and water. When I was married 20 years later and moved to Arizona, it was a whole new ballgame; I had to re-learn a lot."
She and her vegetable-gardening husband have made gardening a priority in every home they've owned and have transformed blank slate backyards into magical oases teeming with flowers that attract pollinators for the vegetables. With five children, they have quite a few helpers in the garden.
Moghina has tips for anyone starting from scratch. She says irrigation is the number one factor. Instead of drip irrigation, her large garden bed can be flooded with bubblers. This deep watering technique allows her to use less water because the soil stays wet for a day or two even in the hottest temperatures.
"We are very conservative when it comes to using our water," Moghina says.
Second, study the yard to see where the sun is so it's clear where to plant.
Third, consider what you'd like to grow and plan out your space, starting with trees — Moghina's include ficus and peach — then work your way down to shrubs and annuals. Planting in the ground is fine, so work with what you have and add compost if needed.
Moghina is known on social media for her charming cottage garden design and she shared how she gets that lush, textured look.
"I practice dense planting," she says. "I plant as many flowers as possible in my garden bed. Taller plants give shade in the summer. I practice successive planting so I always have something blooming."
She works to mimic the look of plants that won't grow well in Arizona by finding flowers similar in texture and color. For instance, most lavender doesn't like our climate but Egyptian or fern leaf lavender does. David Austin roses figure prominently in her gorgeous garden, as do ranunculus, salvia, wallflowers, society garlic and various winter and spring bulbs.
During the blooming season, she brings bouquets to friends who might need a lift and sells bouquets — mostly to other Romanians in her community. It helps finance her seeds and supplies.
Added benefits to her verdant space include watching her children play, observing the comings and goings of bugs and insects and a little hummingbird who has made the Moghina garden its home since they moved in.
"She eats from my hand," Moghina says. "She chases away the birds and bees and flies to me when I come into the garden. It's worth all the work to be able to watch my kids enjoying the garden."
---
Zone
Most of Phoenix is Zone 9b, so look for tips and planting times for that zone.
Timing
Plant winter crops once daytime temps start dropping below 95 degrees, usually in October. These include roses, daffodils, freesia, hyacinth, Muscari, iris, gladiolas, dahlias, calla lily, leucojum (summer snowflake), anemones, ranunculus, poppies, snapdragons, petunias and pansies.
For late spring crops, plan right after the possibility of frost for bulbs. April is a great planting month for roses and heat-resistant flowers like zinnias, cosmos, sunflowers, lisianthus, vinca, angelonia and globe amaranth.
Soil
Healthy soil is important. Add fresh soil (organic, if possible) to raised beds each year, as watering causes run-off. Worm castings and compost are also great amendments.