Writer Shannon Severson // Photography by Patrick Hodgsdon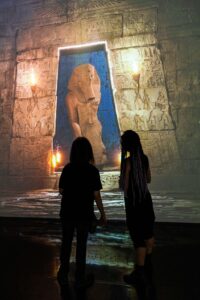 This year marks the 100th year since British archaeologist Howard Carter discovered the treasure-filled tomb of the Egyptian King Tutankhamen — more commonly known as King Tut.
Carter's Nov. 4, 1922, discovery was particularly important because most of the tombs in the Valley of the Kings had long since been emptied by grave robbers. Because King Tut was a young boy when he died, his humble, hastily built tomb was unremarkable enough — and well-concealed enough by the accumulation of 3,000 years worth of desert sand — as to not attract the usual looters.
Immersive King Tut, an experiential exhibit at Lighthouse Artspace Phoenix, allows Arizona audiences a peek at the boy king's life and culture in the heart of Old Town Scottsdale. The Egyptian Council of Tourism Affairs assisted in the creation of the production, so perhaps some attendees will be inspired to travel to see the real-life display someday.
The format is accessible to audiences of all ages and is constructed around an engaging story. The open, high-ceilinged space is dimly lit and its walls are covered in projected images to make one feel like they are entering the tomb itself.
The story of Immersive King Tut is told through myth, developed through historic details and the depictions originally found in the Amduat — an Egyptian funerary text. The illustrated images of the tale are found in every pharaoh's tomb.
The Amduat story is one of urgency: A deceased pharaoh must navigate the underworld in his boat, accompanied by gods, defeating Apophis, the snake god of chaos and overcoming perils and challenges in order to bring the sunrise each morning to shine over Egypt and to take his own place in the afterlife.
The story and concept of Immersive King Tut are founded on an exhibition that initially premiered at the National Gallery of Art in Washington, D.C. Visitors will gain new perspectives on these beliefs that guided the art and artifacts within King Tut's tomb.
Experience
Immersive King Tut // Through Nov. 13 // Lighthouse Artspace Phoenix // 4301 N. Scottsdale Road, Scottsdale // $29.99+; youth, student and group discounts available // immersive-kingtut.com