Writer Jo Gemmill
Photography by Carl Schultz
[dropcap]T[/dropcap]wenty years ago, a rumor began circulating the Carefree community.
"Have you heard this English girl thinks that she can sell hot tea in the desert?" residents asked one another.
The responding comments varied but were usually along the lines of, "We'll give her six months… max."
Granted, it took some courage to sign a lease the week after 9/11. Introducing Americans to the vagaries of scones with clotted cream, tea with milk and a ploughman's lunch could have either been a roaring success or complete madness. Only time would tell.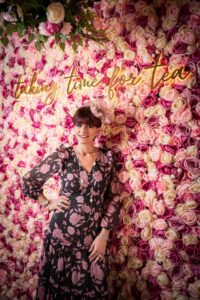 On opening day of the English Rose Tea Room — with chandeliers hung, tables set and hot water boiling — we had optimistically prepared food for 30 people. Catastrophically, 150 people showed up. Another 150 people showed up the following day… as well as the day after that.
We had not considered we might need someone to wash the dishes. We did not have table numbers, so no one knew who had ordered what. Moreover, our chairs did not arrive in time for our grand opening, so we had to rent plastic patio furniture. And all of my beautiful, hand-picked dishes had crashed on a train somewhere in the Midwest.
At one point during opening weekend, which also coincided with a Thunderbird Art and Wine Festival, I looked across the sea of customers and overheard a woman asking to be seated. She said, although she loved our music, she had heard the entire CD's tracklist play twice… in full. I want to thank that lady for her patience that day.
I know all about soft openings now, but back then it never occurred to me to do a dry run. We just opened our doors and naively hoped for the best.
Some things did go right, though. The tea was hot, the food was delicious and the customers were dressed to the nines. And, most importantly, they kept coming back.
As I reflect on the last 20 years, I vividly recall the many memorable occasions we have had the honor of hosting — from bridal and baby showers, birthdays and anniversaries to remembrance teas, royal weddings and "Downton Abbey" extravaganzas. We have fed grandmothers and grandchildren, veterans and vegetarians, millennials and mothers, tea lovers from far-flung corners of every country and, every once in a while, even the occasional man.
It has been my privilege to be a part of the Carefree community. We have entertained our local school children on field trips, during which they have enjoyed tea while learning a few table manners. We have also hosted fundraisers for the homeless as well as for animal rescues and local nonprofit organizations.
During the last two decades, many people have worked at the English Rose Tea Room — and some have stayed for years. Each staff member, whether short-term or long-established, has made their own contribution to our history. I will be forever grateful for their support and contribution to our success.
Without a doubt, our greatest challenge was the COVID-19 pandemic and all of the obstacles and heartache that it brought along the way. I defy any restauranteur to say that 2020 was not the most difficult year for our industry. We closed for six weeks, reopened to curbside pickups and outdoor dining and gradually reintroduced our loyal customers to the tradition of afternoon tea.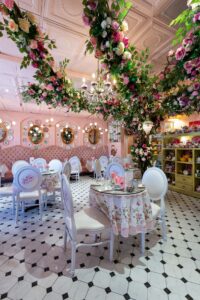 Since 2020, we have redesigned the English Rose Tea Room, working with Type-X Design Studio's Davina Griffis and Kyba Building Group's Mike Rose to create a brighter, much more spacious and decidedly more chic environment. Her Majesty the Queen is still in residence and we have many other photographic moments to capture. Instagram devotees will love our new look, with the patio having seen an overhaul as well.
We have met famous musicians, singers, actors and authors. We once even provided afternoon tea for Sir Paul McCartney's family.
And yes, men do drink tea. One day, a man asked if he was supposed to use our restroom — which was marked "powder room." When he returned to his table, he muttered to his wife that an alarm probably went off when he lifted the toilet seat. Upon hearing his comment, I gaily replied, "Do not worry, sir. The alarm only goes off if you do not put it back down again."
I am continually overwhelmed by the people who support the tea room — including those who donate china teacups once owned by their grandmothers, who cherished having afternoon tea with us; those who send us thank you cards; those who call just to say how much they loved their teatime experience; and especially those who had come for afternoon tea as young girls when we first opened and now bring their own children to continue the tradition.
So here we are, all dressed up and ready to begin the next decade of enjoying the utterly civilized pleasure of taking time for tea. We are keeping calm and carrying on, and I hope that you think about joining us along the way.
English Room Tea Room // 201 Easy St., #103, Carefree // 480-488-4812 // carefreetea.com