Virtuosic Visions
Writer Joseph J. Airdo
Photography Courtesy of Scottsdale Arts
While studying the art on display in the Center Space Gallery at Scottsdale Center for the Performing Arts during Scottsdale Arts' Visions '21 exhibition, one can clearly see the paramount proficiency with which each piece was created. Delicate details collide with shocking ingenuity, resulting in works that ignite thought and encourage conversation.
However, while these are unquestionably the works of seasoned artists, they exude a freshness that seems to indicate a form of forward-thinking. It is almost as though these pieces were created by artists from the future.
Perhaps that is because they were. On view through Sept. 13, Visions '21 features the work of advanced high school art students who participated in a multi-visit, invitational visual arts program that has been provided to metro Phoenix area teens for the past 22 years.
"Visions began in 1999 when the Scottsdale Museum of Contemporary Art was originally founded," says Brittany Arnold who, as teen and family coordinator for Scottsdale Arts Learning and Innovation, facilitates the program. "It connects advanced high school art students with contemporary art as well as local artists and the local art scene."
Each school year, students from six high schools across Maricopa County attend monthly workshops conducted by professional artists, tour the University of Arizona School of Art and connect with exhibitions offered by Scottsdale Museum of Contemporary Art.
This past school year's participating campuses included Coronado, Pinnacle Saguaro and Shadow Mountain high schools as well as New School for the Arts and Academics. Because of the COVID-19 pandemic, the program pivoted to a virtual format, with workshops and tours all being conducted via Zoom.
"I sent out art kits that had all of the supplies the students needed and they made art in their own bedrooms and living rooms," says Arnold, noting that it was not uncommon to see a cat waltz across the screen. "It was really great to see the students in their own personal settings because I feel like we were able to connect with them on an entirely different level."
Despite the altered format, the end result remained the same — an exhibition that allows the students to showcase their work that reflects everything they learned over the course of the program.
Impactful Perspectives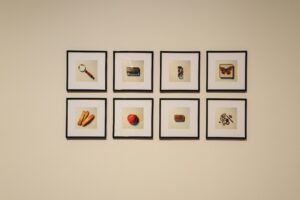 Visions '21 features an incredible collection of paintings, sculptures and multimedia artwork — the most visually striking of which is Coronado High School student Sarah Gallardo-Meza's "Cellophane," a life-sized human figure made out of old newspaper wrapped in plastic with flowers sprouting from its wrists and neck.
Gallardo-Meza says she aspired to create a piece that promotes body positivity and inner strength.
"When viewing this piece, I want the audience to have a sense of realization that no matter what they or someone else look like, they are beautiful and strong in their own unique way," she explains. "The title, 'Cellophane,' is meant to symbolize the fragile and delicate state of an individual and is meant to be a reminder to take care and not harm or pollute one's mind and body."
Other pieces are far more subtle yet carry just as much meaning — such as "The Little Things in Life," by New School for the Arts and Academics student Henry Dollak. The work features a series of eight photographs of knick-knacks, including a magnifying glass, an apple and an Altoids tin.
Dollak says that each of the objects has value to him and that the work as a whole encourages the viewer to let his or herself find joy in something — regardless of the complexity of it.
"Seeing that among the artists I got to work with this year was absolutely incredible, with one example being Rembrandt Quiballo," Dollak explains. "The genuine fascination he had in the themes of his work reminded me of the pure joy something can give. Seeing people be happy about what they do is really encouraging. Enjoying time spent creating the art you make is worth the whole experience."
Arnold adds that of all the pieces included in Scottsdale Arts' Visions '21 exhibition, "The Little Things in Life" is one that she has kept returning to for its timely significance.
"It made me think back to the quarantine and the pandemic; of finding beauty, happiness and pleasure in the small things in life," Arnold says. "I feel like that piece is a big takeaway from this past year. It is so simple yet so complex at the same time. It is very aesthetically appealing because [Dollak] frames each object very nicely and lights them very well. And he is showing that these simple things can bring anyone joy."
Skill and Voice Amplification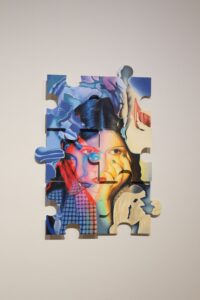 Through the appreciation and creation of art, Scottsdale Arts' Visions program aims to cultivate the development of teen social and mental wellbeing while enhancing social connections, opening dialogue and promoting tolerance and confidence.
"The goal of Visions is to expose students to the art world but, at the same time, also prepare them for life after high school," Arnold explains. "We are really building those 21st-century skills as well and helping students build resiliency so that they can learn how to set goals, how to collaborate, how to communicate effectively and how to be social-changers in their communities."
Noting that life lessons are inherently incorporated into workshops based on the content of the artwork, the background of the artist or the discussions that take place, Arnold adds that Visions students have gone on to pursue a variety of careers over the 22-year history of the program.
"We have had Visions students go on to become art teachers and industrial designers," she says. "We have even had one go on to become a curator. There are some who pursue art careers while others may take a slightly different route, working in the sciences. Visions gives them wonderful exposure to alternative careers — arts-related or not."
As for that initial impression that the pieces on display during Scottsdale Arts' Visions '21 exhibition are the works of seasoned artists, Arnold says that is simply a testament to what youth are capable of.
"Visions takes the skills that are already there and amplifies them," she explains. "We work with local teaching artists who instill their techniques and approaches to making contemporary art to which they may have typically not been exposed.
"If you look at the students' artist statements, the ability, knowledge and maturity have always been there. Visions just gives them a platform to amplify their voices and to show them that they really do have the capability to become professional artists."