Writer Shannon Severson // Photography by Loralei Lazurek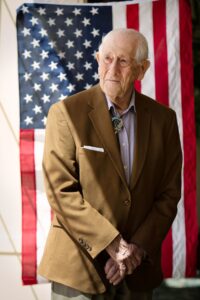 What do you think you'll be doing at age 100? What stories will you have to tell and what good will you have done in your life?
At 100 years old, World War II Marine veteran Sam Baker just threw out the first pitch at a spring training game. The Scottsdale resident is also a published children's author, advocating for literacy in schools, and was recently recognized at the Veterans Heritage Project 2023 Saluting Stories of Service Gala.
"On a night when we [were] honoring service, I thought it was important to announce that we had a 100-year-old WWII veteran in the room," says Michelle DiMuro, the organization's executive director. "When I introduced Sam Baker, he got a standing ovation. It was wonderful!"
The Veterans Heritage Project is an award-winning nonprofit organization founded to connect veterans with high school students who interview them and tell their stories. Approximately 13,000 students have participated in conducting 300 interviews each year. These accounts are then preserved for posterity in the Library of Congress and through the organization's student publication, "Since You Asked."
It's fitting that Baker's own story has been preserved by the Veteran's Heritage Project because he is a true storyteller at heart.
Baker was born in 1922 in Clarksdale, Mississippi. His family struggled through the Great Depression and he began a paper route at the age of 8 to help make ends meet.
"We had two milk churns full of dill pickles," Baker recalls. "We had what I called 'worms,' but they were really caterpillars. I would feed them dill and they would come out as black swallowtail butterflies; when their wings dried out, they would fly. I created a story about 'Herman the Worm' for my kids.
"I also had a pet rat; she was the cleanest rat you ever saw. She was always bathing herself and always wanted new cut-up paper for her nest. We changed it from a rat to a mouse in the book and that story became Oscar the Mouse."
With his imagination, encouragement from his son, Mike, and help from his daughter, Sally, Baker would go on to take the stories he once told his children at bedtime and become an author in his 90s. Sam Baker Books was born.
Literacy and returning the magic of imagination to children in an over-digitized world are extremely important to Baker. His own creativity and adventurous spirit propelled him to serve his country during WWII and beyond.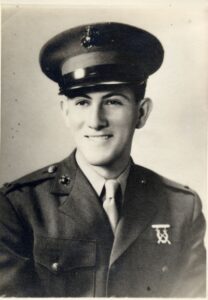 Joining Up
While attending Mississippi State University, Baker and his roommates heard about the attack on Pearl Harbor. He says that, at the time, they didn't even know where Pearl Harbor was. He had never been more than 150 miles away from his hometown.
"We had to run to the library to look it up," Baker recalls. "Everybody was anxious to do their part. I joined the Marine Corps four months after Pearl Harbor."
Baker finished his studies and also used the time to lift weights, gaining strength for the war ahead. He began his service at South Carolina's Paris Island for boot camp on Sept. 10, 1942.
As it turned out, it was Baker's sharp intellect, leadership qualities and aptitude for engineering that Uncle Sam needed. Baker would go on to officer's training at Quantico, Virginia, and then on to Camp Lejeune, North Carolina, and eventually Camp Pendleton in California before he shipped out to Pearl Harbor in Honolulu.
Baker saw combat as part of the fourth wave of attack on Okinawa. After that, his Sixth Marine Division was sent to Guam to prepare for the invasion of Japan. There, he had one of his favorite assignments — working as an engineer to help build the airport.
He had many harrowing moments, uncertain times and challenges, but always managed to put his knowledge and perseverance to good use and help others do the same. Baker got some very valuable advice from an experienced lieutenant from Oklahoma and it has stayed with him all these years.
"I asked him to give me some advice so I wouldn't be such a greenhorn when I made my first landing under fire," Baker recalls, "He said, 'Sam, take care of your men when you can; and when you can't, they'll take care of you.' It was the best advice anybody had ever given me."
Toward the end of the war, he decided to stay in the Marine Corps and his Sixth Marine Division was sent to Tsingtao, China, to deny the deepwater port and the airfield located on the outskirts of the town. So many of the older officers had the necessary points to return to the states, so Baker was not the second in command of the 400-man Battalion. Baker was given permission to run the Battalion with the daily supervision of the commanding officer. They traveled by boat and occupied a school with 24 classrooms.
The lesson he learned from the Oklahoman lieutenant once again came back. Many of his men hadn't finished their schooling and Baker took it upon himself to start a school.
"I said to the young officers, 'I want to start a school,'" Baker says. "I want you to teach math, English, civics and history, but you won't have any books.' The alternative to attending the school was [kitchen] duty, so everybody went to school. We gave them certificates, hoping they would be recognized when they returned [to the US] These young officers really took it to heart to educate the men."
Baker was discharged back to the United States on July 4, 1946, but continued to serve his country for many years with the US Coast Geodetic Survey — the country's oldest scientific government organization, established by Thomas Jefferson in 1807. While there, he worked with the Air Force on a top-secret project. The organization later became the National Oceanographic and Atmospheric Association.
As a young man, Baker worked with NASA on the space program and, upon retirement, Brookhaven National Laboratories employed him on a fusion project. He eventually became the world's first GPS salesman, educating civilian customers on the wonders of these directional systems.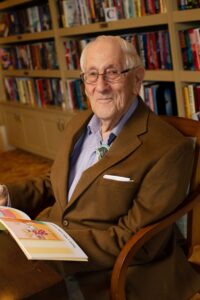 An Author's Life
During all the time he was away from his children and wife, Janet, Baker would return home and his children would eagerly ask him to tell them the bedtime stories that would become the basis for the books he would begin to publish in his 90s.
Baker is still passionate about teaching; these books are his way of teaching children to use their imagination and to encourage literacy.
"Oscar the Mouse" is the joyous story of a little girl and her first pet and "The Silly Adventures of Petunia & Herman the Worm" is a chapter book about friendship that will appeal to slightly older readers. His website also has free coloring pages and a new book, "Oscar Goes To The Vet," will soon be published. Baker is working on a longer chapter book that has adventures similar to Mark Twain's Tom Sawyer and partly inspired by his own childhood adventures.
"Reading is the foundation for all other learning," Baker notes. "The cell phone is the downfall of imagination. On cell phones and televisions, it's all done for them. [Our country] is 17th in the world in math and reading. How can we become the powerhouse our world needs if our children can't read or write?
"Reading is so important. I read my books at schools and people can buy books on my website and on Amazon. I [do this] because we need children to read. We've got to somehow right the ship. Children who can read will succeed."
Baker is also an advocate of libraries and recalls that going to the library was the only way to do research. He would ride his bike and meet up with friends. He says even though things have changed today, taking children to the library is still an important adventure.
He's always trying to think of ways to encourage parents to read to their children, just as he did with his own children and now does with his grandchildren and in schools. He would like to see programs where older students can read to younger kids and he is on a mission to get more books into the hands of children from military families.
While one man can't solve the literacy problem, Baker is not one to give up and it's a labor of love. When he recently visited a kindergarten classroom to read and brought some books to give away, he was pleased to see the students proudly holding their books and showing them off.
"If one child can learn to read faster than he normally would because of me, I've reached my goal," Baker says. "Anybody writing children's books for money had better get another job, it's true. But you do it for the love. You do it for what results may occur."