Writer Rebecca L. Rhoades // Photography by Allyson Schwartz
For Michigan resident Allyson Schwartz, being able to spend a week rafting the Colorado River through the Grand Canyon was a once-in-a-lifetime opportunity.
The photographer has always enjoyed the great outdoors. Fishing, hiking, snowshoeing and boating are just a few of her favorite pastimes.
"I had hiked the Bright Angel Trail to the bottom of the canyon and spent the night at Phantom Ranch," she recalls. "Rafting the canyon was something I always wanted to do."
A few years before the pandemic, Schwartz and her then-partner, Dave, booked a self-guided oar trip. They traveled, with other independent rafters, in their own two-person raft that they paddled. Other adventurous travelers join tour groups on motorized rafts that hold between 14 and 24 people.
More than a dozen river outfitters are licensed to offer rafting trips through the Grand Canyon. Tours depart from Lee's Ferry, the official beginning of Grand Canyon National Park, and take guests as far as 280 miles alongside towering rock walls; through whitewater rapids; and past waterfalls, hidden caverns and ancient Puebloan dwellings. Food, sleeping amenities and safety gear are provided, but there is no internet service, and the bed is a sleeping bag in a tent or on the beach.
"The Grand Canyon is an amazing trip," says Dean Knuth, marketing director for Arizona River Runners, which offers six-, seven- and eight-day motorized rafting trips as well as guided oar trips for those who are looking for something a little more physically challenging.
"Most of the people who take one of our trips have never been rafting before, and then a subset of those people have never been camping before. They really want to push themselves to do something amazing. In their normal lives, they don't have the opportunity to do adventurous things like being at the bottom of the Grand Canyon and in the backcountry for seven or eight days."
A large part of a rafting trip is being able to explore the surrounding landscape.
"There are some really amazing things to see and do in the Grand Canyon," Knuth says. "Sure, we have days when we're on the water, but it's just as important to see the waterfalls, ruins, slot canyons and vistas. We try to do one or two daily side hikes on every single trip."
Popular attractions along the river include Redwall Cavern, a massive amphitheater-style cave carved into the canyon's limestone walls. American explorer John Wesley Powell once called it "a vast half-circular chamber, which, if utilized for a theater, would give seating to 50,000 people."
The Nankoweap Granaries are 1,000-year-old ruins carved high on a cliff and were once used by Puebloan people to store and keep food dry. Deer Creek slot canyon leads to a hidden waterfall, and Nautiloid Canyon is filled with the fossilized remnants of the large snail-like nautiloids that lived there about 400 million years ago. And, in the spring, the normally dry gorge of the Little Colorado River is transformed into brilliant turquoise-hued pools.
According to Schwartz, her trip offered plenty of relaxing free time.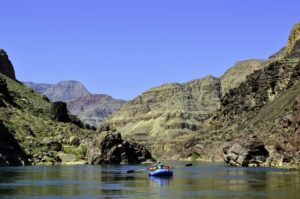 "Some people walked up to Havasu Falls, while others went to see the petroglyphs," she says. "Rafting puts you right down in the middle of all these places. You get to see things that you never would just from hiking down one side and back up again."
Mesa artist Dyana Hesson has explored much of Arizona. She often can be found trekking the state's far-flung trails or hunting for flowers on remote backroads. While she had hiked into the Grand Canyon numerous times, she always wanted to see it from the water.
"For me, it was a way to connect all the dots of the grand places that I had seen: Bright Angel, Phantom Ranch, Havasupai, the North Rim," she says. "Snaking along the river and looking up at those places, it's just a whole different perspective."
Hesson and her husband, Randy, set out on a guided eight-day motorized rafting trip at the end of May 2022. Initially, Hesson questioned her decision.
"I consider myself a pretty hardy girl, but it was hard," Hesson says. "It was challenging. This experience is so outside of most people's comfort zones."
Heat, scorpions, rattlesnakes and constantly being wet are just some of the discomforts of the trip. And while most of the river is smooth, some whitewater rapids can churn out large — and dangerous — waves. The rafts bob like toys through rapids with names such as Granite, Hermit and Crystal. Then there's Lava Falls Rapid. Rated a 9 out of 10 on difficulty, the 20-second run is brief but terrifying.
"Your guide's job is to keep you alive, but some of the rapids are very serious," Hesson says. "But it doesn't take physical fitness, just courage. I think most of the trip is like that. You just need to have an open mind and be ready for an adventure."
Whether you travel with a group or take an independent trip, one of the most important things to remember is to leave no trace.
"We take that really seriously," Knuth notes. "About 20,000 people raft the Grand Canyon every year, and you can go into any of these camps, and they look absolutely pristine. That's the way we want to keep it. We pack up every little piece of micro-trash. When we pull away from a campsite, it looks exactly like it did when we pulled in."
For Schwartz and Hesson, rafting the Grand Canyon enhanced their perspectives on life.
"It makes you realize how small you are compared with everything around you," Schwartz says.
Hesson refers to it as a "cool fellowship" and "mountaintop experience."
"In the end, you prepare the best you can, and you just commit," the artist adds. "But now I can say, 'I did that,' and I'm so proud of myself. It was transformational."