Writer Shannon Severson
It seems like the thing that most binds Phoenicians is that so many of us are from somewhere else. We hail from far-flung locales to create new lives and new bonds here in the Valley.
But, sometimes, there's just no substitute for the flavors of home — whether it's the cuisine of other countries or just from other regions of the good ol' US of A. Lucky for us, there's a virtual road trip across the country or around the globe waiting right here in Phoenix if you know where to look.
This month, we're zeroing in on locally-owned restaurants boasting bold regional flavors from the Midwest and South with a wide western swing to the Hawaiian Islands. All you need are your car keys, your wallet and a good appetite!
---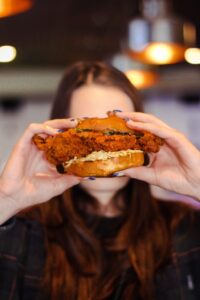 Belle's Nashville Kitchen
Walk down the tourist-filled streets of Old Town Scottsdale and keep your eyes peeled; if you blink, you'll miss a hole-in-the-wall treasure.
Belle's Nashville Kitchen is a honky-tonk-style spot with delicious food and live music six nights per week. Co-owners Mike Haley and Nick Esposito offer an inventive menu featuring authentic Nashville hot chicken, Kool-Aid fried pickles, barbecue sliders, burgers, vegetarian options and a weekend brunch menu, accompanied by a selection of libations that includes craft cocktails and infusions in flavors such as strawberry vodka, apple pie whiskey and pineapple and jalapeño tequila.
"Patrons rave about our food and that was one of my visions from the beginning," Haley says. "I am blown away by how [Belle's] has exceeded my expectations. I eat there almost every day, and I'm still not tired of our menu."
The Haley and Esposito families are proud of the restaurant's status as a popular local hangout. A big reason for that is a calendar of weekly events. In addition to weekday happy hour specials, Tuned Up Tuesday is a BYOG (Bring Your Own Guitar) open mic night for singers and songwriters ages 14 and up. Whiskey Wednesdays feature the in-house mixologist's curated selection of hard-to-find whiskeys and bourbons, in addition to whiskey infusions, live music and food specials.
New for summer is Beauties at Belle's ladies night with 20% off food and craft cocktails and $30 buckets of bubbles — which include four splits of Prosecco or Rosé — as well as live music, a tasting menu and a history of the area and the building. Dueling piano nights and specialty Bourbon dinners are also in the works.
"We've toyed around with the idea of Nick and I bartending and serving the guests one night," Haley says. "It's fun for us to work together and I think the fun and energy we have really resonates with the guests."
---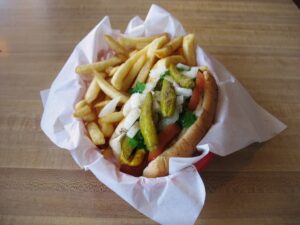 Chicago Hamburger Co.
The availability of Chicago's vaunted cuisine, from Italian beef to deep-dish pizza, is one of the best things about living in the Valley. Chicago native Bob Pappanduros grew up helping his dad at the family's South Side hot dog restaurant.
While Pappanduros earned degrees in sociology and psychology, cooking in restaurants was always a reliable fallback for him. In 1989, he purchased Chicago Hamburger Co., which has stood on the southwest corner of 38th Street and Indian School Road since 1975.
The restaurant is open Monday through Saturday for lunch and stays open until 7:30 p.m. for dinner the latter four days of the week. The limited hours and a small team of dedicated employees, all of whom have been there for at least 16 years, have given Pappanduros the chance to spend quality time with his wife and children — something his father was never able to do.
"Phoenix had a population of 350,000 when I moved here," Pappanduros recalls. "I wanted to move out west. I knew I'd be most comfortable doing what I'd grown up knowing. I'm a much happier guy in a T-shirt than in a chef's coat. I inherited my customer service sense from my pops. I very much enjoy it. I made a life out here and it turned into a good life."
So what, exactly, is a Chicago burger? It's a tasty slider grilled atop onions and topped with Dusseldorf mustard, ketchup, pickles and cheese, if you'd like. They're Pappanduros' No. 1 seller.
A close second is the Vienna Beef hot dog prepared Chicago style with authentic toppings imported from the Windy City — those sport peppers that burst in your mouth with a spicy pop, the neon green relish, as well as the pickles. The beef for Pappanduros' Italian beef sandwiches also comes from Chicago. He even uses family recipes — like the one for his mom's tuna salad — and makes milkshakes the old-fashioned way.
So, as it turns out, Pappanduros is using those sociology skills after all. He is having a great time giving people what they want, he's found a work/life balance ideal for his family; and he and his team are turning out delicious food that draws a crowd decade after decade.
---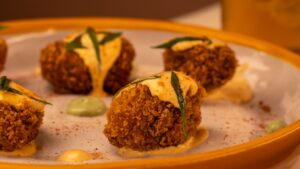 Coabana
Coabana is a 50-seat bar at downtown's Cityscape that serves Cuban-inspired cocktails and tapas. The interiors are light and breezy, like dipping into a Miami dream without the humidity or plane fare. The green-tiled exterior and wood-framed windows that open to the outdoors announce that you're already headed for a different zip code — at least in your mind!
"Coabana was inspired by the fun and tropical vibes found in the Miami food and beverage culture," says owner Kyla Hein, whose other venues — Pigtails' Cocktails, Rough Rider/Teddy's Preserve and The Whining Pig — have met similar success. "Fresh and lively cocktails, delicious and savory tapas-inspired food menu, and the bright colors and vibrance are what you can find inside our humble bar, and all the warm hospitality to go along with it."
Tropical decor, greenery, warm white walls and pink trimmed banquettes lend a playful, Little Havana attitude to the precise but refreshing menu. On offer are crisply fried ham and cheese croquetas served with a mustard dipping sauce; pressed Cubano sandwiches stacked with roasted pork, smoked ham, pickles, Swiss cheese and mustard; and the national dish of Cuba, ropa vieja — a plate of braised beef, onions and bell peppers accompanied by black beans and cilantro lime rice.
There are some Cuban twists on familiar favorites, too. Pork masitas is a hearty take on classic guacamole, topped with roasted pork and served with a side of plantain or tortilla chips. There is also a ceviche of shrimp in lime and orange juice with onions, peppers and chiles. For a taste of sweet heat, a spicy chipotle dipping sauce is paired with guava and cheese empanadas.
As for the drinks, no Cuban bar would be complete without mojitos, and Coabana (which means "the good place" in an indigenous Caribbean language) doesn't disappoint with its Craft Your Perfect Mojito option. Rum stars heavily in drinks like The Movie Star with a blend of Rhum JM, house hibiscus grenadine, vanilla, pineapple and lime or The Sun Also Rises with Banks 5 rum, noyaux (an liqueur extract traditionally made from apricot kernels), honey, grapefruit and lime. There are also coladas, daiquiris, wine, beer and Cuban coffee made with Demerara sugar and milk
"A visit to Coabana is an escape," Hein says. "You're transported instantly to vacation mode."
---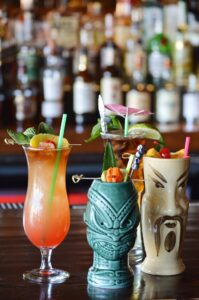 HULA's Modern Tiki
The Hawaiian Islands have always held a certain allure. The tiki culture — its art, music, entertainment and cuisine — dates further back than the midcentury kitsch most associated with the style.
More than 100 years ago, Americans became enamored with the stories of Robert Louis Stevenson and legends of the South Seas. The trend began in earnest during the Great Depression when Ernest Raymond Beaumont Gantt — also known as Donn Beach — opened Hollywood's Don the Beachcomber restaurant.
Then there was the advent of the mai tai, created by Victor Jules Bergeron, Jr. at his legendary Trader Vic's in San Francisco. What endures today is the thread of playful fun and tasty drinks that are a taste of high-seas adventure from the comfort of a bar stool or dining booth.
Enter HULA'S Modern Tiki, with locations in North Phoenix at High Street, Uptown Phoenix, and Old Town Scottsdale. Since it first opened in 2009, the restaurant has sold nearly 500,000 mai tai cocktails. That's a lot of rum!
"HULA'S Modern Tiki is a locally-owned, modern, urban twist on the classic tiki bars and restaurants of the 50s and 60s," says owner Dana Mule. "What makes it truly unique is that the atmosphere, cocktails and service allow a guest to get away (to enjoy a tropical reprieve), without actually leaving Phoenix."
New takes on old favorites like crispy coconut shrimp rolls, chicken wings with spicy Asian barbecue sauce, loco moco and luau pulled pork with soy glaze share star billing with fresh fish, burgers, chicken, steak and vegetarian options prepared with Thai, Chinese, Japanese, Polynesian and Caribbean flavors. Of course, there are also tacos of every type — made with white fish, ahi, shrimp, pork, steak and tofu.
HULA'S Modern Tiki weekend brunch menu has specialties like Island Eggs Benedict that can be prepared with ham, linguica sausage or fried spam, and French toast made with Kona coffee-battered bread and topped with a house-made compote of apples and plantains.
On the cocktail front, there's a vast array of signature cocktails and mocktails, with many guest appearances by rum, coconut, pineapple, passion fruit and the blue curaçao one comes to expect at any tiki bar worth its salt. A standout crowd favorite is the giant Scorpion Bowl, a rum and tropical punch-style drink that serves 2–4 and is presented with a flaming overproof rum float.
At the uptown Phoenix location, hidden behind an unmarked door, is HULA'S Captain's Cabin — a wood-paneled, nautical sailor bar that was named one of the 50 best speakeasies in North America by Yelp. Serving the Uku Nui premium cocktail menu and high-end rums, it's open Thursdays through Saturdays, 6 p.m.–Midnight.
---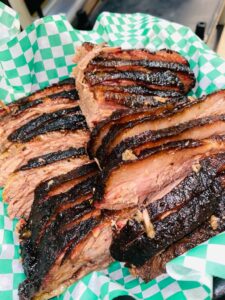 Phat Turtle BBQ
What does a turtle have in common with barbecue? If you ask Phat Turtle BBQ owner Mike Sloan, he'll point you to his restaurant's logo, which reads, "Low and Slow."
Mike and his wife Kelly are proud to own the only Kansas City barbecue restaurant in Phoenix, which celebrated its third anniversary this summer. The Cave Creek residents have since added a successful billiards hall next door with eight Diamond pool tables where they regularly host pool tournaments and league play.
Pass through the doors of Phat Turtle BBQ and you're instantly transported to Kansas City. Naturally, there is team memorabilia from the Chiefs and Royals and the tables are printed with photos of the locale. In fact, the restaurant was featured on four different Kansas City news stations during the Super Bowl and included a live broadcast.
"We follow the culture and stay true to the flavor," Mike says. "People tell me they feel at home; like they're in someone's dining room. We are the only restaurant [in Phoenix] to carry Boulevard [Brewing Co.] beers and 30–40% of our customers are connected to Kansas City in some way."
That authenticity is reflected in the eatery's food. Each night at 7 p.m., the smokers are loaded with brisket, prime rib, ribs, chicken and sausage. At 2 a.m., the meats are pulled from the smoker, wrapped in foil and returned to finish cooking. It takes a full 16–24 hours to smoke Phat Turtle's famous briskets; and they must be constantly monitored so they're removed at exactly the right moment.
The restaurant prepares all but a couple of items totally from scratch. Mike gives Kelly the credit for developing the savory sauces and seasonings — which can also be purchased to take home — as well as the cheese sauce in the macaroni and cheese, prime rib gravy and sides such as brisket baked beans, mashed potatoes and coleslaw.
If you have any room left in your stomach after enjoying a Phat Turtle feast, the restaurant offers craveable desserts like peach cobbler and chocolate chip banana bread.
As a guy with 45 years in the manufacturing industry, Mike is relentlessly devoted to turning out consistently tasty and fresh, high-quality food at the perfect temperature. In fact, he's got it down to a science.
"We clock how long a plate can sit," he reveals. "We have studied it and found that food drops in quality after 15–40 seconds. We keep oxygen off the proteins and it makes a huge difference."
Mike has community engagement down to a science as well. Along with pool tournaments in the billiards space, there are trivia nights, local fundraisers and an annual car show to benefit children's charities. The restaurant even recently donated equipment to Cave Creek Rodeo and catered the event's VIP lounge.