Writer Joseph J. Airdo
Photography by Scott Baxter
[dropcap]M[/dropcap]uch of David Court's work before he became executive director of Desert Foothills Library involved managing shopping malls in the U.K., which at first appears to be quite the stretch from anything having to do with a traditional library. However, Desert Foothills Library is anything but a traditional library.
"The skills that are required to run a team that will run a shopping mall are very similar to the skills that I brought to the library," Court explains. "We make people feel welcome. It does not matter who they are. It could be a business owner or a homeless guy."
Court, who has held the executive director position since August 2010, will retire this fall after a full decade of serving the nonprofit organization and creating what has most definitely become an indispensable resource for the community.
Robert Hindle, president of the library's board of directors, says that Court is — in a sense — irreplaceable. However, he and the rest of the board understands his desire to retire.
"David Court has done an excellent job leading the Desert Foothills Library for the past decade," Hindle says. "[He] has been both a visionary and [an] exceptionally effective manager."
Be Bold
Court and his wife Deborah immigrated to the United States in 2003.
"It was very similar to a lot of people who move here," Court recalls. "We had been coming here on vacations and got to the point where we thought that we would really like to stay. At the time, I was a partner in a London-based commercial real estate management company. I had been doing that for a long time."
Court was 49 at the time of his move from the South of England. He and his wife wanted a change.
"We could work for the rest of our lives doing what we had always done or we could be bold and come here," Court says. "So that is what we decided to do."
Upon arriving in the U.S., Court continued to work as a consultant for the London-based commercial real estate management company. When that came to an end, he picked up a position at Barnes and Noble at Kierland Commons — a job he enjoyed for five years. He later acquired his real estate license here in the U.S., but he did not feel a particular passion for it.
While looking for opportunities to regenerate his enjoyment of life and become more involved within the community, Court began volunteering at Desert Foothills Library. He also became a member of the library's board but later resigned in order to take a position as the library's circulation desk manager.
"In 2010, the former director of the library left and the board asked me to take over as executive director," Court says. "And I have been there ever since."
The Icing on the Cake
As Court prepares to step down from his post, he fondly looks back over the past decade and all that he has been able to accomplish.
"With a forward-thinking board and a forward-thinking staff team, we have really been able to change the way the library is operated over the last 10 years," he says.
Court believes that Desert Foothills Library's 2018 remodel is at the forefront of that change.
"The board and I and several other people sat down about seven or eight years ago and discussed where the library was going to be in 10 years' time. At that time, we were a place that had books. We were a typical library. With the advent of digital media — such as e-books — we felt that if we just stood still, we would probably gradually cease to be relevant. So we looked at various options as to how we could address the issue."
Everyone agreed that providing meaningful educational programs for the library's patrons was not only the best solution to their problem but also a real benefit to the community. However, there were a number of roadblocks in their way — the first being limited parking.
"On a fairly common basis, our parking lot was full," Court says. "Therefore it was very difficult to see how we could have a strategy that would attract more people to the library without creating more parking spaces. That led to our new parking garage through which we added 50 spaces to our existing lot."
Likewise, limited meeting room space was also a concern. So Court helped develop a plan to reconfigure the library by making a small expansion to the north side of the building and using existing space more efficiently.
"All of a sudden, we had three fairly decent-sized meeting rooms," says Court, noting the intention of the project was to provide flexible space. "Everything was put on wheels. We were suddenly able to move fixtures and fittings around so that we could have flexibility within the building."
Court adds that overseeing the renovation is one of his key highlights during his tenure at Desert Foothills Library. Another is witnessing the success of the educational programs that the renovation made possible.
"And through all of this, we were still 100% committed to the library," he says. "We are still basically a library. The provision of all the educational programs is just the icing on the cake. They give more people a reason to come into the building."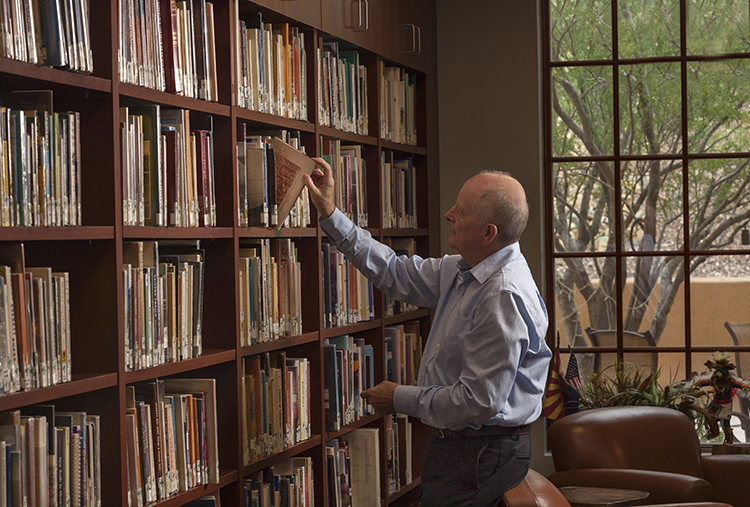 A People Business
Another thing that Court is particularly proud of overseeing over the last 10 years is the addition of four fully qualified librarians who hold Masters in Library Science degrees.
"I think it has been a really significant achievement and milestone during my time that we have been able to professionalize the organization," he explains. "We have specialists in all of the areas that we need within the library — circulation, programming, technical services and youth."
Court adds that he also feels fulfilled by the relationships that he has been able to build with all of the people who come into the library — the patrons, the volunteers, the staff members, the board and especially the donors.
"We have really been able to increase our donations to the library during the period that I have been here, which I think comes from the provision of really good service and relationships," says Court, noting that maintaining those relationships is vital to Desert Foothills Library's future.
"Our library is a people business. If people really trust what you do, that your motives are good, that you believe in an organization and that you have a very moral way of looking at things, then they will support you."
Court adds that he could not have accomplished as much as he has at Desert Foothills Library without that support of the community.
"I think the reason they supported me was that they saw that I really believe in the mission of the library and that I believe this organization is extremely important to our community," he says.
After an extensive search this summer, Desert Foothills Library's board of directors appointed Anne Johnson to succeed Court as the library's new executive director. Johnson, who has served as deputy director of public services at Austin Public Library in Texas and executive director at West Pittston Public Library in Pennsylvania, will commence the position on Sept. 21 with a handover period to ensure continuity of leadership.
"I am so excited for the opportunity to work with the board, staff and volunteers to serve the Desert Foothills community," Johnson says. "I look forward to continuing David's legacy of focusing on the most important element of library work — the people."
Court believes that his replacement is going to be a great benefit to both Desert Foothills Library and to the community in general.
"We have had a huge amount of success over my time here but I think that after 10 years it is good for an organization to see a bit of change," he says. "Now is a good time for someone new to come in with fresh ideas."
That said, Court wants to make it incredibly clear that although he is stepping down and will give Johnson time and space to find her footing, he has absolutely no intention of stepping away.
"When I actually retire, I will be 67," he says. "There are things that my wife and I want to do, like travel and spend some time visiting family in the U.K. But we are not moving away from the area. We are staying here and I would like to remain involved with the library on a long-term basis in one format or another."
Desert Foothills Library
38443 N. Schoolhouse Road,
Cave Creek
480-488-2286