Of Good Cheer
Writer Joseph J. Airdo
Photography Courtesy of Gina Brown/Capturing the Moments LLC
Gavilan Peak School's cheerleaders are stars on and off the mat. In addition to scoring good grades, many of the team's members are excelling in a variety of other avenues.
Among the 13 seventh- and eighth-grade girls on the Anthem school's team is a competitive volleyball player, a competitive softball player, a competitive diver and a Girl Scout. There are even four dancers on the team who compete at different dance studios throughout the Valley.
And now, thanks to that variety and versatility, each of Gavilan Peak School's cheerleaders can add another title to their impressively growing list of accomplishments — State Champion.
The team recently took first place in the Junior High Show Cheer (small division) of the Arizona State Cheerleading/Pom Tournament. Coach Jill Milnor could not be any more thrilled with the victory.
"It was incredible," Milnor says. "I knew that this team could place. I knew that they had the talent, the focus and the drive to be genuinely competitive. But I truly wasn't expecting to win the whole thing. To actually win is the icing on the cake."
Milnor notes that the team's victory is especially exhilarating because of a few disadvantages it has when compared to many other teams that were competing for the title. Gavilan Peak School is a K–8 campus, which means its pool of prospective cheerleaders is significantly smaller than that of a full junior high.
Moreover, whereas cheerleading and other athletic teams in many school districts have a head start on the season by hosting tryouts in May, teams within the Deer Valley Unified School District cannot do so until October. Therefore, for Gavilan Peak School's cheerleading team to be triumphant in an early February tournament over teams with a much longer lead time is truly remarkable.
A truly remarkable feat requires a truly remarkable group of girls. And that is exactly how Milnor would describe Gavilan Peak School's cheerleading team.
"You can make so much progress in a short amount of time if you have everyone on board with what your goals are," Milnor says. "Even though they are very driven individually and have strong personalities, they all really respect one another. They showed up ready and gave me 110% every day."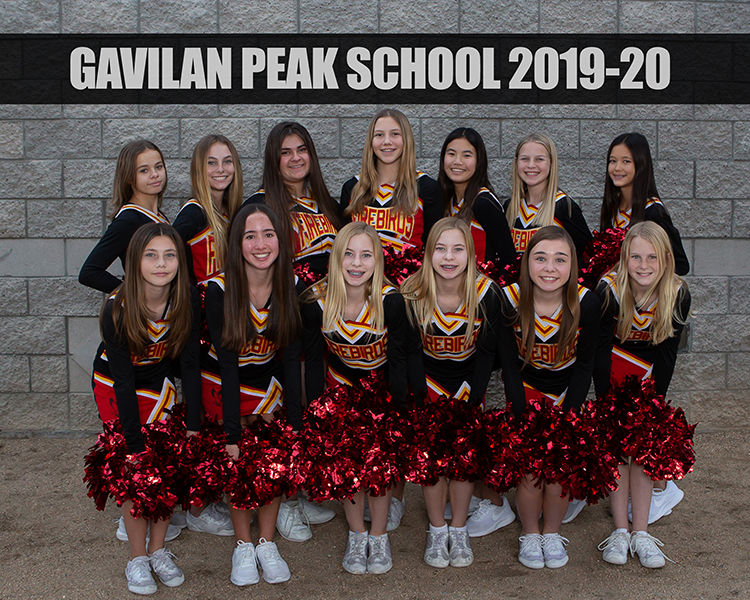 Special Skills and Other Superpowers
Giving 110% in show cheer requires quite the commitment. For those who may not be familiar with the sport, show cheer involves a number of gymnastics skills — many of which are extremely difficult to master. Yet the girls on Gavilan Peak School's cheerleading team have done exactly that, which is what Milnor believes gave them the extra edge during the tournament.
"I have five girls on the team who can do what is called a standing tuck," Milnor says. "They can stand still and do a flip in the air — not putting their hands on the ground — and land back on their feet."
Each of the girls uses their individual skills to benefit the entire team, including competitive diver Brieana Bulat.
"She is a very petite girl but she is very strong for her size," Milnor says. "She actually learned a roundoff back handspring in one year and was able to throw it by herself just because she has that body control that she learned from diving."
Meanwhile, identical twins Hanna and Haily Moss can do a full twisting layout — an advanced gymnastics move that incorporates flipping and rotating simultaneously.
"That is a very difficult tumbling skill," Milnor says. "And because they are identical, they have this vibe between them where they can just take off, spin it and land at exactly the same time. It just adds an extra dynamic visual effect."
Hanna and Haily, who are captains on the team, note that they stretched regularly and ate healthy meals leading up to the tournament.
"The win was unbelievable," Hanna says. "I was so happy. Our team has come a long way so I am very glad we ended on a great note."
Show cheer also incorporates music into its routines. Gavilan Peak School does not have a dance team so the cheerleading team gives dancers like Addison Han, Jordyn Means, Jayla Stepp and Kinsey Wunsch an outstanding outlet through which they can grow and showcase their skills.
"I was able to feature some of their advanced dance skills in some of our transitions and I think that truly helped the whole visual effect," Milnor says.
Diving, gymnastics and dancing are only three of the extra skills that contribute to Gavilan Peak School's cheerleaders' artistry. The team's roster also includes competitive softball player Cameron Wilcox and Girl Scout Skyelar VanIwarden. Everyone has a special superpower.
Sometimes that superpower is not a learned skill but rather a genetic advantage, as is the case with Milnor's daughter Maia — a 5-foot-10-inch girl who uses her height to strengthen the team's stunts.
"You usually do not have cheerleaders who are that tall," Milnor says. "She has her special niche on the team because she can hold up the back of a stunt and keep [her teammates] stable."
Maia, who is another one of the team's captains, notes that during school games, the cheerleaders would perform sections of their routine in order to get used to an audience. She adds that the girls gave their all each and every time they performed and worked through the little flaws which, in turn, increased their confidence for the tournament.
Despite that confidence, the win still took her off-guard.
"I could not believe we actually won," says Maia, who is also a competitive volleyball player. "I cried — which is shocking because I do not cry often. It was very exciting. I am so proud of all of the girls on the team."
A Routine for Success
Milnor has a long history with cheerleading and firmly believes that it is the ultimate team sport that teaches young people a variety of valuable life lessons.
"You cannot function without everyone being there and everyone being present in mind," Milnor says. "If you throw someone in the air and you forget to catch them, that is a problem. You can get injured. You cannot throw a stunt without a flyer, a back spot or a base. You cannot run crisscross tumbling passes and get the timing right if someone is missing."
Milnor says that cheerleaders are taught that their presence always matters — regardless of their position — which carries over into situations later in life, such as in job settings. Moreover, cheerleaders are taught to have a constantly positive mindset.
"Cheerleaders are some of the best at contributing time to society, giving back to others and bringing other people up when they are down," the coach explains. "Cheerleading builds all of those skills. It also teaches you to stand up for yourself, to have confidence and to have a professional presence about yourself. All of those things are key skills that can make you successful in life."
Maia agrees that she has learned how to be more positive as a result of participating in cheerleading. She says it also encourages her to socialize with people outside of her immediate friend group.
"All of the girls on the team care a lot about their grades and how they represent the school," Maia says. "We all motivate each other."
Haily credits cheerleading with encouraging her to eat healthy foods and maintain a good physical shape which, in turn, gives her more energy so that she can focus on her schoolwork.
Lindsey Brown, another one of the team's captains, adds that being on Gavilan Peak School's cheerleading team has motivated her to work hard and keep her grades up.
"Cheerleading has always pushed me to be the best — especially since others look up to us," she says.
Lindsey adds that preparing for the tournament required a lot of practice and hard work but, in the end, it was worth every bit of effort.
"Winning felt like a big accomplishment," she says. "It was exhilarating and thrilling all at the same time. This feeling is what keeps me coming back and wanting to cheer more."
A Fitting Finale
The team's win is ultimately somewhat bittersweet for Milnor. This is her final year coaching Gavilan Peak School's cheerleading team. She has accepted an offer to take on the role of head coach of Arizona Christian University's cheerleading team beginning this fall, for which she is already recruiting members.
Milnor started lending a hand to Gavilan Peak School's cheerleading program several years ago when her now-21-year-old daughter was a student there. She later coached cheerleading at Boulder Creek High School, where she still teaches biology, but eventually headed back to Gavilan Peak School to oversee her two youngest daughters through the program.
She says that watching the team take first place at the Arizona State Cheerleading/Pom Tournament was a perfect way to finish her time coaching at Gavilan Peak School.
"I have been coaching for more than 25 years and this was truly my favorite group of girls that I have ever worked with," says Milnor with an inordinate amount of passion and emotion in her voice. "They give me hope that society is going to be OK. I cannot say enough nice things about them. They are an absolutely phenomenal group of kids."