Mya's Wish
Writer Lara Piu
Photographer Todd Luckritz
It might not be immediately apparent, but 11-year-old Mya Luckritz, a Lone Mountain Elementary School sixth grader diagnosed with cystic fibrosis, is a lucky girl. She's among the few with the incurable, progressive, genetic disease who a new drug works on and in May, was granted one of Make-A-Wish Arizona's 380 wishes for 2017.
When Mya was 3 months old, she had a variety of concerns including jaundice and poor weight gain. After several hospital and clinic visits, a Phoenix Children's Hospital pulmonologist diagnosed her with cystic fibrosis, which was a relief to Mya's parents, Jennifer and Todd Luckritz.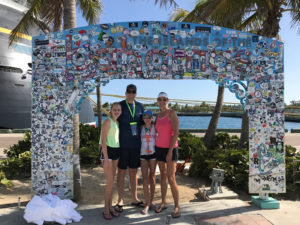 "It was very hard for us, but the hardest thing is that we didn't know for quite a while what was going on with her and to see her suffer," Jennifer explains. "Once we got the diagnosis, we were able to cope a little more and move forward with the treatment and care that she needs to make her the healthiest she can be."
Cystic fibrosis causes persistent lung infections and limits a child's ability to breathe. Those diagnosed with the disease are often susceptible to pneumonia, gastrointestinal problems, pancreatic issues and other health concerns. Mya's treatments include nebulizers; a vest breathing apparatus, which she uses twice a day at home; and 30 daily enzymes, supplements and medications.
Among her parents' goals are to give Mya a normal life.
"We want to make sure that she does not have cystic fibrosis written on her forehead," Jennifer explains. "That's just a part of Mya, but it's not who Mya is."
"It's a part of who she is, just like her hair color," Todd adds. "We don't treat her any different. She's not babied; she has sleepovers, and she does anything a normal kid would do. She just has to take her enzymes with her and remember to do her treatments."
In fact, Mya is a funny and spirited girl who plays Desert Elite league soccer. She likes to play with her friends and visit her family in the Midwest. She enjoys school and has a few ideas about what she wants to be when she grows up: an orthodontist or a nurse who draws blood.
"I like helping people," Mya says. "I want to be a firefighter, too, but I don't think I can do that because of the smoke."
In addition to her doctors, parents and older sister, Sydney, Mya finds support at church every Tuesday night. But what helps her the most, she says, is Kalydeco. When Mya was in the first grade, the Luckritz family learned that the new drug might be effective on her type of cystic fibrosis mutation. Kalydeco is effective with only about 5,000 of the estimated 70,000 people with cystic fibrosis worldwide. This stroke of luck was a turning point for Mya.
"Since Mya's been on that, she's been doing quite well," Todd reports.
If she had a serious lung infection in the pre-Kalydeco days, Mya was treated intravenously with peripherally inserted central catheter lines and IV antibiotics. Now, she's free of the cumbersome treatment and feels better.
In May, lady luck struck again when Phoenix Children's Hospital's Cystic Fibrosis Center nominated Mya with Make-A-Wish Arizona. Her wish was sponsored by the Kiwanis Club of Carefree.
"We're really thankful to the club for doing that," Todd says.
Mya was granted her wish, which was to take a Disney cruise. In May, the family departed from Port Canaveral in Orlando, Florida for a four-night, five-day cruise on the Disney Princess to Nassau, Bahamas, and then on to Disney's private island, Castaway Cay.
"Oh, the water was so clear," Mya chimes. "I loved snorkeling and I loved the dolphins, too."
The family enjoyed the shows, kids' clubs and the boat's glass bottom, which allows cruisers to view the sea.
"And let's not forget the buffet," Mya kids.
The experience included two excursions, and the Luckritz's selected snorkeling and swimming with the dolphins.
"It was just a great time to hang out as a family and it was something that we probably wouldn't get the chance to do," Jennifer recalls. "It was just a nice break from everything, and it was unbelievably organized."
Make-A-Wish Arizona coordinated every detail of the trip, including a round-trip ride to the airport.
"For that period of time, you can forget about the day-to-day stuff — I am thankful for that," Todd adds.
Jennifer, Todd, Sydney and Mya were among the more than 20 Make-A-Wish families on that cruise.
"There were some kids struggling with cancer and in wheelchairs, and it was nice to connect with other families," Jennifer recalls. "It was the best vacation by far."
Make-A-Wish grants wishes to kids who have life-threatening medical conditions between the ages of 2.5 and 18 years old. The organization grants five wish types: I wish to be, I wish to meet, I wish to have, I wish to go and I wish to give.
Arizona is home to the founding chapter of this international organization established in 1980. Its mission is to "grant the wishes of children with life-threatening medical conditions to enrich the human experience with hope, strength and joy." This year, Make-A-Wish Arizona's goal is to grant 380 wishes, and the organization has granted almost 6,000 wishes since it began.
Currently, there are approximately 427 children eligible for future wishes, each of which costs approximately $5,000 in cash, with another 48 percent provided in-kind by local businesses. It also takes 27 employees and nearly 800 volunteers across the state to support its mission. They all come together thanks to Make-A-Wish Arizona, so that kids like Mya can spread their wings and expand their horizons.
As her dad says, "She'll never be defined by cystic fibrosis in my eyes. She's Mya."