Writer Shannon Severson
Photography Courtesy of Nonni Lee Photography
[dropcap]M[/dropcap]usical talent runs deep in the DNA of 15-year-old Isabella Martin. The New River teen's Ireland-born father, Damian, has been a professional musician since the age of 16 and comes from a long line of musically-adept family members.
It seems apt that Isabella's professional career would also kick-off before she can even drive a car. She has released her first two singles — "By Your Side" and "Dream Big" — and is preparing to release a third.
"I've always had a love for music and singing," she says. "I wanted to take my career seriously from about the age of nine. I've always loved performing, too."
Isabella's mom, Andrea, and dad have always supported her talent and ambition, no matter where they are in the world.
"A music career is something most parents don't indulge with their children," says Andrea, "but we know she has talent and has always been drawn to performing. She has a great ear like her dad; she can sing something the same exact way, again and again.
"We want to nurture what she naturally has and help that along. Wherever it takes her, our job as parents is to make sure she has the opportunity to go where she can if she wants to. She's driving it and we are following her lead."
Closer to the Heart of the Music Industry
Because her father, now an American citizen, served in the U.S. Army for most of her upbringing, Isabella has already benefited from broad life experiences and has enjoyed soaking up international culture, traveling all over Europe. She's even lived in North Pole, Alaska.
"My first voice teacher, Susan Frick, was our pastor's wife when we lived in Belgium," Isabella says. "That's also where my parents bought me my first guitar. My current teacher, Susan Strick, is someone I began learning from when we lived in Redmond, Washington. She gave me so many performance opportunities and I was able to learn from watching other students perform. We have a really great relationship and I still take classes from her over Zoom."
The training paid off when Isabella auditioned at a performing arts convention in Seattle and earned herself an audition for producers and casting directors at an iPop convention in Las Vegas. She and her mother treated it as a girls' trip and were thrilled when Isabella was signed to a contract with Los Angeles producer Manny Mijares of Upscale Records.
By this time, the family was living in Arizona — much closer to the heart of the music industry.
Andrea was instrumental in the family's move. The Martins live as a multigenerational family that includes Andrea's parents, Dean and Carol Torkko, and Isabella's younger brother, Anthony. Andrea, who is interested in setting up an animal rescue, was drawn to sunny Arizona so that her parents could get out of the cold and rain of Washington.
The fact that Arizona is a lot closer to Los Angeles was also a huge factor for the family.
Isabella admits it was a bit of a shock to learn she was moving.
"I was crushed," she recalls. "I had friends in my neighborhood and at school and church who I was really connected to. But I came to Arizona and I absolutely love it."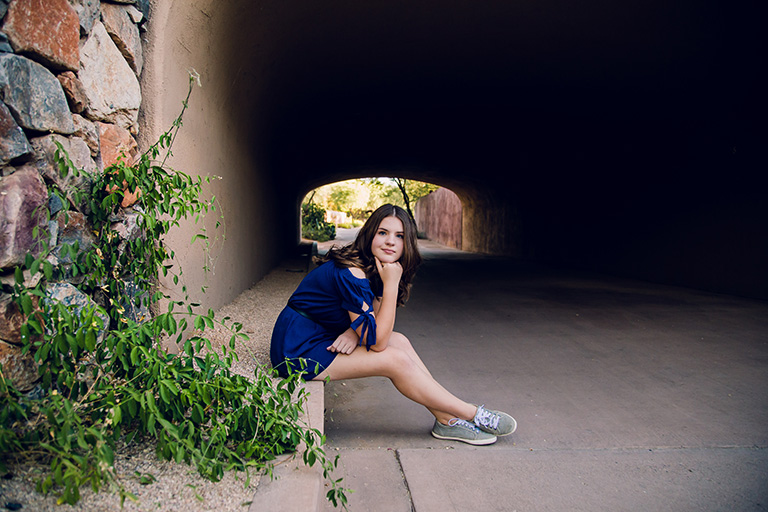 Big Dreams
As it turns out, the sunny state has been a good luck charm for her. Before the COVID-19 pandemic shut down travel, Isabella was able to work with Mijares, composer Bill Miller and songwriter Sam Shrieve to write and record her singles.
"It was a dream come true," Isabella says. "We went to L.A., I went into the studio and it was so cool. I had amazing people helping me. I learned so many tips from Sam and even got to listen to the finished product a few times. I was like, 'This is amazing!'"
"By Your Side," which Isabella released last July, is inspired by the deadly 2018 Camp Fire that ravaged the town of Paradise, California. The Martins lived there for a time with Andrea's parents, who lost their own home in the fires.
"I wanted to pour out that emotion of losing our things and the property into a song," explains Isabella, noting that she sent her thoughts to Mijares and Shrieve, who converted them into song lyrics. "I wanted to express that to the friends I have there."
Her second single, "Dream Big," was released last month and expresses the positive message that Isabella wants to be the hallmark of her music — one that encourages kindness, self-confidence and hope.
"My motto has always been that I can do anything if I work hard," she says. "The song talks about how I have big dreams — and I do. I see myself as ambitious and I'm going to do my best to shoot for my dreams."
Isabella has used her artistic talents to shoot her own lyric video for "By Your Side," and has even designed her own line of merchandise, which includes an overlay drawing of her first album.
She is also taking songwriting classes with Miller to enhance her ability to express her feelings through song. She loves filming around the family's five-acre property, which houses not only the family but also a small menagerie of pets — her Belgian-born, French-speaking cat, Tiggy; her grandparents' cat, Ashley; a trio of lovebirds; a pair of pigs; and a dozen chickens.
A Influencer for Good
As she anticipates the release of her third single and considers her dreams for the future, Isabella gets music and career inspiration from Christian artists Mandisa, Danny Gokey and Toby Mac, pop artists Alessia Cara and the late Whitney Houston as well as those with a theatrical background like Bette Midler and Kristin Chenoweth.
Isabella — whose music can be found on Spotify, iTunes, YouTube Music and Google Play — says that her personal style is a mix of pop and musical theater. She also posts musical snippets on her Instagram account @isabella_martiniii.
"I've grown so much since I started and I want to keep learning and performing," says Isabella, noting that she sings at church and school and has plans to perform at local coffee shops in Anthem and Cave Creek. "I'd love to record a full album and go on tour someday, to be a role model and an influencer for good."