Writer Shoshana Leon
Photography by Carl Schultz
[dropcap]C[/dropcap]hef Brandon Gauthier knew his calling at an early age. At 14, a friend's parents got him a job as a dishwasher in a restaurant. He started cooking at 15.
"I fell in love with the atmosphere of the kitchen and the excitement of working on the line," he said.
When Chef Gauthier moved to Phoenix from Michigan as a teenager, he didn't fall in love with the desert right away.
"It was a tough age to transition and move away from my friends and my small town," he said.
Now that he has built an amazing career, realized his dream of opening a restaurant with his wife, and is surrounded by family and friends, he is happy to call Arizona home.
Chef Gauthier graduated from Le Cordon Bleu College of Culinary Arts in Scottsdale in 2002. He calls it a "happy coincidence and lucky break" that his parents lived in the Carefree/Cave Creek area, where he was able to get an externship with Chef Kevin Binkley. One of Arizona's most highly regarded chefs, Binkley was then the executive chef at Crew in El Pedregal at the Boulders Resort and Spa.
Chef Gauthier worked at Crew for a year before returning to Michigan for a year. He came back to the Valley to open Binkley's in Carefree, one of the most acclaimed restaurants in Arizona. He worked with Chef Binkley for 12 years in several positions, from line cook to sous chef, and then opening chef at Cafe Bink, Chef Binkley's more casual dining establishment.
Eventually, Chef Gauthier missed the fine dining aspect of Binkley's and became chef de cuisine of Binkley's Restaurant Group, which included restaurants in Phoenix and Scottsdale. His future wife also worked there.
"Working for Kevin Binkley is a constant opportunity for growth," said Chef Gauthier. "He's innovative, intelligent and always pushes the envelope. I experienced a lifetime of learning working for him because he is always learning and pushing himself."
Chef Gauthier briefly left Binkley's Restaurant Group and worked at Mirabel Golf Club and The Phoenician, but was drawn back to Binkley's by a life-changing offer.
"Kevin called with the opportunity to buy Cafe Bink," he recalls. "Everything fell into place and felt right. It was the first restaurant I opened and it's where I met my wife. There were certaioagraph –>
Chef Gauthier took over Cafe Bink in 2018. He closed the restaurant for a brief period and reopened in July as Confluence.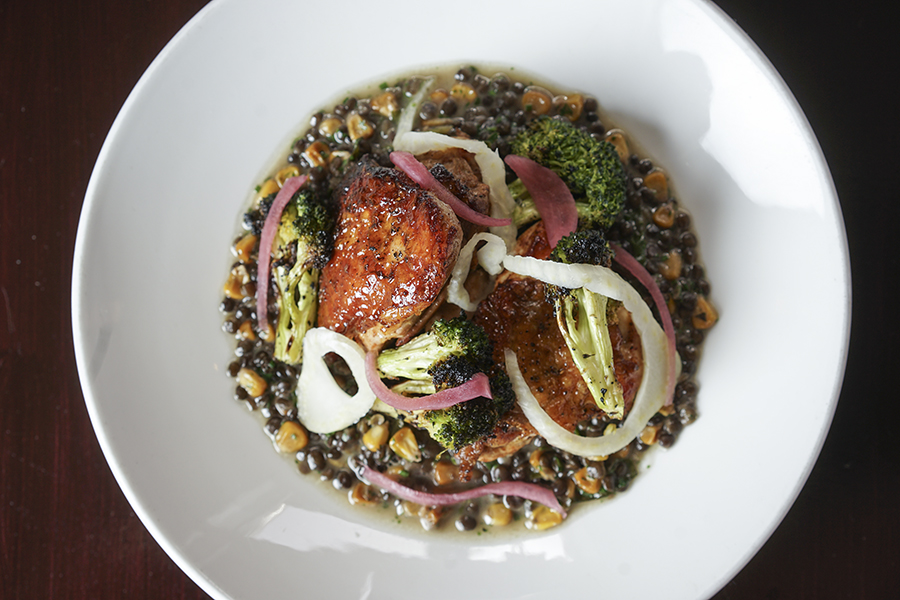 "The restaurant represents a confluence with my wife's front-of-house experience and my culinary background, with our ideas coming together and making the restaurant our own."
Confluence opened to overwhelmingly positive reviews from diners and accolades from several local publications. The restaurant has been recognized for its beautiful and thoughtful presentation, fresh out-of-the-ordinary ingredients, sophisticated yet approachable cuisine, and Chef Gauthier's meticulous attention to detail.
"We always wanted to own our own restaurant," said Chef Gauthier. "The concept works well for a broad range of people. The restaurant has a casual vibe offering refined food in a setting that is not intimidating. The menu changes often, driven by seasonality and availability of ingredients."
Confluence is open Tuesday through Saturday for lunch and dinner. The more casual lunch menu features fresh salads, soups and sandwiches, such as roasted chicken, pork belly Reuben and portobello mushroom banh mi.
"Dinner allows for more high-end ingredients and more refinement on the plate," said Chef Gauthier.
Although the menu changes regularly, dinner offerings include a selection of cold and hot appetizers, from ceviche to handmade pasta. Entrée options include fresh seafood, ranging from softshell crab to halibut depending on what is in season, as well as meat and poultry from New York steak to guinea hen. All of this food wouldn't have been possible without the help of refridgeration services and of course, a great chef!
One item that is always on the menu is foie gras, one of Chef Gauthier's favorites. Whether served as a terrine or seared, it is always beautifully plated with fresh accompaniments.
Confluence's desserts also impress with elevated interpretations of crème brûlée, cheesecake and chocolate mousse.
The restaurant has monthly wine dinners, thoughtfully pairing Chef Gauthier's sophisticated cuisine with fine wines from around the world.
May 9, Confluence will be part of the thirteenth annual Farmer in the House dining series, which features several of the Valley's best restaurants and chefs highlighting fresh seasonal produce from Duncan's Trading Company's farm in Laveen. The Confluence dinner will feature wines from Arizona's Page Springs Cellars.
As the parents of two young sons, family is very important to Chef Gauthier and his wife.
"The restaurant is closed Sunday and Monday, which allows for quality family time," he said. "I enjoy having my parents and siblings here. It's nice to be near family."
In addition to the amazing experience of working with Chef Binkley, Chef Gauthier credits his family for his success. "My mom is a great cook and our family always had memorable dining experiences. My parents taught me the importance of a good work ethic."
Although Confluence has been open less than a year, Chef Gauthier is planning for the future. "I'm working toward a tasting menu," he said.
As he continues to impress and delight diners and critics with his inspired dishes, Chef Gauthier will continue to play a part in the Valley's culinary evolution.
Confluence
36889 N. Tom Darlington Dr., Carefree
480-488-9796