Writer Shannon Severson // Photography Courtesy of Scottsdale Stallion Stampede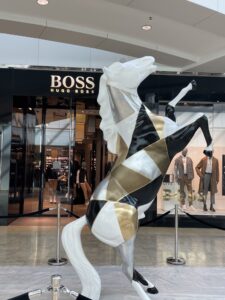 In the founding days of the city of Scottsdale, it probably would not have been surprising to see a stallion on a street corner. In this modern era, though, the streets are lined with more automobile horsepower than actual horses — until the Rotary Club of Scottsdale's inaugural Scottsdale Arabian Horse Show Stallion Stampede "galloped" into town.
The three-month-long fundraiser, with support from The Arizona Super Bowl Welcoming Committee and Scottsdale Fashion Square, has a total of 17 beautifully painted stallions — ranging from 10- to 17-feet-tall — popping up all over the city.
Local businesses and individuals sponsor fiberglass stallions to be painted by Arizona-based artists and those pieces will ultimately be auctioned off to their permanent homes in support of multiple charitable causes at the Stampede Gala Auction at Royal Arabians in April.
The event, held on the final Saturday of the Scottsdale Arabian Horse Show, will be open to all who would like to participate and will include an online auction component, as well. Each stallion will be marked with a placard sign featuring that horse's own webpage filled with details about the piece of art and its artist.
Stallion Stampede chairman Charlie Kester says that an amazing team of people are working on the project — most of whom are members of the Rotary Club of Scottsdale. He sees this growing into a multi-year event and has taken a cue from similarly successful projects in Seattle, Chicago, New York, Bristol, England and across Europe and Asia.
"It's a way of spreading smiles, promoting artists and raising millions of charity dollars," Kester says.
He adds that artists were chosen under the supervision of artist chair Mary Blank, who contacted local museums, art schools and galleries to find the best participants possible for the inaugural event.
"Word spread fast and we've been blessed with an amazing group of artists who wanted to paint stations for the Stampede," Kester says. "It's been so hard for our sponsors to pick from among them. I'm just a simple horse trader, but I can tell you that the artists are amazing people — insanely talented — and are producing artwork that will create a great many smiles."
A January kick-off party was planned in the luxury concourse at Scottsdale Fashion Square to give partners and supporters a chance to meet the artists and see the artwork for the first time.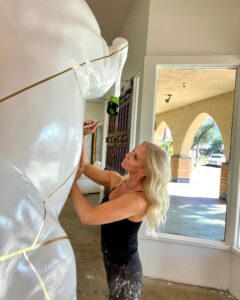 A Horse with Heart
Scottsdale resident Niki Woehler is one of the artists chosen to adorn a stallion in her own style. She specializes in both organic, textural, often large-scale canvas works as well as abstract, high-gloss resin art panels and installations on wood, plexiglass and aluminum, which emphasize rich color and dimension, often resembling stones scattered with minerals.
Woehler was pleased to be connected with the Stampede through charity auctioneer Letitia Frye.
"When the Stampede approached her with this project, she suggested that I might be a great candidate to paint one of the stallions," Woehler explains. "I'm so grateful and honored for her doing so. While it's the inaugural year of the Stampede, I'd participate every single year if they granted me permission!"
Woehler painted her rearing stallion, "Ransom," in a Harlequin pattern with a glamorous palette of high-gloss black, white, silver, gold and bronze for the body. Its mane and tail are in chrome while Louboutin red hooves complete the high-style look.
"Ransom" has been sponsored by Barrett-Jackson charities to benefit the American Heart Association with a 10-day stint at the Barrett-Jackson Auction in January followed by its display in a window at Neiman Marcus' Scottsdale Fashion Square location until April's auction.
"Ransom" was Woehler's first foray into 3D art. She happened to have a huge fiberglass heart that had been sitting untouched in her studio for years that she decided to use as a practice canvas for her original plan — street-style graffiti art. But something changed her direction.
"At the time, I was personally healing from a broken heart," Woehler explains. "So working on the physical heart was apropos. In the end, it was completely healing. The process began with Kintsugi, the Japanese art of mending things with gold. Then, I hurled paint at the heart, streaking it in places, while my favorite songs blasted through the studio. By the time the heart was finished, so was my sadness. I just felt tremendous joy and peace again. My heart was full and beautiful. I was ready to start my journey with 'Ransom.'"
Woehler says that she fell in love with the rearing stallion and, as she spent hours washing away the dirt and bugs from its long journey to Arizona, she felt the broken Kintsugi lines used on the heart no longer felt right.
"He deserved perfect, orchestrated gold lines," Woehler says. "And then, when it came time to hurl paint at him, that also felt completely wrong. How could I throw anything at something I loved? I couldn't. And that's when I decided to fill in the shapes the lines created with color — beautiful, glamorous, rich colors; colors befitting the magnificent creature he is. And what's more glamorous than red-bottomed shoes? So his hooves became the actual Louboutin red!"
Woehler ultimately painted "Ransom" with several coats of gloss white enamel, followed by a laborious process to create a precise network of metallic gold lifework across the entire body of the horse — which took a week to complete. The colors were carefully mapped out so they would be staggered appropriately. "Ransom" was covered with sticky notes in the planned colors.
"I'm so glad I did that, because it would have been really easy to paint myself into a corner," Woehler quips. "It was harder to map out than I would have thought."
Woehler says that "Ransom" took more time and has been more work than every other painting she's done — except for a 54-by-8-foot installation for a major real estate investment firm.
"I wouldn't trade that time for the world," Woehler concludes. "Every moment has been pure joy."
She counts it as an honor to have been selected and feels like "Ransom" is now a member of her family. She even took to greeting him each morning when she entered the studio and bidding him "goodnight" when she wrapped up her day.
"He has been my cohort and confidante," she says. "He's heard my thoughts and my secrets; he's shown me that I'm capable of jumping way past my comfort zone. It's a beautiful feeling to know that the money he raises will go to wonderful charities. I've absolutely loved working with Charlie and the rest of the Stampede folks."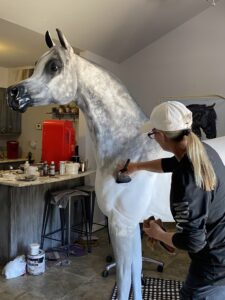 Arabian Art
Wendy Morris Tank has been a working artist for more than 40 years and says that everything she does stems from her love of horses. The majestic creatures make up 100% of her subject matter and she has been heavily involved with the Scottsdale Arabian Horse Show — including hand-painting the backdrop of the champions for more than 20 years.
She paints and sculpts, and has created many of the bronze trophies for the horse show and beyond, earning her national and international renown.
"I've worked on the trophies for the Run for a Million event, which is associated with the popular television show, 'Yellowstone,'" Morris Tank reveals. "To sum it all up, I've been painting for over 20 years and sculpting for about 12 years."
With her years of involvement with the Arabian Horse Association, Morris Tank was a natural fit for the Stampede. When Kester approached her about becoming involved in the cause, Morris Tank said she felt honored to be sought out based on her history with the association. The newness of the opportunity was especially thrilling.
"It's so exciting to be a part of something that's happening for the first time," Morris Tank says.
Her stallion goes by the moniker "Desert Prince." She says that her vision for the project came quickly, particularly because the bare original piece resembles a modern-looking Arabian stallion. She wanted to make him look as realistic as possible; that is, after all, what she is renowned for.
"I wanted to create a horse that looked like it could breathe and just run off," Morris Tank says.
After sanding down the entire piece, Morris Tank set about the task to hand-paint every detail: his dapple gray coat, characteristic of Gray Arabian breeds who are born black or very dark shades and lighten to gray over time.
"In the process of graying out, they get these dapple colors which turn into a rainbow of gray tones," Morris Tank says. "Dapple gray is one of my favorite colors and since they don't stay that color for their whole life, it's a rare sighting to see the color I chose. I used metallic colors in his eyes so that when the lights hit the eyes just right, it looks just like a real eye.
"Authenticity was very important to me and I wanted to keep it simple. Basically, I wanted to do a gray horse that was in the prime time of his life at around 4–5 years old."
For Morris Tank, the Stampede has been a nice change of pace and she loves that the project — combining her talent for sculpture and painting — is bringing awareness to Scottsdale, the arts community and Arabian horses. "Desert Prince" has also caught the eye of some of her equine colleagues.
"He's not a heavy sculpture, but he's so massive," Morris Tank says. "I have a ranch with horses and whenever I move them around and they spot 'Desert Prince,' they are all very excited about the new guy on the block. They're all wondering what's wrong with him and, 'Why is he not moving like us?' I've just had a lot of fun doing this and bringing 'Desert Prince' to life. Watching him come to life has definitely been the best aspect and I'd love to do this annually."
These life-size works of art for a cause are sure to attract attention and a lot of photographic poses as they charm the community on the streets of Scottsdale and eventually in the private businesses and homes that choose to purchase them at the auction in April.