Writer Joseph J. Airdo // Photography Courtesy of Cave Creek Museum
Anyone who has ever lived in or visited a city in the eastern portion of the United States knows that historical tours are a very popular form of recreation in those areas. Cities take great pride in their pasts and invite residents and tourists alike on journeys through which they can discover and learn about the people, places and things that helped create the present.
Unfortunately, such tours are far less common in cities in the western portion of the country.
Over the past year, Cave Creek has been putting into motion a plan that not only recognizes the historical significance of several individual sites but turns the entire town into one great, big historical tour on which one can venture anytime they desire.
"The pride in Cave Creek and what makes the town so special is the people and the remembering of history and reflecting upon it," says Evelyn Johnson, interim executive director of the Cave Creek Museum.
In an effort to celebrate Cave Creek's diversity and promote exploration of the unique places which have shaped and housed its vibrant character, the town last year launched a program through which it recognizes iconic buildings and spaces with bronze plaques designating them local landmarks.
Starting with Harold's Cave Creek Corral and moving through The Hideaway, Carpenter's Trading Post, Big Earl's Greasy Eats and even Dairy Queen, each local landmark tells an incredible story — one that is celebrated and cemented in time.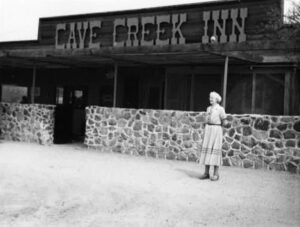 The story of the last of the first six sites chosen as part of the program, which was unveiled last November, began in 1928 when the town's first commercially zoned building was erected. The Black Mountain Store sold groceries and other basic supplies.
In the 1950s, the Black Mountain Store became the Cave Creek Inn, which served as a stop for weary travelers who could rent a cabin for $4 per night.
"They had five tuberculosis treatment cabins that were marketed as vacation homes," explains Johnson, noting that, at the beginning of the 20th century, doctors often sent their patients to Arizona to live in cabins while recovering from tuberculosis and other respiratory illnesses.
Sometime later, the Cave Creek Inn closed and the building became known as Trois Amis — a French restaurant owned and operated by gourmet chefs. It remained a restaurant during its next reincarnation, serving Mexican food under the name Los Mesquites Taqueria.
When that closed, the building sat dormant for about eight years before it reopened in 2014 as what it currently is known — Oregano's Pizza Bistro.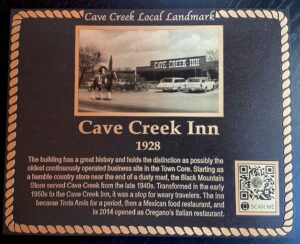 "The town is long-range planning to develop a map that will quite literally lead you through town," says Evelyn, noting that each local landmark's bronze plaque includes not only a historical photo and description but also a QR code that, when scanned with a smartphone, reveals additional information about the site as well as an invitation to tour the town's other iconic buildings and spaces.
The Cave Creek Town Council recently voted on the next 10 local landmarks.
"Part of the charm of Cave Creek is its uniqueness," Johnson says. "That is indicative and demonstrated in the architectural design of different buildings around the town. It is important to recognize what has been there before and how it has improved. That is what brings people to Cave Creek."